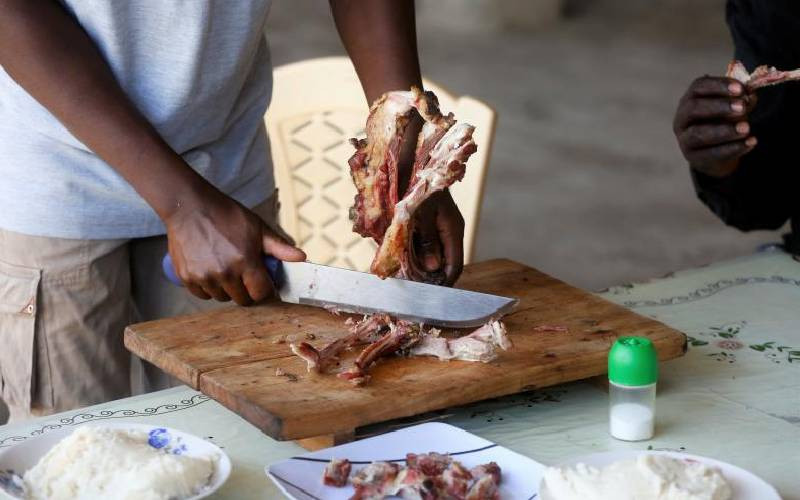 Production of livestock around the world is linked to increased greenhouse gases in the atmosphere, which contribute to climate change.
Animal production for meat contributes twice as much to global warming as the production of plant-based food, according to scientific reports.
Data from the Food and Agriculture Organisation indicate meat accounts for nearly 60 per cent of all greenhouse gases from food production.
According to FAO, global meat consumption has increased significantly in recent decades, with per capita consumption almost doubling since the early 1960s.
The agency indicates that while an average of 23.1 kilogrammes of meat per person was consumed annually in the 1960s, the figure had risen to 43.2 kilogrammes in 2019.
Studies show that wealthy countries tend to consume more meat.
The Farming Campaigns Manager at World Animal Protection, Dr Victor Yamo, attests that large-scale meat production has led to the clearing of forests to grow crops that get into the animal production system.
"We deal with ruminant systems. Manure itself has ammonia which is part of greenhouse gases. Because of intensive farming and livestock production systems, we have too many animals in a small space," he said.
According to FAO, the entire system of food production, such as the use of farming machinery, spraying of fertiliser and transportation of products, causes 17.3 billion metric tons of greenhouse gases a year.
Yamo explains that even a large number of chickens in one place produce greenhouse gases, and all of the animals produce gases differently depending on their size
"Our food systems are not only causing problems for human and animal health, but they also contribute to climate change," he said.
A modeling study by Wild Animal Protection on the impacts of excessive meat consumption on climate change compared findings from FAO data across the world, mainly in countries of Europe, the US, Thailand and Australia where chicken and beef are consumed in large quantities.
The study established that continuous consumption of meat at current levels is equivalent to having about 29 million vehicles on the road.
According to the study, meat consumption needs to be reduced by 50 percent by 2040 and meat that is consumed needs to come from High Welfare Production Systems.
Related Topics