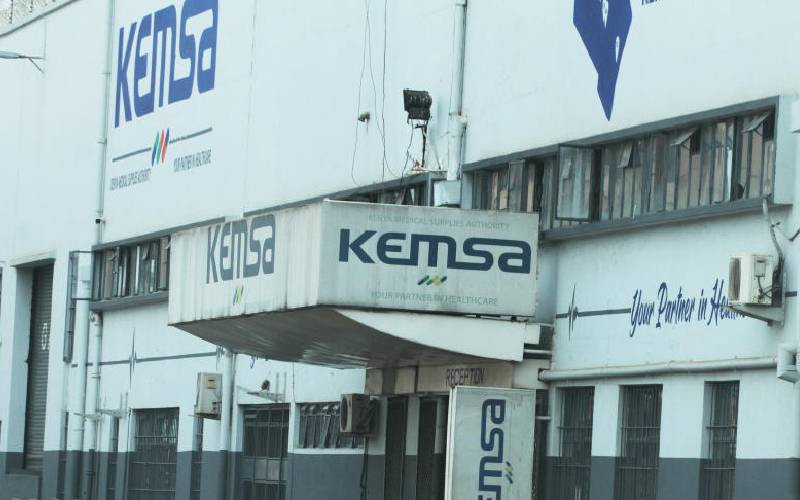 A look into Kenya's healthcare sector ten years post-devolution shows that it is still grappling with many challenges, among them understaffing and underfunding.
Experts have revealed that there is lack of commodities and supplies to treat patients, and Kenyans are still paying heavily from their pockets to access healthcare services despite talk by the government to implement Universal Health Coverage (UHC).
The country has more than 4,000 unemployed doctors and thousands of other medical professionals like nurses and clinical officers, also without employment.
The World Health Organisation recommends that one doctor should serve not more than 1,000 patients. However, Kenya has approximately 5,680 doctors employed by the government, against a population of more than 50 million, meaning one doctor in Kenya serves 10,000 patients.
When health was first devolved, hope was high that health services would be brought closer to people. However, it is not clear where the shortfall arises from.
"Counties are not employing, and those employed are frustrated due to delayed salaries, lack of promotion, and tribal aspects in the counties," says Dr Davji Atellah, Secretary General of the Kenya Medical Practitioners, Pharmacists and Dentists Union (KMPDU).
Counties spend 60 per cent of their budget allocation on recurrent expenditures and paying salaries, and the remaining 40 per cent goes to investments including healthcare.
"For a patient in the county to see a doctor has become an impossibility. Before devolution, every doctor or health worker who graduated was employed, now we have an extreme shortage within the facilities that even if all the 4,000 doctors are employed, they won't fill the gap," adds Dr Atellah.
He further says governors have the prerogative to employ health workers, but most choose not to because they do not consume health services in their county facilities.
According to a June 2020 statement released by then Chairman of the Human Resource Committee of the Council of Governors, James Ongwae, the number of doctors requested by counties is tied to existing budget allocations to cater for salaries of the new doctors.
In his statement, Ongwae said the national government graduated 757 intern medical doctors, 138 pharmacists and 49 dental officers.
"They also graduated only 10 specialists. The counties requested for 464 out of 757 medical doctors. Counties requested for 174 pharmacists but got only 138 pharmacists. Counties also requested for 100 dental officers but only 49 have been posted," he said.
"Since the number of medical doctors who graduated from internship is higher than the number requested by counties, there is a balance of 293 medical doctors yet to be absorbed. Counties requested for 103 specialist doctors but none has been posted," he added.
For instance in Tharaka Nithi county, with a population of 400,000 people according to 2019 data from the Kenya Bureau of Statistics, the county has only 26 doctors. Thirteen of these doctors have gone to further their studies, meaning the county now has only 13 doctors left.
Health Service Commission
This means one doctor in Tharaka Nithi serves more than 30,000 people.
In the last five years, counties like Kajiado have hired only three doctors, Elgeyo Marakwet three, Bungoma six, Uasin Gishu two, Samburu three, and Baringo four doctors, a figure that is not proportionate to the growing population.
To resolve the human resource challenge, medics are calling on President William Ruto to honour his promise of constituting a Health Service Commission tasked with addressing their welfare.
"Today you cannot say you have a system or institution that can manage health human resources and that is where all the challenges emanate from," says Peterson Wachira, Chairman of the Kenya Union of Clinical officers (Kuco).
According to Wachira, health was hurriedly devolved with no framework on how to manage it. He adds that after one decade, the country should audit its progress in regards to health, including the gains and losses, and areas for improvement.
"Since January, health workers in Taita Taveta have not been paid their salaries. How can we be able to ensure all the devolved units are at par? Why should we have Nairobi county paying on time and Taita Taveta after three months?" says Wachira.
Lack of supplies and commodities is also a challenge to the health sector post-devolution, with counties failing to pay the Kenya Medical Supplies Authority (Kemsa), and now 26 per cent of Kenyans have to pay out of pocket to access health services.
Counties are said to owe Kemsa more than Sh200 billion, and the debt in turn has affected the procurement of commodities.
"If 80 per cent of hospitals in the country don't have drugs because of pending bills, then how will citizens get services?" says Dr Atellah.
Article 43 (1) (a) of the Constitution stipulates that every Kenyan has a right to access the highest attainable standard of healthcare services.
"Ten years down the line, healthcare costs are more expensive and inaccessible than ever; that's why we need a centralised body that can hire health care workers annually," he adds.
In addition to meagre supplies, the country has also experienced an exodus of doctors and nurses going to western countries seeking greener pastures.
But Kuco chairman Wachira says instead of barring medics from going outside the country to look for greener pastures, it is better to provide the right environment where workers are involved in management.
"This will continue happening until the government has a clear plan for absorbing these health workers. The country needs at least 70,000 doctors to effectively serve our population, but if those available are not employed they will go where their services are needed," says Dr Atellah.
Experts argue that the Ministry of Health expects the National Hospital Insurance Fund (NHIF) to manage UHC, yet most employers have private insurers. They also blame the lack of political goodwill for the failure of attaining UHC.
In an earlier interview with KTN News, Director of Public Policy Dr Rose Oronje said many Kenyans still pay out of pocket to access medical services.
"This means health is still not accessible; we are far from UHC and primary healthcare," said Dr Oronje.
Devolution reduced hospitals' autonomy over key management functions such as management of self-generated revenue, leaving the pursuit of UHC in limbo.
"Hospitals income should be ring-fenced so as not to go the county treasury but remain within the hospital or if it goes to county treasury it should be invested back to health," said Dr Oronje.
Besides insurance, health financing is also a challenge. Kenya is a signatory of the 2001 Abuja declaration, where it committed to allocating 15 per cent of its budget to health. But 22 years later, this is yet to happen.
A report by the Musyimi task force in 2012 recommended the health budget be increased by two per cent every year, but this has never been implemented as only four per cent has been allocated to health.
"If we have healthcare within the counties and no increased funding, then there will be no improvement in the future," says Dr Atellah.
"Healthcare cannot be free; it's either individuals who fund it or the government. If individuals fund their healthcare, the public will be exposed and most families will run into poverty," he notes.
Related Topics