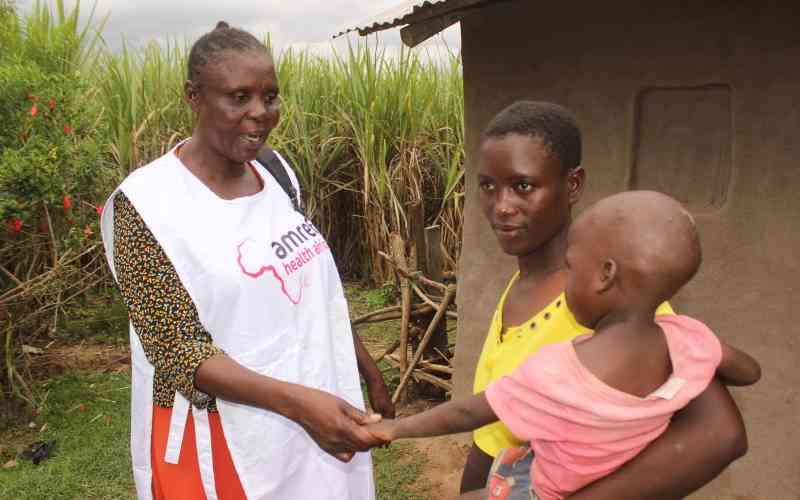 The Ministry of Health is planning to conduct a massive malaria vaccination drive after the World Health Organisation (WHO) warned of a surge in mosquito-borne diseases due to global warming
Vaccination will be conducted in eight malaria prone counties of Vihiga, Busia, Bungoma, Kakamega, Siaya, Migori Homabay and Kisumu in the next two weeks.
Dr Lucy Mecca, the head of immunisation at the ministry, said the RTS,S vaccine will be given to children between six months and five years.
The vaccination will be carried out through the National Vaccines and Immunisation Programme.
"Massive vaccination in malaria endemic counties will enhance the fight against the disease," Dr Mecca told The Standard.
RTS,S vaccine triggers the immune system to defend against the first stages when the Plasmodium falciparum malaria parasite enters the host's bloodstream through a mosquito bite and infects liver cells.
The jab is administered in four phases-six, seven, nine and 24 months. Trials of the vaccine were conducted in Kenya, alongside Ghana and Malawi.
The vaccine prevents 4 out of 10 malaria infections and prevents severe malaria by more than 30 percent in six to 24 months age group, according to scientific findings.
WHO approved use of the vaccine in 2021.
In Kenya, piloting of the vaccine was conducted in the counties of Homa Bay, Kisumu, Migori, Siaya, Busia, Bungoma, Vihiga and Kakamega counties in 2019.
In Kenya, there are an estimated 3.5 million new clinical cases and 10,700 deaths each year.
According to WHO, malaria causes over 400,000 deaths each year worldwide.
"Children below the age of five years are the most vulnerable to malaria because of their low immunity," added Mecca.
Dr Donald Apat, programme manager for Global Fund Malaria at Amref, said vaccination rollout is meant to scale up the vaccination in all sub-counties within the endemic areas, which were not part of the piloting program.
He said uptake of the vaccine, and adoption of other interventions are likely to prevent malaria, by 80 percent.
Interventions in place include sleeping under insecticide-treated mosquito nets (ITNs), indoor residual spraying with insecticides (IRS), and appropriate diagnosis and treatment using artemisinin-based combination therapies (ACTs).
The massive vaccination drive is to be launched at a time the country has discovered a new mosquito species that thrives in urban and rural areas.
The Anopheles Stephensi species was discovered in Marsabit County, by scientists from the Kenya Medical and Research Institution (Kemri).
Meanwhile, WHO has warned that millions of people will be exposed to mosquito borne-diseases because of climate change.
Malaria and dengue fever have been listed as the most common diseases linked to erratic climatic conditions. Cases of zika virus and chikungunya are also expected to increase.
According to the report, Pacific Islands are already reporting a surge in malaria, chikungunya and dengue fever.
Data reveal that between 2012 and 2021, there has been at least 69 outbreaks of dengue fever, 15 outbreaks of chikungunya and 12 of zika virus.
Malaria cases have also rose by 20 percent between 2015 and 2021.
According to Dr Apat dengue fever, zika virus and chikungunya are some of the mosquito-borne diseases reported in the country.
The diseases he explained are spread by Aedes aegypti and Aedes albopictures mosquito species that thrive in warm climatic conditions.
The species he said are common in the Coastal and Northern parts of the country.
"Mosquito thrive within biological and an environmental kind of platform that favours them, and this is currently being witnessed in Kenya," said Dr Apat.
However, he said the challenge in fighting dengue fever and zika virus is that it mimics other diseases, for instance it presents with fever as dominant symptom.
Most patients with zika, chikungunya and dengue fever are often placed under malaria treatment, because they present similar symptoms.
Confirmation of dengue fever and zika virus, he said, is mostly done at Kemri laboratories.
"Our capacity in public facilities to diagnose dengue is low because of lack of equipment, and cost of conducting the tests are high," said the malaria experts.
Further, he called for heightened surveillance to identify spread of the diseases, and investment in diagnostic tools.
"Rather than waiting for an outbreak to occur, we need to conduct surveillance and monitoring at facility level," observed Apat.
Apat added, "Climate change could most likely aggravate diseases, an issue that needs to be looked into."
According to Kenya's disease trend, malaria cases are high during the rainy season as it favours breeding of mosquitoes.
Malaria cases are also high during dry season and short rains.
Dengue fever and Chikungunya are common at the Coast and Eastern regions.
Related Topics