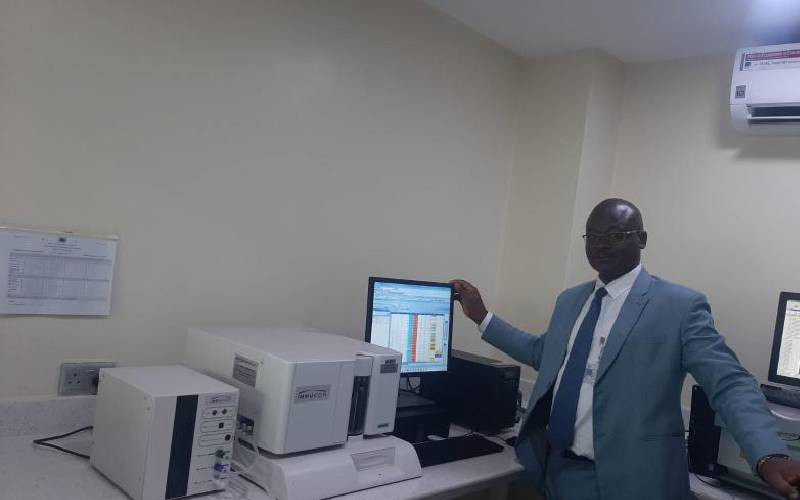 A few years ago, the mention of a kidney transplant meant a flight overseas for both the donor and the recipient, as well as an expensive budget that included air tickets, lodging, and hospital bills.
Without at least Sh2 million, one would be forced to raise funds, even selling property or holding a fundraiser, to cover the exorbitant cost of the transplant.
That was back then. Kenyatta National Hospital's Renal department has been performing the procedure for exactly one year now, putting smiles on the faces of Kenyans who would have become poor as a result of the transplant.
Last year, with the assistance of the African Development Bank (ADB), KNH established a Sh150 million kidney transplant laboratory at the Renal department, and since December 14, 2021, the six-man team at the facility has overseen tens of kidney matches and 12 successful transplants.
This has been made possible by Immucor's acquisition of the Luminex Machine, which matches kidney tissue between a donor and a recipient. Today, the equipment and lab at the national hospital have transformed kidney transplant services. The laboratory can perform CDC crossmatch and antibody screening, among other tests.
The hospital has also purchased a flow cytometer, which will help to reduce the amount of time spent performing CDC crossmatch.
According to Mr. Kilivwa Mukaya, a Senior Principal Medical Laboratory Technologist, the service is now available at KNH, unlike in the past when hundreds of Kenyans had to sell land and raise funds to travel to India or South Africa for a kidney transplant.
The operationalisation of the Histocompatibility and Immunogenetics laboratory, according to Mukaya, has reduced the time it takes the renal team to make a decision on the patient transplantation procedure.
Mukaya stated that the acquisition of the Luminex machine, which matches kidney tissue as well as other organs in the body, has changed the tides for Kenyan patients, saving them the agony of travelling to India and South Africa with multiple potential donors and failing to find match-ups.
Mukaya said many Kenyans with kidney problems are unaware that KNH offered what patients would seek overseas, and with a turnaround time of 24 hours for kidney matching, the equipment has revolutionised medical services offered at East Africa's largest referral hospital.
"We have done 12 successful transplants in a few months and have the capacity to do more in a year; we have 17 more who have found donors and are therefore on the hospital's transplant waiting list," Mukaya said.
According to Dr. John Ngigi, a nephrologist at KNH, there were 5,670 dialysis patients in Kenya last year, and that number may have increased this year.
"There are 130 patients on dialysis at KNH every week, and 260 patients waiting for a kidney transplant in a year," Dr. Ngigi said.
In September this year, National Hospital Insurance Fund (NHIF) chief executive Peter Kamunyo said payments for renal dialysis had more than tripled in the previous four years, citing the country's rapidly increasing cases of kidney ailments.
According to Dr. Kamunyo, the NHIF paid Sh3.844 billion for 295,563 claims for patients seeking renal dialysis in the year to June, representing a more than 200 per cent increase from the Sh1.247 billion paid for dialysis in the previous year.
Members of the National insurer are entitled to two weekly dialysis sessions at a cost of Sh9,500 each, bringing the total annual payment per patient to an average of Sh960,000.
Mukaya said for people suffering from kidney failure, a transplant was less expensive than continuous dialysis, which was more expensive in the long run. He said having a relative, particularly a parent of a sibling or children, was preferable when looking for a kidney donor. In such cases, the body was unlikely to reject it, and the patient would have to live with it for more than 30 years.
In comparison, tissue matching tests at the KNH cost Sh59,000, while the same tests in India or South Africa cost sh84,000 each.
"Most Kenyans who do kidney matching end up doing it abroad because some brokers at collection centres take commissions to send the specimens overseas; little do they know that the donor and patient can walk into KNH and get their results back within 24 hours," he said.
The cost of tissue matching for both the donor and the patient has increased the cost of reagents, which he claims costs Sh250,000 per kit. He stated that the hospital could perform more than 50 tissue matchings per week.
"Once the matching is done, it costs less than Sh1 million to do a transplant at the hospital, including the related diagnostic procedures, as opposed to about Sh2 million that the patient needs to complete the entire process in India or South Africa, and the success rate is equal," Mukaya explained.
"The cost of travelling to India includes airfare, lodging, and hospital charges; the cost can rise even higher if accompanied by family members and a doctor."
According to Mukaya, those who undergo transplants at KNH benefit from easier follow-ups by local doctors, as opposed to those who seek services from India or South Africa. He said the equipment was unique to KNH and was intended to provide much-needed organ transplants in the referral hospital.
He said constant monitoring is required to ensure there is no kidney rejection.
Related Topics