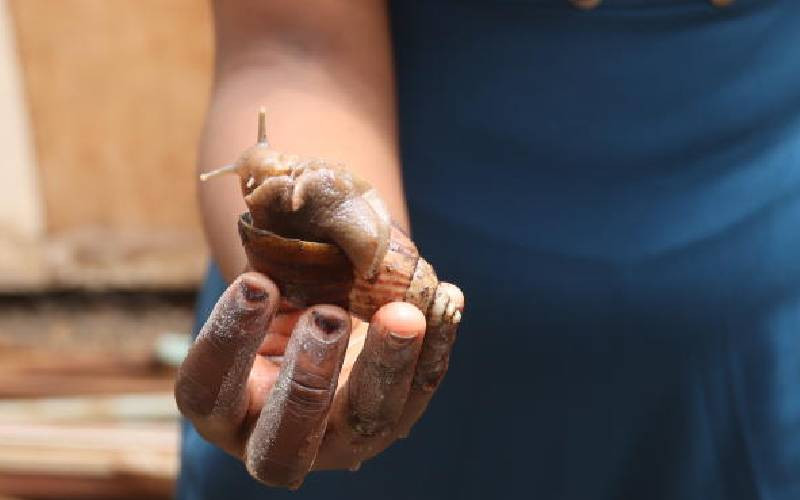 Snail slime will soon be administered as a cough syrup as Kenyan scientists race against time to develop the medication.
Scientists at Jomo Kenyatta University of Agriculture and Technology (JKUAT) have embarked on the process of developing a new syrup from readily available snails in the country.
Besides coughs, the syrup also provides relief from heartburn, neutralising the pain and burning sensation.
Dr Paul Kinoti, the lead researcher and lecturer in the department of horticulture and food security, said cough syrup with snail slime is likely to be one of the most effective natural remedies against cough.
He said the remarkable properties of snail slime have been known for a very long time, in particular its antioxidant and healing properties. Snail slime contains collagen and vitamin.
The scientist added that chesty cough is the way human bodies clear their airways from phlegm. When mucus is thick, it may block the respiratory tract impairing proper breathing.
He said cough is therefore the way our body eliminates excess phlegm. Being a defence mechanism, the cough should not be stopped. The most recommended natural remedy is thinning the phlegm so that one can expel it when you cough.
"This is exactly what snail slime syrup can naturally do for you. It contains enzymes that act on the viscosity of phlegm, making it more fluid," says Dr Kinoti.
In addition, snail slime contains active ingredients enhancing the regeneration of the mucous membranes and epithelium of the larynx and bronchi.
What is more, Kenya has the most common snail species found in East Africa and with one of the best high-quality slime producers that can be used to generate the slime for use in developing of the cough syrups, says Dr Kinoti.
This will make the product much cheaper since the major raw material, the snails, can easily be sourced within Kenya rather than being imported at a higher cost.
The study, however, is in the initial stages and it will take up to two to four years for the final product to be available in the market after approval from the World Health Organization (WHO).
Though snails are over 90 per cent water, they also contain a lot of other compounds ideal for production of snail slime soaps, creams and gels based on the presence of key ingredients like allantoin (which is incorporated into a range of cosmetic products as well as toothpaste and shampoo) and glycolic acid, which is commonly found in skincare products).
"The ongoing research has so far found that mucus from brown garden snails kills some bacteria species in laboratory experiments," Dr Kinoti observes, adding that 20 different strains of this bacteria were tested during the study and the mucus was found to stop all of them from growing.
Mucus can be extracted
"The research intends to further check whether the mucus can equally work convincingly against any other type of bacteria," he explains, clarifying that "the viscosity of the mucus makes it hard to work with, but so far we have identified three new proteins that we want to investigate, and we hope this could lead to the creation of a new antibiotic".
Dr Kinoti adds that though it's not apparent whether mucus can be extracted from snails and then made artificially as developing snail products is "a slow process – but given time, we might be able to explain why the Romans and Greeks gave snails the credit they may well be due".
Besides cough syrup, snail slime is also considered an effective natural remedy against digestive system conditions like gastritis, gastro-oesophageal reflux and oesophagitis reflux.
Indeed, snail slime repairs the natural protective layer of the gastric mucous membrane, which gets damaged in case of heartburn and gastritis. The syrup is therefore most likely going to protect the stomach so that these conditions are under control.
The syrup will include other ingredients like aloe vera gel and mallow, which will enhance the efficiency of the product. In fact, mallow has powerful emollient and anti-inflammatory properties, and aloe vera is hailed for its emollient and healing properties, providing natural protection to the mucous membranes of the digestive system.
Dr Kinoti revealed that snail slime properties are considerable because the secretion is very rich in viscosity and which perform a protective, film-forming and moisturising action and indeed, "several studies have shown that snail slime has regenerative properties for human skin and remarkable antioxidant activity".
Related Topics