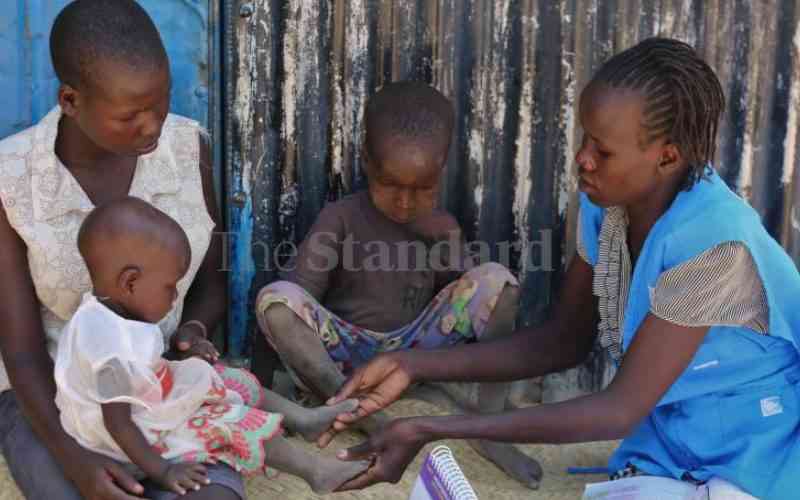 It's midday at Nasiger Vilage in Napeililim location, Turkana County.
Susan Chegem, 29, sets out to meet locals where she has been serving as a Community Health Volunteer, for close to two years now.
Her first visit is at Ann Aletia's home in an area known as Apedukan where she examines, Selly Lobuny, a one-year eight-month-old baby who has been suffering from diarrhoea.
After examining her and asking the mother some questions, she checks her temperature, then pulls out a Malaria Rapid Diagnostic Test and gently pricks the child's finger to draw some blood for the malaria test.
The test turns out negative, and she opts to administer Oral Rehydration Salt (ORS) to the child to treat dehydration caused by diarrhoea as she continues to observe her condition
Chegem's duty entails providing home-based health care services to children under the age of five and advising their mothers on healthy upbringing of their children, an exercise that she has come to love and be passionate about.
"My work as a volunteer has helped my community change so many things. We used to lose so many children to diarrhoea, malaria, pneumonia and even malnutrition before. Currently, the number of children dying at an early stage has reduced significantly because I am available at all times to provide medical services," she explains
Ann Aletia, a mother of five applauds the services provided by Chegem, saying since her child was born, she has been able to get treatment and raise a healthy child at no extra cost.
"With my other children, I had little information on bringing them up. They were often sick, and I was forced to visit the dispensary that is kilometres away for treatment. Things have changed since we got the 'village doctor'. Anytime I feel my child is unwell, I usually call her, and she treats my child at no fee," she says.
She also notes that the village doctor has helped women to maintain hygiene by ensuring they have toilets, a household rubbish pit, use clean water and practice handwashing after visiting the toilet among others.
Chegem, as a primary healthcare giver, has been empowered on the Integrated Community Care Management (ICCM) program for sick children under five that has enabled her to identify and treat uncomplicated cases of pneumonia, diarrhoea, malaria and malnutrition in children.
In cases where the conditions are severe, she refers the child to the nearest health facility for further medication.
She also routinely checks on children in the 53 households she manages to ensure they are healthy and are taken for regular clinical checks at the health centre and submits a monthly report at Nasiger dispensary citing the cases managed.
Claire Amana Ekwuom, a nurse at Nasiger Dispensary, says the volunteers have helped in reducing workload and congestion at the facility as most cases are treated at the community level.
"Most cases of malaria, diarrhoea and malnutrition cases are treated at the community level. Before this program was started, we would receive up to 60 diarrhoea cases in one month, but currently we receive about 15 diarrhoea cases. A good example is the month of June, where we only attended to seven malaria cases, meaning that CHVs are really helping," she says.
She also notes that the volunteers have made their work easier as they are able to diagnose diseases, indicate the conditions on referral letters before referring the sick child to the health Centre.
Chegem is among, 2,220 CHVs working in Turkana County who provide health care at the lowest level despite not receiving any stipend from the county government.
According to Stella Kogo, a Health Officer at Unicef, training of community health volunteers on Integrated Community Care Management (ICCM) has brought maternal and newborn health management services closer to locals.
"Turkana County is vast. However, with CHVs available, mothers do not need to travel long distances to access medical care," she notes.
Kogo discloses that the trained CHVs have been equipped with a pictorial job aid in English and Turkana as well as rapid diagnostic test kits for malaria, timers, tapes for mid-upper arm circumference measurements among other equipment.
Since 2015 when Community Health Volunteers were introduced in Turkana County, many partners have pooled resources to strengthen the system that has led to the reduction in child mortality rates.
Every village in Turkana County has one volunteer serving not more than 100 households, and receive a stipend from Unicef.
Related Topics