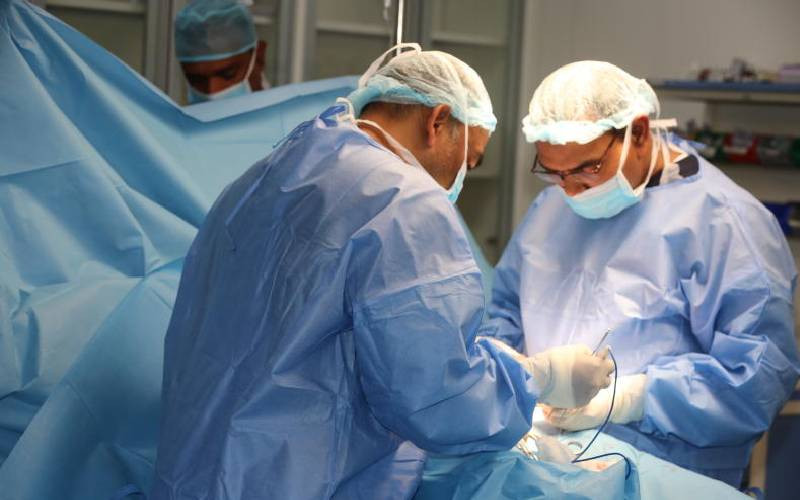 The nose bleed did not appear as an alarming sign of a serious health condition. But why wouldn't it stop? Mercy Njeru, 38, from Chuka, reported to a local hospital that March 2019. She got no relief. At the Meru Level Five, a doctor stopped the bleeding from what was a tiny scratch in her nostril.
But that was not all. The doctor delivered unexpected news to Njeru: "Your liver could be sick. We need to run tests."
A series of tests confirmed her worst fear. "You need a liver transplant," the doctor said. Njeru had no idea her liver was failing. She'd never tasted a drop of alcohol, the most widely believed cause of liver disease.
Njeru had never heard of nonalcoholic steatohepatitis, a fatty liver disease not linked to alcohol consumption or infections.
Dr Onyango Ayo, a consultant gastroenterologist (liver specialist) at the Kenyatta National Hospital (KNH) in Nairobi, explained that "nonalcoholic steatohepatitis is a lifestyle disease, and it may show no obvious symptoms even as it eats into the organ."
The nosebleed, explains Dr Ayo, was a sign that Njeru's liver was not producing the proteins needed for blood to clot. It was severe, and because Kenya lacks the capacity for a liver transplant, it was either to India for the procedure or death in less than two years, the doctor warned Njeru.
Since Njeru could not afford to "die and leave her three young children" she joined the list of Kenyans awaiting liver transplants in India. Njeru did not wait for long. Doctors there assured her a liver transplant was possible. The procedure went smoothly. But her body began rejecting the new liver after two years.
Njeru had depleted all her savings on the procedure and post-recovery drugs and could no longer regularly afford immunosuppressant, routine medication required to prevent and treat organ rejection.
"The more genetically close a recipient is to the donor, the less likely the recipient's body will reject the organ. For identical twins, the odds of rejection are close to zero, and maintenance immunosuppression is not required," explained Dr Ayo.
Luckily for Njeru, the liver, unlike other organs, is less prone to rejection by the immune system, and when rejection occurs, there's less immediate damage. Further, a well-wisher offered to cater for her immunosuppressant for as long as she's alive.
She required more medication and lifestyle adjustments to reverse the havoc the liver rejection had wreaked, but Njeru was finally out of the woods.
Peter Wagura, 43, was not as lucky. He needed a kidney in 2009. The 30-year-old was offered a transplant by his only brother and which served Wagura for eight and a half years.
Despite a change of lifestyle and faithfully taking his immunosuppressant, his body eventually rejected the kidney, a problem Wagura learnt was due to a blood infection.
Wagura is optimistic another donor will come along. Meanwhile, he adheres to regular dialysis sessions.
According to Dr John Ngigi, another kidney specialist at KNH, organ rejection is relatively common. The issue is so prevalent that transplant scientists commit so much time and resources to work around it.
Currently, there are trials to train the recipient's body to accept an organ without requiring the expensive and powerful immunosuppressant. Before the invention of anti-rejection drugs, organ transplants were virtually impossible except for identical twins with similar DNA.
The body's immunity is designed to attack any foreign organism, including someone else's organ. Therefore, the only way to get a body to accept a donated organ is to inhibit its immune response with immunosuppressant.
These immunosuppressant, as indispensable as they are, are hazardous, increasing the risk of infection, heart disease, diabetes, and even cancer.
"Patients are made aware of the risks, but the alternative is worse: death or a life on dialysis. Compared to a transplanted kidney, dialysis has a lower life expectancy and life quality," says Dr Ngigi.
Still, both options, dialysis or surgery and post treatment are expensive processes for an average Kenyan. A dialysis session at KNH costs Sh5,000 per session and an average of Sh9,500 in private hospitals. Most patients require dialysis twice a week. NHIF covers dialysis of up to Sh18,000 weekly but not immunosuppressant.
The cost of kidney transplant operation is Sh500,000 to Sh600 000. Liver transplants in India, where most Kenyan patients travel, cost Sh7 million to Sh10 million.
Immunosuppressant cost an average of Sh40,000 per month.
Research by a liver specialist Dr Alberto Sanchez-Fueyo, a Professor of Hepatology in the Department of Inflammation Biology at King's College, London, gave a bit of hope. Although limited to liver transplants, he found that as many as 80 per cent of liver transplant patients could discontinue the immunosuppressant drugs, but only after years of taking the drugs. The scientist also discovered that because people's immune systems becomes weaker as they grow older, the chances of their body attacking the liver are lower," he explained.
The damage caused by these anti-rejection drugs is irreversible, but there's no way to determine who succeeds in withdrawing. It is therefore not a risk doctors advise patients to take.
But that's only for the liver. Kidney transplant patients must take immunosuppressants throughout their lives.
At Sh40,000 per month, the cost of anti-rejection drugs, Dr Ngigi says, is quite high, and sometimes, he's forced to discuss with his transplant patients how they plan to sustain the cost before performing the procedure.
Unfortunately, many of his patients' bodies have rejected donor kidneys because they couldn't afford anti-rejection drugs.
"If you cannot afford the medication, in a few weeks, the organ will be rejected. You will lose the kidney, and the person who gave the kidney will also lose. But because in ethics, even people who cannot afford anti-rejection drugs are entitled to a transplant, we need policies to improve financial access," says Dr Ngigi.
NHIF gives Sh500,00 for kidney transplant procedures, but Dr Ngigi reckons the national insurer should find a way to reimburse money to cater for post-transplant medication.
"About 15 per cent of our kidney transplant patients have gone back to dialysis because they couldn't afford the anti-rejection drugs," he says.
To deal with these downsides, transplant scientists are building on a method initiated by Dr Peter Medawar in 1953.
He proved it was possible to train the immune systems of mice to avoid rejection of tissue transplanted from other mice. When the mice matured, Dr Medawar transplanted organs from the unrelated mice to the mice which received the white blood cells. The mice accepted the organs as if they were their own, proving that the immune system is modifiable.
So successful was this method it won Dr Medawar, the Brazilian-British biologist and write, a Nobel Prize.
The only limit to this method was that Dr Medawar used baby mice, but the quest to find a way to train the adult immune system kicked off. However, for close to 70 years, the task has eluded scientists.
"An adult's immune system is fully developed, while a foetal is still adapting and learning what's foreign and what's not," explains Dr Ayo.
Scientists are exploring harvesting immature white blood cells (stem cells) from the donor and recipient's bodies, maturing them in the lab, and infusing them into the patient's body before the procedure. They hope the new white blood cells will signal to the rest of the recipient's immune system to accept the new organ.
According to Dr Ayo, this method is still in its trial stages and is yet to gain the green light to be practised in mainstream medicine.
Related Topics