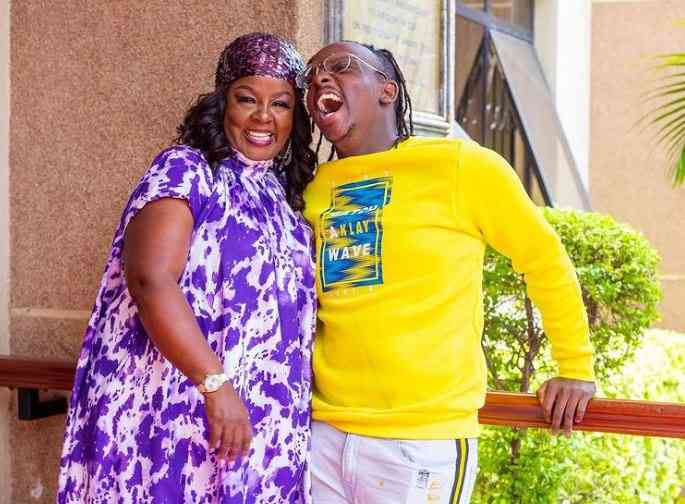 Reverend Kathy Kiuna of Jubilee Christian Church (JCC) took to Instagram to wish her son Jeremy Kiuna a happy 22nd birthday.
In the heartfelt post, she wrote;
"It's my son's birthday. Jeremy is a miracle baby born at 6 months. Every milestone he has made in life is huge. Seeing him become a straight A student and recently graduate from college is just breathtaking. That hearty laughter you see is from our hearts. The joy of the lord has been our strength. Jeremy is a child of purpose and will do exploits for God. Watch this space."
Jeremy Kiuna is the only son of Reverend Kathy Kiuna and Bishop Allan Kiuna after the couple said they prayed to God for a son. He was later born on the 21st of July in 2000 after complications at just six months gestational age.
On her YouTube show, 'Women without limits', Kathy shared his story and how much they've had to overcome, saying complications began when she was just two months pregnant after she experienced bleeding. At four months, Kathy was told to terminate the pregnancy, but she decided to put her faith in God and refused.
At six months pregnant, she experienced a more severe bleeding episode, which landed her in the hospital, where Jeremy had to be emergency delivered. He stayed in the ICU for four months until he was strong enough to go home.
Kathy further revealed her son was diagnosed with cerebral palsy at age three, a disorder that interferes with his ability to walk and maintain balance and posture. He underwent several surgeries on his legs to improve his walking but shares that the condition didn't stop him from playing sports and being active in school.
At 14, Jeremy's father, Bishop Allan Kiuna, claimed that God placed in his heart that Jeremy should move to America. Kathy said that news devastated her as she did not want him to be so far away.
"I lost it, I was totally torn apart, I took that journey in obedience to God but I cried from the time we left Kenya all the way to America. ".
On the topic of being in America and growing up there, Jeremy said,
"In America, they teach you to be independent and stand on your own. Over there you have to learn to grow and live your life and pay bills on your own it's not like Kenya where everyone is here to help."
View this post on Instagram
A post shared by Jeremy Kiuna (@jeremykiunaofficial)
He also talked about being bullied for his disability and experiencing depression.
"Suicide is a real thing people don't take it seriously, I tried to commit suicide twice, but didn't want to hurt my parents so I called my dad and told him I was going through depression."
Kathy described it as the worst phone call she's ever gotten and vowed to drag him out of the depression. Finally, Jeremy overcame depression and thanked his family for their support through that difficult period.
He shared that music helped him and that led him to make rap music. He recently graduated from Georgia Military College in Georgia, USA, where he completed his associate's and bachelor's degree in business management. He now has his own company, Nyumbani Uzuri, which deals with housing.
Related Topics