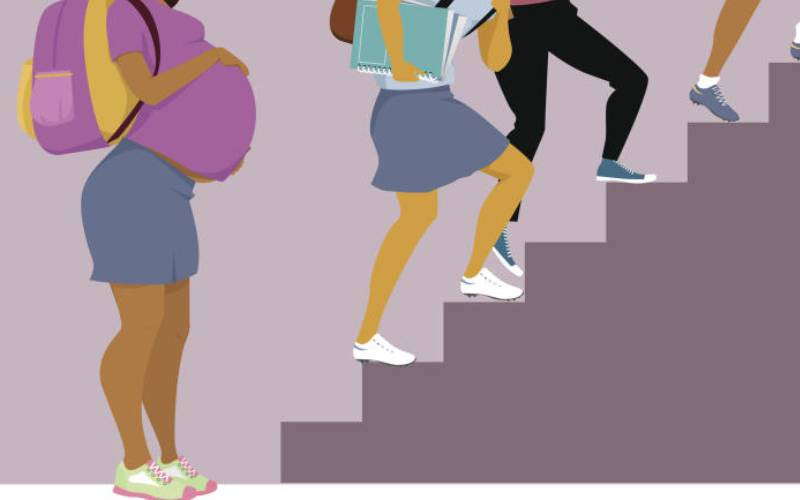 The Ministry of Health has raised an alarm over rising cases of HIV, teenage mothers and sexual violence in the country.
At least 98 new HIV infections are reported every week among teenagers aged between 10 and 19 years.
Dr Ruth Masha, CEO National AIDs Control Council, (NACC) said new HIV infections among teenagers is becoming a public health challenge.
A report released by Dr Masha noted that the disease is "now affecting primarily women of childbearing age and preventing new HIV infections in women and their children must be prioritized."
Counties with the heaviest burden of teenage pregnancies between January and May 2022 include; Tana River, and Meru, an indicator of increased sexual risk to HIV. Others are Samburu, West Pokot, Homa Bay, Narok, Vihiga, Kericho, Marsabit, Bomet Trans Nzoia, Machakos, Isiolo, and Kakamega.
"Teenage pregnancy is a proxy indicator of heightened risk to HIV infection among girls: teenage pregnancies 10 to 19 years accounted for 20 per cent of all new ANC visits in 2021," added Dr Masha.
Teenagers also represent 21 per cent of ante-natal attendances and 53 per cent of all sexual gender-based violence cases.
To prevent a surge in infections and sexual-based gender violence, the ministry has launched a campaign dubbed 'The Triple Threat Campaign: Getting to zero by ending HIV in adolescent girls and young women' which Dr Masha noted will help keep girls in school.
Lack of school, noted the ministry, is a high breeding ground for sexual violence and failure to access reproductive health services and "education is a proven means to prevent HIV in adolescents and young women," added Dr Masha.
However, the most affected women were those in arid and semi-arid areas, but the campaigns will address other indirect barriers, including disruption to school attendance over insufficient access to menstrual hygiene products.
In 2021, counties reporting high new infections also reported a high number of Sexual Gender-Based Violence (SGV) cases and teenage pregnancies.
At least 42 per cent of SGBV cases were among adolescents aged 10 and 19 years.
The initiative will also handle the socio-cultural and legal protection of the most vulnerable as the number of females infected with the virus, according to the 2021 data in the age bracket is higher, compared to males.
At least 23 counties including Marsabit, Meru, Migori and Mombasa, recorded an increase of above 50 per cent in SGV cases among adolescents between 2018 and 2021.
It was noted that 13 counties account for 72 per cent of all new infections namely Kisumu, Siaya, Migori, Mombasa, Kakamega, Uasin Gishu, Machakos, Narok, Meru, Turkana, Kitui, Bomet, Nyamira and Kwale.
Data by the ministry reveals that adolescents and young adults aged between 15 and 29 years contribute to 61 per cent of all new adult HIV infections, with 42 per cent in the age bracket of between 15 and 24 years.
In Kenya, 1.43 million Kenyans were living with HIV in 2021 out of which, 78, 465 were children, according to the Ministry of Health.
The national prevalence of HIV is 4.3 per cent, with women being the highly infected at 5.5 per cent, against 2.9 per cent of the male gender.
Adolescents consist of 24 per cent of the Kenyan population, according to the Kenya National Bureau of Statistics 2019 census.
On a positive note, Kenya registered 43 per cent reduction in HIV-related deaths among adolescents and young people between 2015 and 2021.
Related Topics