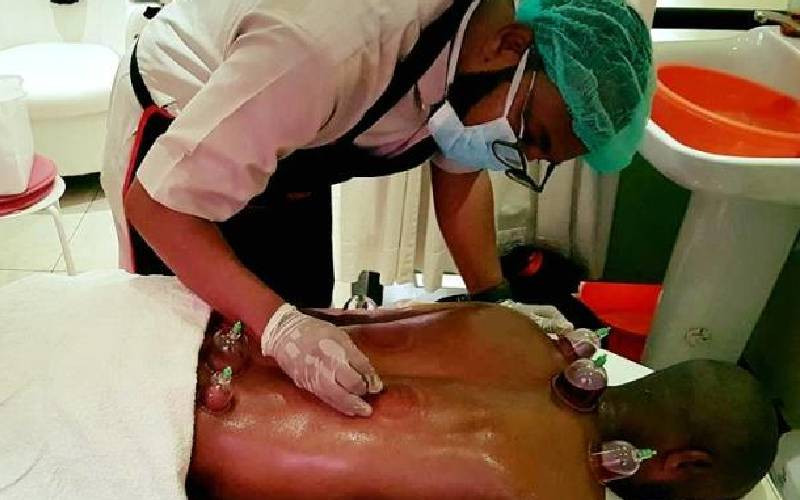 Zubeir Mohammed specialises in cupping and acupressure, a practice that began accidentally in 2014 after being diagnosed with chronic transverse myelitis- a neurological disorder of the spinal cord.
Symptoms began while he was walking around the Kaaba in Mecca during the lesser Hajj referred to as Umrah for his parents. "It started as a pain in my heel," recalls Mohammed, but later turned into "a disease that was threatening to put me in a vegetative state."
Despite local hospitals prescribing calcium based drugs, the condition kept deteriorating and he sought treatment in India after a CT scan showed growth along his spinal column.
A pre-operation assessment indicated there were chances of surviving, but without guarantee of regaining use of all his functions.
"I asked the doctors to allow me more time to consider," recalls Mohammed. "I did not want to take the chance and lose my virility, sight or ability to manage bowel movement."
Doctors begged the family to intervene and sign the consent forms on his behalf.
But Mohammed stuck to his guns and launched his own therapy session which medics could not understand. But he regained his health and became an expert in the alternative medicine of Hijama Therapy-which is used in treating migraines and hay fever.
Hijama Therapy involves making incisions into the skin and drawing blood with suction cups.
Mohammed started by broadcasting messages to friends and fellow worshipers besides seeking his family to initiate a sadaqa (alms) for the needy and religious centres.
Sheikh Yusuf Abdi, a Mombasa-based scholar, cleric and who also dabbles in nasheed, (Islamic worship music) composed a song for him.
Mohammed returned from India and started attending acupressure and cupping sessions with experts in Malindi.
"It cost me Sh1,000 every week and eventually I began using the U-shaped crutches, then two canes and I eventually managed to get back on my feet," says Mohammed who convalesced for one and a half years.
This enormous effort from friends and family which is in no way a part of the Hijama Therapy luckily snatched Mohammed from the jaws of terminal decline.
And it was from that time that he started thinking seriously about alternative therapy like Hijama.
Hijama literally means 'sucking' or to "bring something to its normal state. It is a tradition of Prophet Muhammadwho advised followers to carry it out for better blood circulation.
"There are many narrations of the Prophet in which he describes Hijama among the best cures as it eases the back, removes toxins from the body and sharpens the eyesight," explains Mohammed who had witnessed Hijama being practiced in Thailand in 2008.
Sheikh Rishad Rajab of Masjid Jibran in Mtwapa says that cupping is a highly recommended procedure in Islam, as one of the remedies from the Sunnah of the Prophet.
"Hadith of the Holy Prophet states that the prophet praised the person who performs cupping saying that it removes bad blood, lightens the back and sharpens the eyesight," says the Sheikh, adding that the prophet did not only recommend cupping as a remedy for myriad illnesses but also had the procedure performed on himself.
Mohammed has since acquired a Hijama set besides undergoing tutelage with expert herbalists in Tanzania before registering with Pharmacy and Poisons Board and says now "I help relieve pressure, improve circulation, help manage diabetes, paralysis and stroke as well as treat chronic migraine and erection dysfunction."
Mohammed lists the three types of cupping as including; Dry Cupping which relieves anaemic symptoms, relaxes stiff muscles and relieves muscular pains and aches.
The second is Cupping massage for spasms, numbness and aids in blood circulation while Wet cupping draws out toxins from the body.
Mohammed explains that Wet cupping produces three types of blood: "Bright red blood which indicates a healthy individual, brownish blood indicates moderate stagnation which could mean anything from the onset of bad health to hasad (evil eye or envy). Dark red blood indicates impending severe attack or even paralysis."
Mohammed also has Fire cupping where a flame is introduced into the suction cup and blood is drawn out of the body by the vacuum created by the flame.
Cupping sessions lasts 35 to 40 minutes and can be carried out via house calls and he clarifies that Hijama Therapy is administered on six points depending on the ailment.
"One cup is placed beneath the neck to detoxify the body. Two other cups are placed on the shoulder blades to care of the nose and ears, two more cups are placed above the heart and lungs with two more at the kidney and liver areas," says Mohammed.
Related Topics