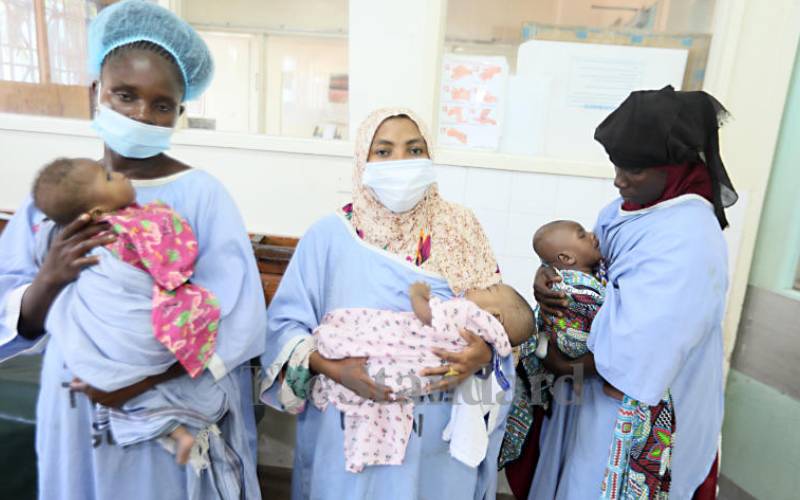 When Rehema Bakari gave birth to her second baby at a health facility in Mtopanga, Kisauni, she did not expect her baby to be 'different'. However, as soon as she was handed her newborn baby by the hospital nurse, Ms Bakari noticed something unusual.
"I noticed she had a deformity on her mouth. This broke my heart and for the first few weeks after giving birth, I cried a lot," she said.
Ms Bakari was unable to breastfeed her baby due to the deformity and resorted to feeding her from a bottle. As such, Ms Bakari says she missed the maternal bonding which comes with a mother holding her newborn while breastfeeding.
Thankfully, three months after birth, Ms Bakari's baby was among a lucky group of children who are set to benefit from reconstructive surgery at the Coast General Teaching and Referral Hospital (CGTRH) to repair palatal defects such as cleft lip and cleft palate.
"I was told about an organisation which was offering medical procedures to correct the deformities for free. My relative said he had forwarded my name and that of my child to the hospital where the operation will be conducted," she said.
The organisation, Smile Train Africa, is a global charity that empowers medical professionals to provide free cleft surgery and comprehensive cleft care to children in need.
Rehema and her child are among beneficiaries who had come to the hospital for screening.
For Musingi Munyao, a 60-year-old jua kali artisan from Likoni sub-County, the sight of his five-year-old grandson, Boniface Munyao, unable to speak properly due to a palate disorder has haunted his family.
"When I got word that there would be a free medical camp for such cases, I took it up upon myself to bring my grandson here for treatment. I want him to live a normal life like the rest of us," he said.
Smile Train, the world's largest cleft surgery organisation has partnered with the Kenya Society of Plastic Reconstructive and Aesthetic Surgeons (KSPRAS) and CGTRH to transform the lives of patients with cleft deformities in Mombasa.
Emily Manjeru, the public relations and communication manager for Smile Train Africa said the two-day exercise is a treat and train session where trainee doctors learn from the best in the field of surgery.
Program Director Jane Ngige-Muturi said many patients with cleft deformities are often stigmatised because of their looks.
"Patients living with untreated cleft experience difficulty in breathing, eating, speaking and hearing and being unable to socialise with friends, which weighs heavily on the family," said Ms Ngige.
KSRPAS chairman Prof Stanley Khainga said there is need for more trained professionals to treat cleft at community level.
"We still have many patients with cleft living in hiding, but once treated, the transformation is immediate. Their confidence is boosted and they become more valuable contributors to the economy," said Prof Khainga.
"For this to happen, we need more trained personnel within the community to treat cleft, which is why our partnership with Smile Train also invests in training of local medical professionals," he added.
Related Topics