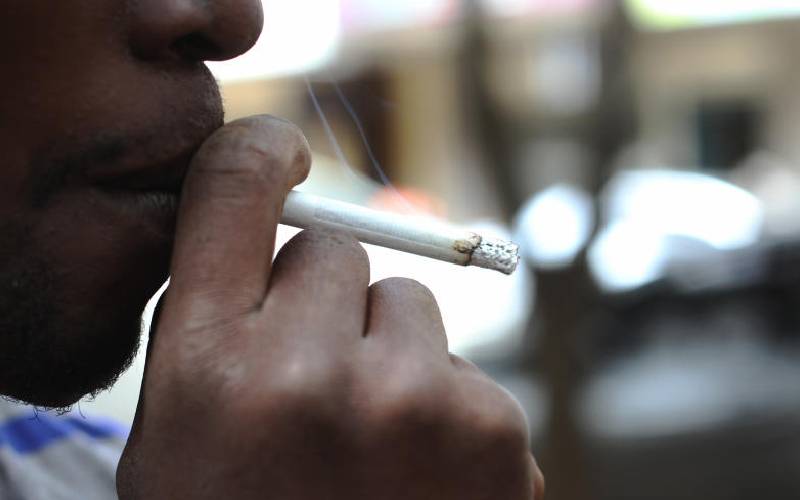 Tobacco use and exposure continue to be a major risk factor for non-communicable diseases in the country, Health CS Mutahi Kagwe has said.
The sentiments from Kagwe come as Kenya joined the rest of the world to commemorate the World No-Tobacco Day with calls for effective policies, reduced exposure and tightening of loopholes to combat tobacco consumption.
According to Kagwe, 13 per cent of Kenyans aged between 18-69 years use tobacco with nearly one in 10 Kenyans smoking the substance, and 3.6 per cent using smokeless tobacco.
This year's theme is Protect the Environment which aims to raise awareness of tobacco use.
The celebrations were held at the University of Nairobi with senior officials from the Ministries of Health, Agriculture and policymakers in attendance.
The stakeholders stressed the need for increased sensitisation campaigns against the use of tobacco and nicotine products.
Disease burden
The increased tobacco use, he says, has enhanced the overall burden of disease and deaths and also led to an increased risk of tuberculosis (TB) infection and cancer among other health complications.
"I wish to advise the public that these products are harmful irrespective of the form of use," Kagwe said in a statement.
He, however, said the government was committed to the fight against the tobacco epidemic and the high rate of consumption of nicotine products.
Kagwe said tobacco products are known to contain 7,000 chemicals which include cancer-causing agents, irritants, and poison among others that are injurious to human health.
"Therefore, there is no safe or less harmful form of tobacco use. The consumption of tobacco products is harmful to people living or working with tobacco users including women, children and people working in the hospitality industry," he said.
More than 8,100 Kenyans die of tobacco-related diseases every year, while more than 220,000 children and more than 2,737,000 adults continue to use tobacco each day.
According to the World Health Organisation tobacco kills over eight million people globally every year.
The harmful impact of the tobacco industry on the environment is vast and growing adding unnecessary pressure to the planet's already scarce resources and fragile ecosystems.
Related Topics