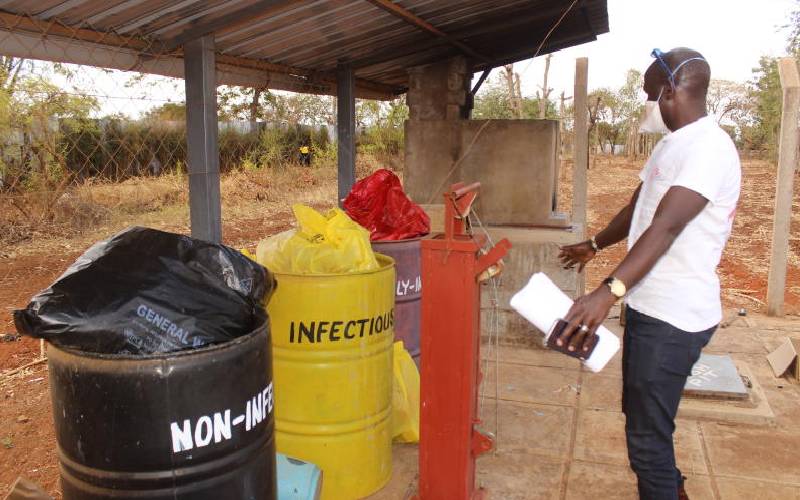 Insulin is an important drug in the management of glucose levels among diabetes patients. But to be effective, it requires proper storage. It can also turn toxic with improper storage.
This has seen many users turn to innovative ways to store the drug in their homes, especially in rural areas.
Beatrice Runji, 57, from the remote Kanganangu village in Mbeere, Embu County, uses a traditional pot to store insulin.
She wraps insulin vials in cotton wool soaked in surgical spirit and stores it a plastic container beneath the bed to maintain its optimal temperatures.
"I cannot pick insulin at the hospital every day and because I cannot afford a fridge, I use surgical spirit to keep the temperatures optimal," narrates Runji who has diabetic foot and uses insulin to manage her glucose levels.
Erenius Ngelecha, a pharmacist, explained that depending on the progression of diabetes, some patients are managed using oral medicine and others on insulin.
Patients with type 1 diabetes require the drug for survival as their bodies cannot produce insulin, while those with type 2 diabetes use oral drugs.
Diabetes type 1 is a genetic disorder that often shows up early in life, while type 2 is largely diet-related and develops over time.
Ngelecha explained that handling and storage of insulin is vital for effectiveness as it is stored at optimal temperatures of between 2 and 8 degrees, and between 2 and 30 degrees when the vial has been opened.
"If stored below expected temperatures, insulin can go bad," said Ngelecha who is attached to Médecins Sans Frontières (MSF), a health organisation educating locals on Non-Communicable Diseases.
Patients who cannot afford fridges are advised to store insulin in terracotta pots filled with water and stored in a cold place. The water should be changed often to avoid chances of contamination.
Right measures of insulin is vital for patients.
"Insulin can kill, and might be ineffective if the right quantities are not used. Patients, therefore, have to measure the vials," explained Ngelecha.
At home, he warned that insulin should not be stored in extremely hot or cold environments. The medicine is also not to be stored in freezers or under direct sunlight.
Storing in such extreme temperatures makes the insulin not to maintain glucose levels, in some cases, they turn poisonous.
The waste should be segregated. Sharp objects such as needles should be placed in a safety box, while cotton and alcohol swabs should be placed in a black paper bag, for easier management.
The safety box gets filled up, after about four months patients take them to the nearest hospital. They are then collected by public health officers and taken to the waste management plant at Gategi Health Centre.
"Cartridges and insulin vials can be disposed of at a compost pit at home, but the sharps, should be placed in a safety box. Syringes should not be re-used, as such predisposes patients to infections," warned the pharmacist.
For Runji, after administering the insulin, she segregates the insulin waste-places sharps and vial bottles in a labelled insulin box, and burns degradable waste at the compost.
"My grandchildren are always playing around. To protect them from getting pricked, I keep the needles in a safety box. When it's filled I take it to the hospital, for incineration," she added.
Rose Wanza from Koma village is also keen about how she handles needles after injecting her 70-year-old mother-in-law, Phyllis Thenya, who is diabetic.
"Immediately after injecting my mother-in-law with insulin, I collect the needles and the sharps, and keep them in an insulin box. I then store the box on my rooftop," said Wanza.
"Previously, I would burn the needles at the dumpsite, but they would prick children putting the minors at the risk of getting infections,"
Wanza changed her manner of disposal after being trained on insulin waste management by MSF.
Health & Science visited the waste management plant at Gategi Health Centre, which manages pathological, contaminated, translucent and medical glassware insulin waste, among other medical waste.
At the unit, empty insulin vials are placed in a glass crusher, crushed and then rolled into a sharp pit.
Needles are placed in a sharp management container, incinerated and rolled into the sharp pit, while degradable are burnt and segregated into an ash pit, for safety purposes.
Any waste that is not degradable is harmful to humans and the environment, that is why at the unit, it must be handled by trained public health officers.
According to MSF data, out of 6,000 diabetic patients, at least 1,200 are on insulin, who take their waste to the waste management plant.
In a 2017 study by the Journal of Diabetes Science and Technology for Basic Science to Clinical practice, unsafe disposal of insulin waste could cause millions of sharps to appear in the municipal solid waste stream, thereby posing a substantial public health hazard.
Out of 150 respondents who participated in the study, approximately a third unsafely disposed of sharps.
The study noted that about "38 per cent of respondents discarded lancets unsafely, and 33 per cent discarded insulin needles unsafely, typically by throwing these items into household trash."
Related Topics