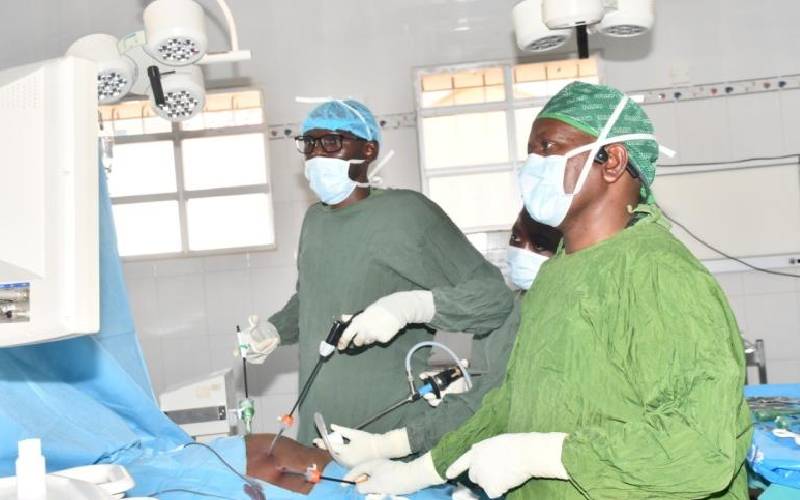 Dr Stanley Mwenda's biggest dream growing up in the village was to be a mechanic. But dreams can get an engine and move to uncharted territories, in his case, a 'human mechanic' or to be more precise, a consultant surgeon.
His journey to medicine began at Lailuba Primary School in 1998 where scored 501 marks out of 700, a record that remained unbroken for 18 years. However, his illiterate father was financially challenged. He could only afford to take his son to a village polytechnic. But teachers and villagers would hear none of it.
"My dad did not fight when the community said they wanted to hold a fundraiser to take me to school," he says.
The happenings would greatly influence Dr Mwenda's life when one teacher told his father the village polytechnic was not an option as "it denies us our first doctor in the village. I think that was subconsciously planted in my mind and I pursued medicine later in life."
He joined St Cyprian High School in Meru County. However, the amount was only enough for a year, leaving him with financial struggles for the rest of his high school life.
But that did not derail him. Dr Mwenda's dreams were reaffirmed by his teachers who urged him to pursue either medicine or law as "they had produced all cadres of professions except medicine and law. This inclined me towards sciences and medicine. I think I am the only doctor who came from that high school."
By the time KCSE results were announced, he was working as a beer salesman.
"When I found my name in the newspaper, I was filled with overwhelming emotions because here I was, a celebrity in my village, but away hawking beer in another town," recalls Dr Mwenda who prefers referring to himself as the 'village surgeon' and even authored a book of the same name.
Appearing in a national newspaper for his academic performance was a defining moment that relegated to the backburner all the mockery he endured, coming from a poor background.
"For a child, I imagine the greatest trust system are parents who encourage you with words of yes you can do this, you are good," reflects Dr Mwenda. "But I grew up with my dad telling me I could still do well as a farmer, a tailor or a mechanic, and that was the extent of his horizon based on his experience, which almost created inferiority complex as I grew up."
He believes that kind of upbringing is a dream killer to most children who would have otherwise performed well in life. Scoring an 'A' Plain in high school earned him a place at Moi University where he developed his interest in surgery after interacting with passionate faculty and surgeons in the department of surgery in his undergraduate years.
Surgery, he argues, "is a singular chance that utilizes not only my doctor's expertise to diagnose and treat, but also the dexterity of my hands to expertly fix what is physically broken in a patient."
Earning a scholarship to Linkoping University, Sweden, only expanded his interests and worldview of how far somebody whose biggest dream was becoming a car mechanic can go into becoming a "human mechanic who fixes the engine while it is still running."
But village life still influenced his university days, especially the freedom to do things, which are out of bounds in the village.
"In the village, you dress in a certain way because you fear what people will say, but at the university, you can speak English without fearing people will say you are pretending to be knowledgeable, and your fear of being misunderstood is controlled. You feel comfortable and free," he says of the leveling experience and sense of self-belief he found at the university.
The university was different, academically as one would "go to the library and find the newspaper of the year you did your final high school exam and it is like taking a roll call of your class and you have a sense of belonging, but when the first exam comes, you don't score well and have to pull up your socks and improve in the next."
As a way of giving back to his community, Dr Mwenda chose to work in his home county where he could inspire more people and even "when on leave, I always get calls that someone whom we schooled together or from my village who wants me to go operate on their kin and I feel a kind of satisfaction in that."
It was while working in the village in Nyeri and Meru counties, which inspired him to write 'The Chronicles of a Village Surgeon,' a collection of encounters with patients along the hospital corridors.
Dr Mwenda, who is an award-winning healthcare manager and leader notes that infrastructural and equipment support is one of the challenges surgeons and surgical care providers face, especially in remote areas, including the purchasing power of the person who needs them.
To improve the surgical care provision in the country, Dr. Mwenda was part of a multi-sectoral team that sat with the Ministry of Health to try and define the National Surgical Obstetrics Trauma and Anesthesia Plan, which was not launched or implemented.
The village surgeon, concludes Dr Mwenda "is looking for personal growth as a person and as a better surgeon. So I will keep operating, I will keep writing, I will continue speaking and hopefully, I can get more platforms to influence surgical care in a way that meets the needs of the society without breaking their backs financially."
Related Topics