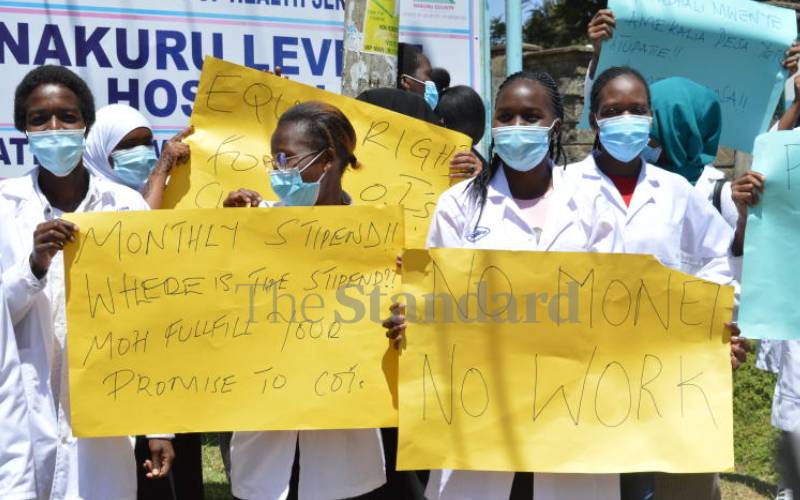 Nearly 3,000 clinical officer interns attached to health facilities across the country are protesting against delayed monthly stipends.
The trainees were hired by the Health ministry for a year-long internship programme in public hospitals.
The first lot was hired in August and the second in December.
The appointment letter read: "The condition of this internship requires you to serve in the station of your deployment."
It added: "You will be entitled to a consolidated payment of Sh15,000 per month. Completion of the internship does not guarantee you appointment into the regular establishment."
At the Nakuru Level Five Hospital, 70 interns marched out of the facility, saying they have not been paid for seven months.
Efforts to get a response from the Health ministry were futile.
Intern Ms Naomi Muyucha said the lack of payment has affected their working morale despite the high expectation to serve patients.
"The August cohort received payment numbers but nothing has been forthcoming. The December group has not had any communication since their engagement," she said.
Intern Mr Timothy Ogado, who was posted in August, said they are willing to work but the silence from the Health ministry has left them struggling.
"There has been no communication on whether and when the government will pay us. We are expected and actually work at the facility for a minimum of eight hours a day," he said.
Kenya Medical Practitioners Pharmacists Dentists Union Secretary-General Dr Davji Bhimji said the union would rally behind the interns if the challenge persists.
Related Topics