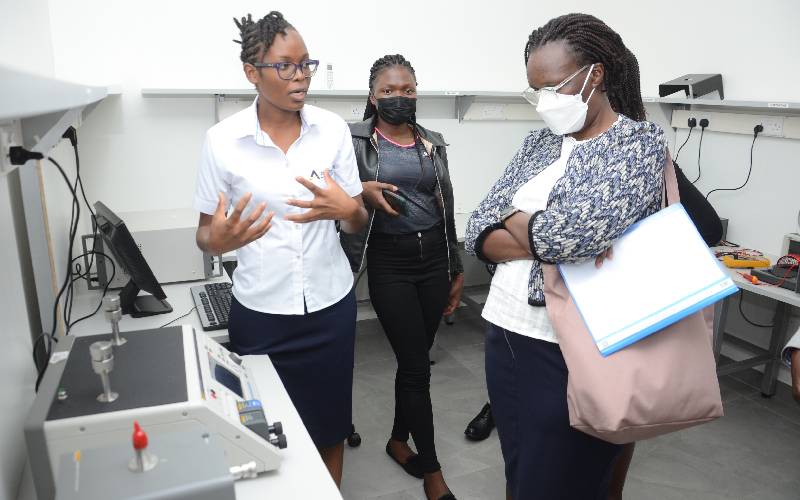 A four-member delegation team from Uganda has commended Kenya for its achievement in radiation protection and safety.
The four drawn from Bank of Uganda Medical Hospital said Kenya remains a leader with well-equipped laboratories for calibration and safety testing.
Led by Ms Justine Kibahigire, the delegation said it is worth noting that Kenya has specialized people in calibration and repair which plays an important role for accurate values in the measurement space.
Kibahigire spoke after the conclusion of the five-day benchmarking tour in Kenya where they spent a day at Amotech Africa's office. The benchmarking tour was courtesy of the Kenya Bureau of Standards (KEBS).
"Uganda is in the process of growing and resourcing its training centres. When we made a request to KEBS, we are happy that we were referred to Amotech Africa where we have learnt so many things in the safety space," she said.
Her sentiments were echoed by Amotech's Marketing Manager Catherine Njeri who said a time has come for EAC member states to focus on regional collaboration that would enhance radiation safety, especially in the health sector.
"Calibration plays a key role in the measurement space and thus governments must ensure that the health sector is supported with solutions that enhance safety," she said.
KEBS Head of Dosimetry lab, Mr Collins Omondi said the visit gave participants the opportunity to gain practical experience and therefore reinforce the theoretical knowledge gained from the training.
Omondi who spent time with the delegates concluded that the firm remains committed to its mandate to realise, maintain and disseminate the International System of Units (SI) nationally and regionally.
Related Topics