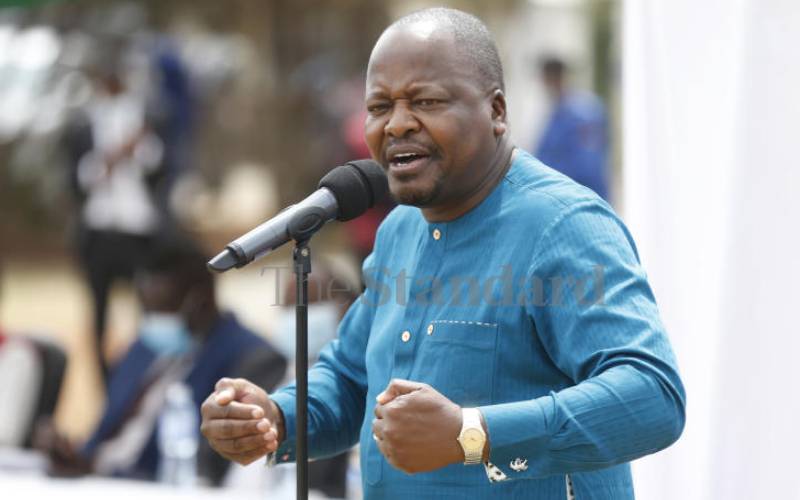 The doctors' union wants Health Cabinet Secretary Mutahi Kagwe punished for seeking to terminate contracts of Kenya Medical Suppliers Authority (KEMSA) managers.
Kenya Medical Practitioners, Pharmacists and Dentists Union (KMPDU) accused Kagwe of sending the KEMSA managers on a forced 45 days' leave with intention to sack them when there is a court order barring the move.
Through lawyer Henry Kurauka, the doctors' union argued that the CS, Kemsa board chairperson Mary Mwadime and the acting CEO John Kabuchi went beyond their mandate in sending the employees home without following fair labour practices. "Sending the affected managers and other Kemsa employees on compulsory leave is tantamount to terminating their contracts, which affects their terms and conditions of employment," said Mr Kurauka.
The Health CS and Kemsa board, on February 10, directed the managers to proceed on 45 days' compulsory leave unless they were instructed to return to their offices, but Kurauka argued that none of them members had pending leave days.
He claimed the ministry and the Kemsa board had prepared a pre-drafted document, which the managers were forced to sign to prove that they agreed to take leave. Kurauka told court it was impossible for Kemsa to operate without the top managers who made critical decisions and approved financial requests. He said the public, which requires Kemsa services, would suffer.
The lawyer said the Employment and Labour Relations Court had issued an order stopping sending the employees home, pending determination of the dispute. "The CS and the KEMSA Board are in contempt of court when they are all aware of the court order which suspended any restructuring of the body. They cannot operate as if they are above the law and must be jailed for their actions," said Kurauka.
He asked the court to summon Kagwe, Mwadime and Kabuchi and commit them to six months in jail for disrespecting the court. The lawyer said the court had scheduled the judgement over employment dispute at KEMSA on February 24, and wondered why government was in a hurry to do away with the employees before the verdict.
In November 2021, judge Ocharo Kebira issued orders stopping the Health CS and Kemsa board from restructuring the state agency following a petition by KMPDU to stop deployment of the military to the facility.
They argued that plans by the ministry to undertake mass layoffs at Kemsa would affect the more than 10,000 medical practitioners who depend on the authority's services to save lives.
They went to court after government announced plans to send home 900 Kemsa staff and enlist services of military at the authority after allegations of misappropriation of Covid-19 funds.
Related Topics