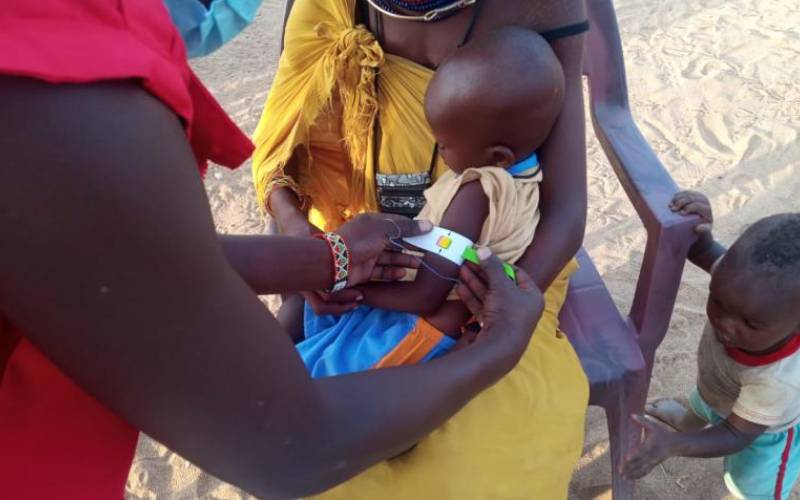 Isaac Elim, a father in Loima village, Turkana County, was told by doctors that his three-year-old daughter was suffering from acute malnutrition. His pregnant wife was also screened at the Turkana County Referral Hospital but the screenings are most times hampered as the pastoralist family migrates in search of pasture and water for their stock.
"Livestock keeping is the main source of income for my family, but with the drought, I cannot sell them due to lack of market, nor milk them, to afford a meal for my family," says a devastated Elim whose family sometimes feeds on boiled maize. This goes for his three-year-old daughter, Loopongo, as well as her four elder siblings.
The girl has been nourished by a nutrient-dense peanut paste provided by Save the Children, a charity organisation.
"Skipping meals for my family has become the norm. We depend on well-wishers for support, and when it does not come, it takes us even two days without a meal," explained Elim. "I sometimes send my children to eat at their aunt, but she is struggling too."
The drought-affected water volumes in rivers and streams and scanty rainfall has made farming difficult.
"Rivers, where I used to take my stock, have dried up, and I cannot risk taking them in far away localities as they can easily die. They are getting weaker by the day," added Elim, who has since lost his camels, cows, donkeys and goats to drought.
To supplement his income, Elim could burn charcoal for sale, but the venture is flooded by locals, attracting less profit.
Many households in Turkana have lost their sources of livelihood due to an extended drought, a situation that has affected food security, according to August 2021 reports by the Kenya Nutrition Situation Overview, and National Drought Management.
Data shows that at least 652,960 children are malnourished and require immediate treatment. Over 50,500 are children from Turkana County.
In its long rains assessment report 2021, the National Drought Management Authority (NDMA) observed that 2.1 million people were facing a food crisis by July, across counties in arid and semi-arid regions of Kenya.
Save the Children has trained community health volunteers on community nutrition — including how to treat malnourished children — besides distributing nutritional commodities like nutrient-dense peanut paste to Community Health Volunteers to give to affected families.
Further, health workers are being trained on integrated community case management of children. Like government nutritionist Abenyo Zeinjer, who explained how malnutrition has been one of the top three killer diseases here, "many children from far off villages could not attend all the follow-ups as required, thus were discharged as defaulters or non-respondent."
Save the Children Country Director for Kenya and Madagascar, Yvonne Arunga, urged both national and county governments to quickly release funds to help mitigate the crisis and support families in need.
Related Topics