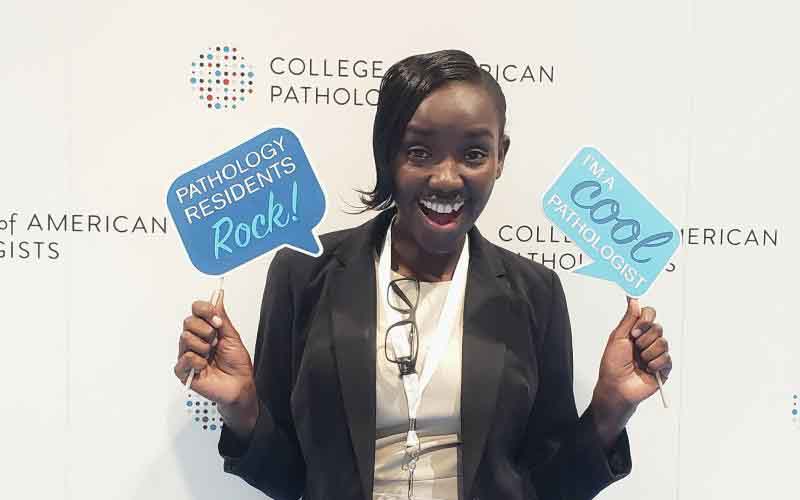 Dr Asha Chepkorir Sigei-Rono knew what she wanted in life. Not even poverty could stop her from realising her dream of becoming a doctor.
Today, she is not only a trained medical doctor but also the chief pathologist and medical director at the Iredell Memorial Laboratory in the United States.
Getting there took sweat, sacrifice, and perseverance.
Her father, Ali Sigei, raised his family at Nyagacho/Matobo in Kericho town, working hard to ensure his children got a good education.
Sigei was a taxi driver. His wife cooked mandazi and sold to neighbours to supplement her husband's income. The family-owned three cows that roamed the slums for pasture. "We did not have much, but we had what was necessary," recalls Dr Asha.
After her Kenya Certificate of Primary Education at Matobo Primary School, Dr Asha joined Kipsigis Girls High School. Her father then decided to sell his taxi to pay for her education.
"He said he could only afford our fees up to high school," she recalls.
"My fear was that my education would end at form four. Luckily, things worked out in different ways. Sometimes miracles happen," she says.
Her mother, Leah Sigei, had just died after being hit by a car while crossing the road on her way to hawk mandazi.
After sitting her Kenya Certificate of Secondary Education examination in 2003, Asha scored an A. "I was so happy after scoring an excellent grade. But after celebrations, my father, anxious, asked me, 'Asha, how can you score an 'A' yet you know very well that we do not have money? Now what will I do?"
"It wasn't that my father was angry at me; it was more about what was unfolding before us. I had applied for an engineering course, but my father advised me to apply for a medical course," she recalls.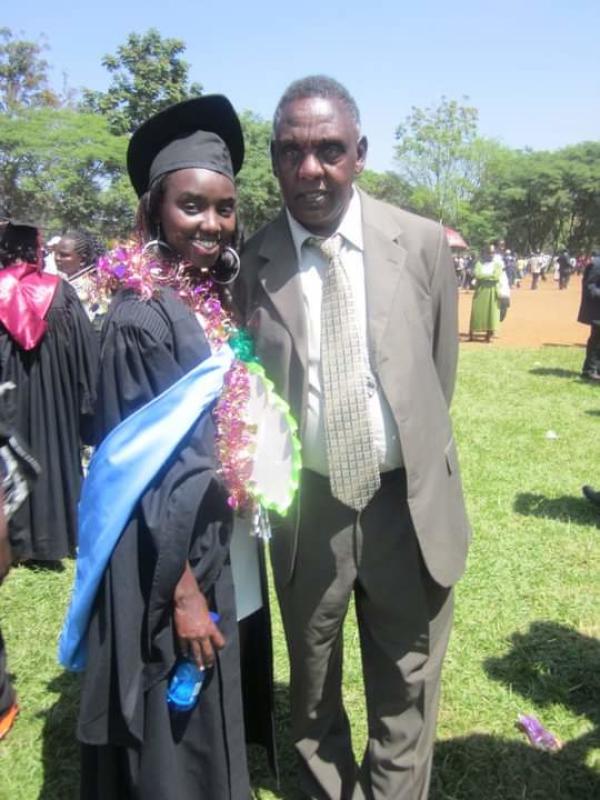 Meanwhile, she helped her father run his small kiosk in the slum. She also got part-time job at Milimani Primary School, a private school, to help her raise money for her university education.
Scholarship opportunity
As she continued saving for university fees, she met an old man who had taken shelter from the rain at her father's kiosk. She served him tea and as they interacted, he inquired about her education. She told him her story and the man helped her get a scholarship from James Finlay, a tea factory.
In 2005, she joined the University of Nairobi's School of Medicine and graduated in 2010. After graduation, Asha interned at Kericho Hospital and was awarded for being the best medical intern. "It was a pleasant experience for me working from home. I was not being paid much, but with the earnings, I could support my siblings and father. I was happy to help people," she says.
Blood transfusion committee
At the facility, she started and chaired a blood transfusion committee. She ensured blood was transfused safely.
In 2013, she got married and moved to the United States where her husband Denis Rono was living. Rono is a psychiatric nurse. Shen then enrolled for a master's degree in management in clinical informatics at Duke University in North Carolina.
In 2019, she applied for a pathology residency programme through East Tennessee State University and completed a one-year hematopathology fellowship. In 2021, she enrolled for another one-year fellowship at the Medical University of South Carolina.
Chief Pathologist appointment
Early this month, she was appointed the chief pathologist and medical director of the Iredell Memorial Laboratory. Her role entails overseeing accurate diagnostics.
"I think I am good at what I do. Having a master's in clinical informatics boosted my chances against other applicants," she says.
Asked to compare healthcare in Kenya and the US, she says although Kenyan medics are well trained, the lack of medical equipment hinders their work. "What is learnt in medical school in Kenya and abroad is the same. However, practising in Kenya is different from doing so in the US because at home, you want to give the best but you lack equipment," she says.
"Looking back, I feel practising medicine in Kenya, is frustrating. For example, you would want to conduct an X-Ray or CT scan, but the machines are broken. Hospitals lack even simple items like gloves," she says.
Related Topics