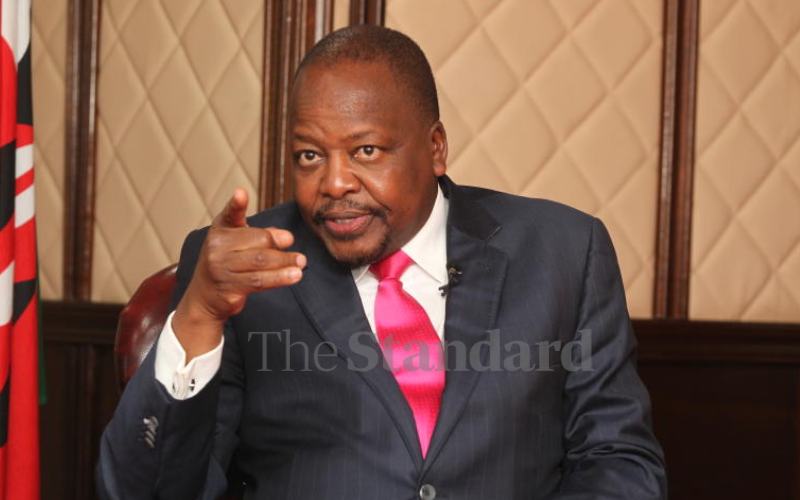 The year 2022 will be punctuated by national politics and politics of vaccines, travel advisories due to mutating viruses, fear of spreading Covid-19 during political rallies in the run up to the General Election.
And there are key personalities who will shape decisions in the health sector this year.
Mutahi Kagwe, CS for Health
He was appointed Cabinet Secretary in a docket dogged by chaos at the onset of the pandemic.
His background in public relations came in handy in cooling a jittery nation.
In 2022, 'Mtu wa Corona' as Kenya's children fondly called him, will be a key voice in how Kenya handles Covid-19 amidst heightened political temperatures.
He will be measured by a progressive hit of targets set of vaccinations, management of new variants, transparency in relaying information besides implementation of Universal Health Coverage.
His tenure has been faced with "tenderpreneurs" of Covid funds and people will want to see if culprits will face the law.
Dr Mercy Mwangangi – CAS, Ministry of Health
She became a darling of Kenyans because of her soft-spoken nature when fleshing out issues around Covid-19.
She will also be a critical voice in shaping health discourse majorly around the Covid-19 management and implementation of Universal Health Coverage during a time of political transition.
Dr Peter Kamunyo - CEO NHIF
Patients will be looking up to him to provide better health cover for major medical cases while health providers will be seeking a balance for the best health financing model.
DR Willis Akhwale, Chair Covid-19 vaccine taskforce
He has been very instrumental in managing the vaccine task force in 2021, with more vaccines expected, convincing Kenyans about their shelf life will be his headache in 2022.
Having fallen short of vaccinating 10 million Kenyans by a slight margin in 2021, the focus will be on whether 26 million Kenyans will have been vaccinated by December 2022.
John Kabuchi new KEMSA CEO
He will be a key cog in the wheel of making available essential medicines and products to counties and referral hospitals.
Previous scandals have tainted the image of Kemsa and how he handles the transition to a new regime means he will often be in the news, hopefully for the right reasons.
As the country focuses on achieving Universal Health Care, his voice and actions will count as to whether he will restore better relations with donor agencies.
Mugo Kibati, Chair, Kenya Biovax ltd
This vaccine plant will be crucial in weaning Kenya off donor dependency and Kibati will be crucial in this game-changing venture of having locally made Covid-19 vaccines by April.
How the institution will live up to its billing besides maintaining public trust by skirting around scandals and leadership wrangles will be a major milestone this year.
Medical unions and associations
Last year saw a few industrial strikes despite the virus killing businesses, creating layoffs and forging new cultures.
Most were vocal in fighting for the rights of medical practitioners besides keeping a tight leash on health facilities while articulating the health agenda. This being an election year, medical unions and associations will be key in setting the agenda for the new government.
Pharmaceutical companies
The battle of having Kenyans stop abusing antibiotics will continue in 2022 as infections continue resisting drugs.
Many will be instrumental in shaping how Kenyans understand prescription drugs, self-medication besides educating them on medical breakthroughs in human and animal health.
Related Topics