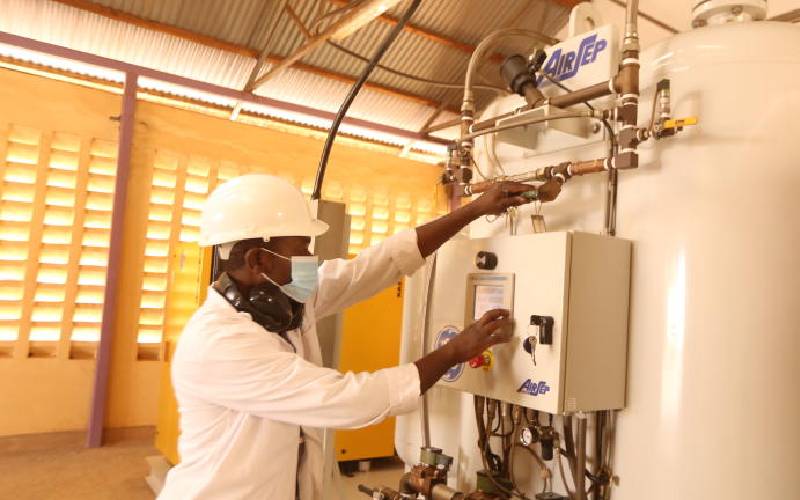 Fiona Juma, was in a strong fighting spirit during her admission at Mbagathi Hospital.
In despair, she took to her Facebook account, pleading for supply of oxygen.
"If this is my last post, then, God I want to say thank you to everyone who has been there for me ever since I contracted Covid-19. I have been at Mbagathi Hospital, where I am trying to get oxygen for hours now and days," wrote Juma.
She added: "My oxygen levels are 52 at the moment. I can barely walk or speak, they are telling me there is no oxygen completely. I have seen people die right before my eyes, not one or two people."
Barely five hours after the post, she lost the battle to the virus.
The Standard reached out to Juma's friend who said after the post, the family sourced for oxygen and ICU bed to have her transferred, only to receive shocking news of her death.
"She died a strong woman," said her friend, overwhelmed by sadness.
Juma's struggle mirrors the challenges hundreds of Kenyans are facing in the fight against the pandemic.
Plans are underway at Ngutwa village, in Makueni County, for the burial of Micheal Munguti, who gasped his last Friday, as he struggled to get an ICU.
Marian Muli, his niece said he developed difficulty in breathing on July 28, and was rushed to Komarock Utawala Hospital.
Munguti who was a resident at Donholm, Nairobi, required oxygen and ICU, that wasn't available at the hospital.
The management contacted Kenyatta University Teaching, Referral and Research Hospital (KUTRRH) and KNH, but their ICU beds were full to capacity.
Private facilities within Nairobi were demanding a deposit of between Sh100, 000 and Sh500, 000 for ICU.
He succumbed at the accident and emergency unit, gasping for air.
"Doctors watched my uncle die, with no much help. His life could have been saved, had he gotten oxygen," regrets Muli.
Prof Matilu Mwau, deputy director, Kenya Medial Research Institute (Kemri), attributed high infections to the Delta variant.
Unlike Alpha and Beta, he said Delta has shorter duration of infections, symptoms and signs.
The researcher, also a virologist said the variant is more transmissible than other variants of concern.
"The viral load in patients is higher, an explanation to why we have a rise in cases and more patients in ICU," said the researcher.
A study by the US Centers for Disease Control and Prevention has revealed that Delta variant, originally known as B.1.617.2, causes more severe illness and spreads as easily like chickenpox.
Even with a surge of cases, the country continues to record a shortage of oxygen and ICUs.
Health CS Mutahi Kagwe has warned that ICU beds in Nairobi were full to capacity.
On Saturday, a total of 1,469 patients were hospitalized, of which, 185 were in ICU.
For instance, ICU occupancy at the Coast General Hospital is full to capacity according to chief officer of medical services Dr Khadija Shikely.
The facility has a total of eight ICU beds.
As of Friday, at least 48 patients were being managed at the isolation unit.
"Currently, we are not admitting patients in need of ICU care because it is fully occupied," said the official.
Covid-19 patients in Mombasa County are also managed at Chuda Hospital, which has a capacity of 40 isolation beds, of which 4 are occupied.
Moi Teaching and Referral Hospital (MTRH) Eldoret has a total of 35 Covid-19 patients. 11 of them are in the ICU.
MTRH Chief Executive Officer (CEO) Dr. Wilson Aruasa said the ICU is full to capacity.
"Our non-Covid-19 beds are 50. Our Covid-19 beds are currently 11, that are fully occupied," Dr Aruasa told The Standard.
The CEO asked the public to adhere to containment measures, to break the chain of transmission.
"Let us know it is here for the long haul. We must continue the basic infection, prevention measures of wearing masks, physical distancing and ensuring proper aeration at our homes and work places," advised the CEO.
Nakuru is also reporting a surge of infections according to the chief officer, public health Dr Daniel Wainaina.
"There is a sudden surge in numbers for the last one week, Most patients require hospital care and supplemental oxygen," said Wainaina.
As per county situation report, dated July 30, 2021, admission across the county was 83, of which, 74 cases were on supplemental oxygen, and 9 managed at ICU.
Nakuru Nursing Home is among private facilities whose ICU is full to capacity.
The facility proprietor Miriam Maina said there are 7 Covid-19 ICU beds, that are all preoccupied.
"Demand for ICU services is high among patients in a critical state. Our beds are currently full, forcing us to refer those in need to Nairobi," said Mina.
Majority of patients at the critical care unit according to her are above 50 years, who have not received Covid-19 jab, which helps reduce severity of the virus, that continue to cause havoc.
In Siaya, though the cases are moderate, respective entities are working closely with department of health to contain spread of the virus, according to health executive, Dismas Wakla.
By yesterday, at least 12 people were admitted at isolation ward in Siaya County hospital, with rest managed under home based care protocol.
"Pressure on Covid-19 admissions has gone down. Currently, we do not have anyone at our ICU unit, and all those in isolation are on oxygen," said the executive.
The county has a total of six ICU beds, among them, four are for managing Covid-19 patients.
The county is supplied with oxygen located at HewaTele oxygen processing plant, located at Siaya County Hospital.
On Thursday, the national emergency response committee on coronavirus noted the need to review mitigation measures, following a surge of cases.
Counties with increase infections include Kiambu, Kajiado, Lamu, Makueni, Murang'a, Nairobi, Nyandarua, Taita Taveta and Tana River.
Mr Kagwe also said plans are in place to install oxygen plants in counties, and urged counties to revamp efforts to install oxygen piping in health facilities, for maximum utilization of the plants.
In an interview with The Standard, the CEO Pharmaceutical Society of Kenya Dr Daniella Munene said oxygen should be supplied across all hospitals, in the fight against the pandemic.
"Oxygen is critical. If patients are not supplied with, they will die," said the expert.
Related Topics