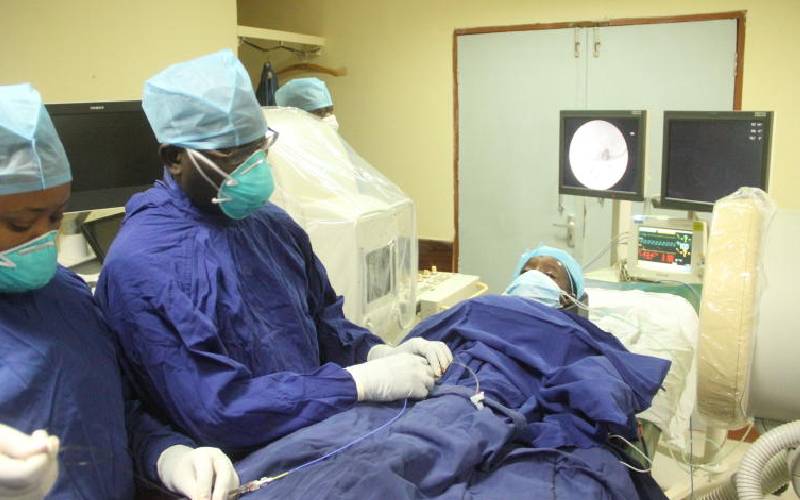 Seven-year-old Fancy Chepkoech was diagnosed with cancer of the kidney at Rift Valley Provincial General Hospital in 2019. She had the affected kidney removed after the discovery of cancer known as nephroblastoma.
In July last year, the girl again developed sharp abdominal pains. In September, she was referred to Kenyatta National Hospital (KNH) for review and removal of a growth.
Fancy's mother, Nancy Kipkemoi, said she had to wait for three weeks for her daughter to be attended to. She would eventually be put on chemotherapy but died three days later on October 17.
"Maybe my daughter would be alive today had she received treatment on time when I took her to Kenyatta. My heart would sink every time I watched her go through that excruciating pain," said Ms Kipkemboi.
But Fancy's case was not an isolated one. KNH is characterised by long queues of patients, some who have been referred there by lower level hospitals.
While there are other factors such as shortage of personnel and equipment that make the hospital not to attend to referral cases as fast at it should, KNH also carries the burden of so many walk-in patients.
KNH should primarily attend to patients on referral basis only and some emergencies. But this is not the case due to walk-ins as the referral health system struggles, causing pain in the process.
Other referral facilities are Eldoret-based Moi Teaching and Referral Hospital (MTRH), Kenyatta University Teaching, Referral and Research Hospital and Mathari National Teaching and Referral Hospital.
A referral is the process where hospitals at lower levels of the health system, who lack the skills, facilities, or both to manage a given clinical condition, seek assistance of healthcare providers who are better equipped or specially trained to guide them in managing that condition. The higher level hospitals may also take over the treatment of the patient.
A recent report by the National Regeneration Plan revealed close to a half of patients seeking services at KNH (47 per cent) have no referrals.
The situation is further compounded by the fact that the facility also attends to patients from the East African Community.
Plans have been afoot to have KNH attend to referral cases only. In July 22, the management of KNH announced on its Facebook page the facility will start offering referral services only. Many hoped this will end or lessen the suffering of patients referred to KNH for specialised care but are not attended on time.
But the post was not specific on the date the walk-ins would be stopped. "KNH is decongesting. A KNH without long queues and long waiting periods," reads part of the post.
Referral services
In May, Nairobi Metropolitan Services (NMS) boss Major General Badi, announced KNH would start offering referral services only. This was expected to start at the beginning of July. To actualise the plan, the government was to ensure at least 24 level 1-5 hospitals around Nairobi are offering full time services so the can care for patients who would otherwise walk into KNH. The plan would involved revamping existing hospitals and constructing new ones.
But emerging reports indicate only four of the 24 hospitals are ready. They are Kiamaiko, Soweto and Shirika, all Level Two hospitals and Muthua Hospital, which is Level Three. President Kenyatta commissioned the four. The fate of the other 20 is unknown.
The decision to stop walk-ins at KNH followed a resolution to transform Nairobi's healthcare system which as Kenya's referral health system was also reviewed.
But in June, while appearing before Senate Health Committee, Badi said the decision to stop walk-in patients at Kenyatta might be postponed, perhaps because the 24 hospitals that to be revamped or constructed before the switch were not ready.
Badi who noted such a move would be unfair to patients in Nairobi, told senators NMS and the Health ministry were discussing how to revamp the city's healthcare system.
"We had a target of July 1 but if we will not have completed all the 24 hospitals, we will move the date," Badi said then.
The Standard Health & Science has established KNH is still receiving walk-in patients. Mama Lucy Hospital, the main facility serving densely populated Eastlands, is being upgraded to Level Five status as is Mathare Korogocho Hospital.
There has been an outcry over patients who are put on long waiting lists at KNH some of whom have died before being attended to. It is this outcry that forced the government into reviewing services offered in some hospitals.
It was after this that President Uhuru Kenyatta directed NMS to ensure there are at least 24 hospitals in informal settlements in Nairobi. The project would cost Sh2 billion.
Areas targeted by the project were Majengo, Mathare, Viwandani, Kayole, Soweto, Kawangware, Gitare, Mukuru Kwa Njenga, Kibera, Mukuru Kwa Reuben and Korogocho.
To enhance healthcare in the informal settlement, NMS was to guarantee smooth running of the 24 hospitals before July.
A Kenya National Slum Upgrading and Prevention Policy report 2014 report revealed that 3.2 million people in Nairobi live in slums.
Early last month, Badi disclosed at least 12, of the hospitals were ready.
Data from the ministry of Health shows KNH receives over 1,000 outpatients everyday as congestion at the facility continues to worsen.
Referral rate to KNH stands at 34 per cent. Close to half of these referrals, (47 per cent), are from from Nairobi. The Health ministry hopes to reduce the number of Nairobi referrals to KNH to just one per cent.
MTRH, a Level Six hospital just like KNH, is also facing an influx of patients, including those without referrals.
To boost healthcare, the National Treasury proposed an allocation of Sh47.8 billion to national referral and specialised services, an increase from Sh43.8 billion in the last financial year. The funds cover KNH and MTRH.
The two national referral facilities were also allocated Sh11.7 billion for development. Out of this Sh120 million would be to construct and equip a children's hospital at MTRH. The facility is also expected to expand and equip its ICU at the cost of Sh15.6 million.
KNH Burns and Paediatrics Centre was allocated Sh250 million.
MTRH chief executive Wilson Aruasa said the facility mainly offers highly specialized curative services, including reproductive health and surgical services, besides paediatric and child services.
Dr Aruasa said MTRH attends to patients from 22 counties in Rift Valley and Western Kenya as well as from Eastern Uganda, Congo and South Sudan.
Records show more than 1,300 inpatients and over 1,500 outpatients are attended at the facility every day. They include about 200 daily walk-in patients.
"Those on referral must have a referral form with patient details. In most cases, referrals are accompanied by nurses in ambulances. But we also don't send away walk-ins," said Aruasa.
The Standard established that all patients at MTRH were triaged. For instance, those in a very critical state are attended to as emergencies pronto. Stable and ambulatory patients are attended to on a first-come first served basis.
"MTRH also provides telemedicine to lower level facilities - lab services, specimen collection and testing, x-rays, CT scans and MRI," the CEO said.
Most counties in Rift Valley and Western Kenya depend on MTRH for treatment of noncommunicable diseases.
Uasin Gishu County Hospital, in Eldoret Town, is in deplorable state. Part of its roof leaks when it rains. The timber used to make walls of some buildings are rotting.
The hospital's VCT unit is housed in an improvised container. A section of occupational therapy unit is housed in a structure whose walls are made of iron sheets. Windows are broken and curtains worn out.
The orthopaedic therapy unit that provides physiotherapy to children is also in a mess. An employee said the building is managed by the county government. Some of the employees have been hired by Academic Model Providing Access to Healthcare (Ampath) and the rest by the county.
Orthopedic unit is new at the county hospital and is yet to start offering full services, according to an employee who requested anonymity. The unit is also manned by clinical officers.
Maternity wing
The facility has a six-bed maternity wing which was recently renovated. About six deliveries are recorded every day. However, there is no admission as there are no wards.
"This hospital operates like a dispensary. No major services are offered apart from maternity. It is easier when patients go to MTRH," said another employee.
Efforts to get a comment from the hospital's leadership were futile as calls and text messages went unanswered.
In 2019, the leadership of Uasin Gishu county complained to the Senate that elevation of MTRH into a referral facility had disadvantaged residents.
In a petition, the county lamented that it had missed out in a Sh4.3 billion health services conditional grants given to devolved units with Level Five hospitals.
The county demanded that the "referral function" be taken away from MTRH so its residents can benefit from such grants.
"With MTRH's status as a Level Six hospital and therefore a referral facility, Uasin Gishu residents have been left with no proper facility to provide emergency, outpatient and inpatient services," the petition read.
Jenifer Nyawira Kinyanjui, a nurse in Kiambu, said Kenya's referral health system is not well defined. In most cases, a patient would just walk into their preferred hospital, said Kinyanjui who is also a health economist.
"At times, patients walk into referral hospital because of lack of specialized care, human resources, equipment and medicine in lower level facilities," she said.
Kenya Medical Practitioners, Pharmacists and Dentists Union (KMPDU) secretary general Davji Atellah said: "It is worrying that most county hospitals lack human resources. This is the biggest contributor to congestion at Level Six hospitals."
Walk-in patients
"Stopping walk-in patients from referral hospitals can only make sense if adequate medics are employed. Referral hospitals will not be decongested unless we employ specialists to run county hospitals," Dr Atellah said.
He accused governors of concentrating on putting up structures, for political reasons and forget hiring of medical staff.
Kenya has 9,826 licensed doctors according to Kenya Medical Practitioners and Dentists Council. Out of this, 2,606 are specialised doctors in various fields.
These doctors are expected to serve an estimated 47 million people, as per the 2019 national census.
KMPDU officials noted that most counties have not employed doctors for the past four years yet the demand for health services has continued to increase.
Related Topics