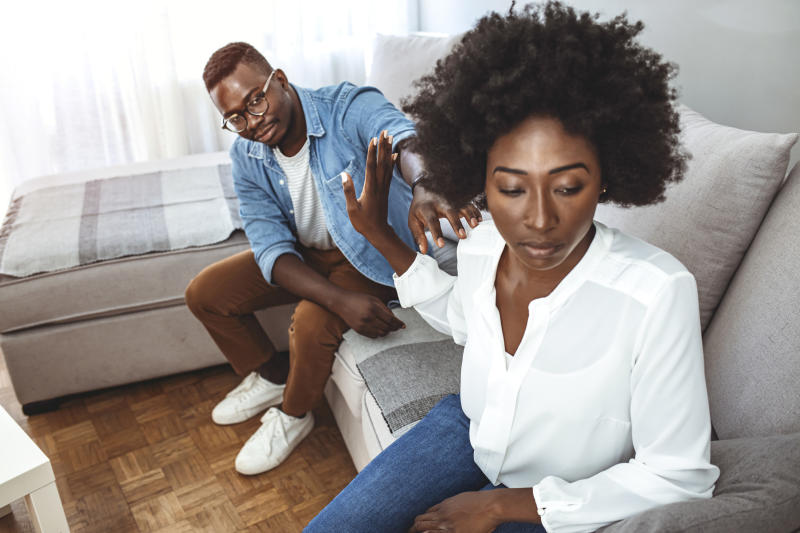 The most common myth around the hymen is that it remains "intact" until it's broken during penetration, often on the "first night".
In certain cultures, it is a physical marker of virginity.
Some people believe a woman is not a virgin if the hymen is stretched open. But having a hymen and being a virgin are two different things.
Some people are born with hymens that are naturally open while others stretch due to activities like sports or riding a bicycle.
According to Kizzie Shako, a forensic medical practitioner, who is tasked with examining victims of defilement, rape, accidents and all sorts of accidents before filling in P3 forms, you cannot know if a woman is a virgin by the hymen. "If you want to know if a woman is a virgin or not ask her," she says.
During our meeting at a restaurant in Nairobi, the soft-spoken doctor demonstrated how many perceive a hymen by using a glass and a serviette. She covered the glass with the serviette then "Pop", she said after using a pen to create a hole in the serviette.
"Most people think a hymen is a sort of passage. They think it is inside and can only be broken during intercourse. But that's a lie," she said.
For a very long time, different religions and some cultures have used hymen against women. A white bed sheet would be spread on the wedding night to ensure blood will be visible after intercourse.
"It is normal for some women to bleed the first time they have intercourse, but at the same time some women don't bleed at all, and that's normal too," said Shako.
She says she always has a hard time in court trying to explain what a hymen is whenever there's a sexual assault case.
"I always explain, it's exhausting but I will do it until people understand what a hymen really is," she said.
Serves no purpose
Shako added that hymens are different and they would go through changes based on estrogen levels.
The estrogen levels heighten at puberty making the membrane thicker and more elastic.
Sometimes in children, the hymen heals. For example, an examination done on the first day of sexual assault will not be the same on the third day.
Junior Mukudi, a health systems specialist says that a hymen is like an appendix and serves no purpose.
"The hymen doesn't serve any known biological function and it does not in any way indicate whether a person has engaged in sexual activity," he said.
Zainab, a 23-year-old woman from Majengo, Nairobi County describes how before getting married she had to go for surgery to fix her hymen.
Zainab started having sex while in high school and was scared of being ostracised by her community if they found out that she wasn't a virgin.
"We grew up being told that we need to keep ourselves for our husbands. But in high school, Form Three, I had a boyfriend. We broke up after two years. After that, I got another boyfriend. But when I was ready for marriage, I had to go for surgery."
Francis Were, an obstetrician and gynecologist says women want their hymens repaired due to cultural reasons. The process of fixing the hymen is called hymenoplasty.
Dr Were says that the hymen can be repaired after disruption from sexual intercourse or intense sporting activities like cycling and aerobics.
"The repair involves identification of hymenal tags around the hymenal ring at the vaginal introitus and then doing a purse-string stitch," he adds.
Apart from the hymen, women have also had other private insecurities one being having a "loose vagina" which is medically known as vaginal laxity.
Aisha, a 32-year-old woman from Mombasa says her insecurities made her buy a tiny piece of salt stone commonly known as chungu mawe that is inserted in the vagina a few hours before intercourse.
The saltiness will make the vaginal walls swell and cause tightness. However, things went south and they ended in an operation theatre.
"I was advised by my friends to buy chungu mawe, because they had used them with their men. When I inserted it in my vagina it didn't melt as it was supposed to, so when my husband penetrated the salt like stone cut his manhood," says Aisha. "There was blood all over and we rushed to the hospital, but he's fine now. It almost cost me my marriage."
Over the years, women have been advised not to insert anything in their birth canal unless it's a tampon. Others use products to clean the vagina not knowing that it cleans itself.
Were says that the most common cause of vagina laxity is childbirth due to disruption and overstretching of pelvic floor muscles that hold the vagina in place.
Vaginal laxity can be repaired through a surgical procedure called vaginoplasty and perineoplasty. "This is done by restoring the anatomy of the muscles and perineum. We can also use radiofrequency machines to restore vaginal tightness when there is minimal laxity and no pelvic floor disruption,"
Were says that the results are usually good though several sessions are necessary as opposed to surgical repair which is a one-off procedure.
Related Topics