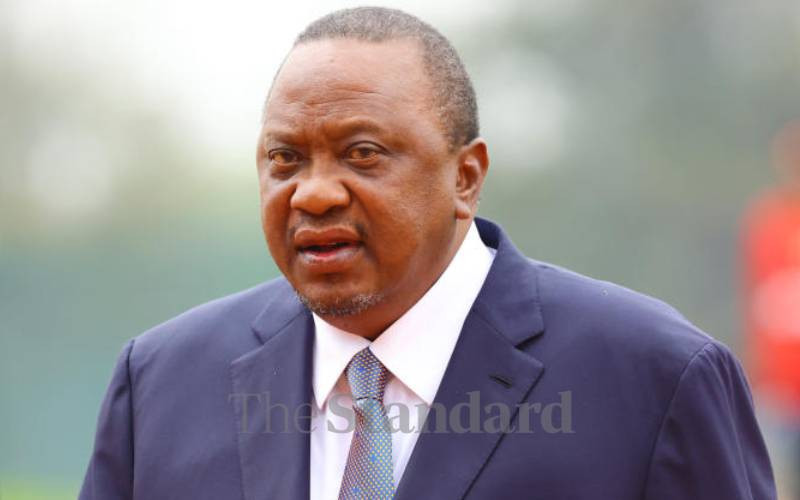 A last-minute call to attend a meeting between editors and former President Uhuru Kenyatta saw us scramble the only items allowed in the room; a pen and a notebook.
Standard Group was represented by three editorial staff.
A few minutes to 11am we were seated at the general visitors' waiting area of the newly built residence adjacent to State House. It is still under construction. A few workers can be seen around the compound... the security has been scaled down from what we were used to.
This is the first time scribes have been granted full access to this compound since the old home was brought down and in its place an imposing white structure, reeking opulence and status.
It fits the person of a president. We didn't see much of it but it stands tall and dwarfs many adjacent buildings. There is a well manicured garden at the entrance. A Kenyan flag at the front is hard to miss. Uhuru still works right outside State House Gate B.
In fact, he says, there is a standoff with the government after he declined to relocate his office to an area recommended by the government. Because of this, no office rent is remitted with his retirement benefits. His employees are yet to be given contracts so he pays them out of pocket. He also claims he fuels his own cars but his pension is on time.
Kanze Dena still works for the former president. Apart from her, I could barely identify any other person in his personal detail. We are served with refreshments and she tells us this is an off the cuff meeting. The former president wants to set the record straight regarding what is being peddled around. At some point impatience sets in... will he keep time? "Give him 15 minutes, he is en route," Kanze assures. Not long after we are informed of his arrival
We are led to a huge conference area with a long table… At the entrance of the main building there is a model of the SGR train inside a glass casing… later the former president tells us. Here is my train... you guys claim the Expressway is mine why can't you pay me the 700 million for destroying it. We laugh it off before the photo session… but it was not part of any question that was asked today. It was mostly about major events in the last few days.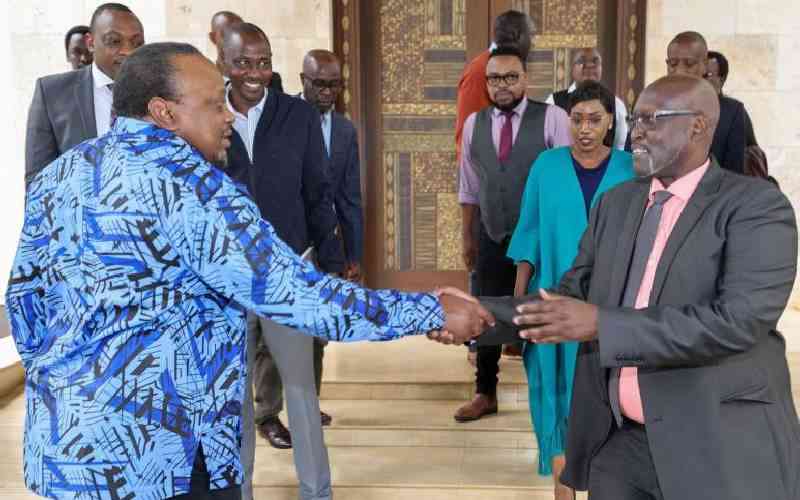 Your excellency, you told Kenyans you will defend your family… they are (government) scaling down your security in fact you have had to share your security with the founding first lady. They are coming for you. One of your staff - Pauline Njoroge is still is police custody. What's your plan.
I have had to hire more private security for my children and I have given some of their own to guard my mother who by the way doesn't benefit from my position but in her own right as the former first lady. These perks are legal guarantees and I don't know why they are abusing the law.
Uhuru confesses he loves his alcohol and does not apologise about it but on that day he says he was just angry. "Wouldn't you be angry?" he pokes me. I sat right next to this man... he asks again. I nod in agreement. After 10 years as president, he's still s little intimidating but very friendly. He lets out occasional loud laughs. But deep in his eyes you see disappointment. Especially when he is asked if he feels betrayed by his former allies.
To this, he falls short of saying to 'each their own' but admits politics is tricky. He goes on to re-enact conversations he had with some of the people who were close to him and vowed to stand by his decisions. He concludes by saying when the final choice is made you get to see the real people in them. He declines no names will be mentioned but you can read. "I wish I knew who they really were."
About an attempted raid at his son's home which we also learn he sometimes shares with him. "I have a small house next to my son's and as you can see some work is still going on here so I have requested him to allow me to stay there until the end of the year. Uhuru believes there was a hidden agenda.
The car with foreign number plates could have been used to ferry something here then they would claim they found it there. I told my son not to open the gate. The same thing he claims happened to Pauline Njoroge. They plant something and then accuse you of it. I am a former president so I hear things... give me a little credit. "I will defend my family, even now if I hear something I will be right there. Ama wewe utanyamaza?"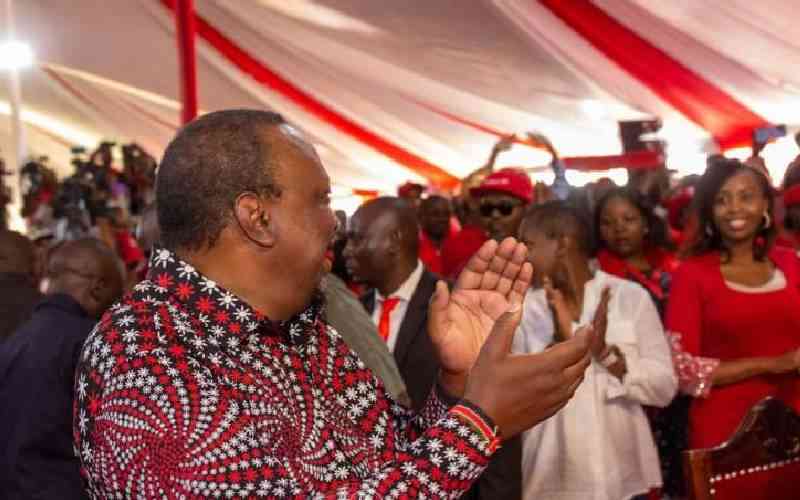 Each of Uhuru's sons holds three guns. Jomo whose home was raided has two pistols and a hunting gun. His other son who he says is interested in guns has three .. two hunting guns and a pistol. Uhuru claims they are all legal and their certificates were taken out after he left office. "They withdrew their security, I asked them to give me at least a year but they declined so I told my children to let it go." They must protect themselves just like any other Kenyan.
Uhuru says Ruto has never reached out to him. "If he needs advice, I am ready. I was a frequent visitor in Kabarak and Muthaiga whenever I needed advice. I never waited for them to come to State House."
So where is your daughter and the former first lady? She is with her husband. They brought us goats we now await the white wedding. Mr President, I hear you stashed the alleged loot at your farm in Trans Mara. "I will invite you for Nyama you come we dig it out together… hearty laughter and the 15 of us seem to have exhausted all the questions. " I will not dictate what you do with what I have told you, but please if you decide to put it out there be fair and objective. That's all I ask.
By the way, why did you hate the media during your time as president? A long pose…I never hated the media but I felt sometimes you were unfair in your reporting.
Would he want to be president again with hindsight?
Never. In fact he says he has advised his children to keep off politics.
Related Topics