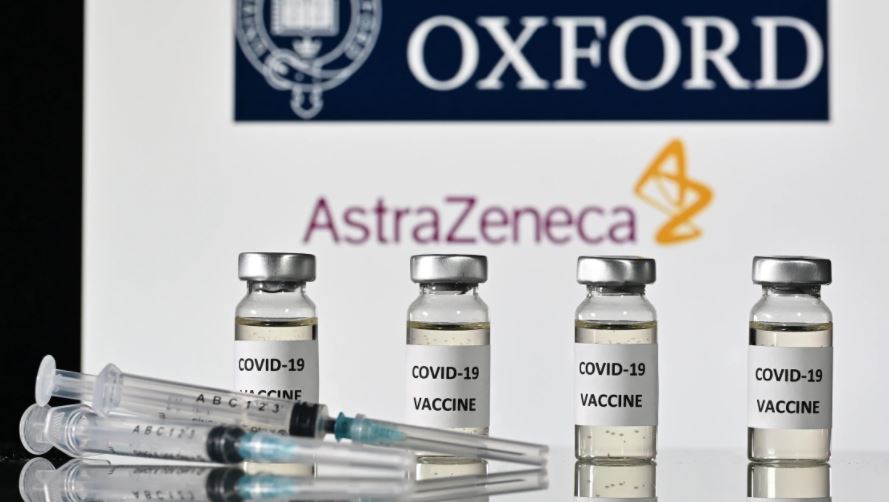 Eight countries have suspended the use of AstraZeneca's Covid-19 vaccines over concerns relating to blood clots in some recipients.
Concerns first came up after a recipient in Austria was diagnosed with blood clots and died 10 days after vaccination.
The vaccines were from a one-million-dose batch sent to 17 European countries.
Several affected nations said they would not use vaccines from the batch until further notice.
"The safety of the vaccine has been extensively studied in Phase III clinical trials and Peer-reviewed data confirms the vaccine has been generally well tolerated," a spokesman for the AstraZeneca group said.
AstraZeneca is an Anglo-Swedish company that developed the Covid-19 vaccine with Oxford University.
As of March 9, 22 cases of blood clots had been reported among more than three million people vaccinated in the European Economic Area, according to the European Medicines Agency (EMA).
According to the regulator, the batch contained 1 million doses which were delivered to 17 EU countries: Austria, Bulgaria, Cyprus, Denmark, Estonia, France, Greece, Iceland, Ireland, Latvia, Lithuania, Luxemburg, Malta, the Netherlands, Poland, Spain and Sweden.
These are the countries that have suspended the use of AstraZeneca's COVID-19 vaccines:
Austria: Austrian health authorities suspended the use of a batch of AstraZeneca vaccine on Sunday after one woman (49-years-old) died as a result of severe coagulation disorders 10 days after inoculation. Another woman, 35, developed was also hospitalized for a pulmonary embolism after receiving a vaccine from the same batch.
The (EMA) said on Wednesday that there was currently no evidence to link the AstraZeneca COVID-19 vaccine with the illnesses developed by the two recipients.
Preliminary view from EMA's safety committee (#PRAC): there is no specific issue with a batch of #COVID19 Vaccine AstraZeneca that has been suspended in Austria after cases of multiple thrombosis were reported. ????https://t.co/292s0fSNJs pic.twitter.com/lh3BXG4e1m
— EU Medicines Agency (@EMA_News)
March 10, 2021
Denmark: Danish health authorities suspended the use of all of its AstraZeneca vaccine supply for two weeks after some recipients developed blood clots since getting the jab.
"It is important to point out that we have not terminated the use of the AstraZeneca vaccine, we are just pausing its use," Danish Health Authority director Soren Brostrom said in a statement.
They did not say the number of patients affected.
Norway: Norwegian authorities said Thursday that they have suspended the Oxford-AstraZeneca vaccine, until investigations of the Denmark cases are completed.
"We are waiting for more information to see if there is a link between the vaccine and this blood clot case," said Geir Bukholm of the National Institute of Health.
According to the EMA, Norway did not receive doses from the batch that is under scrutiny.
Iceland suspended jabs with the vaccine on Thursday while waiting for the results of an investigation by the EMA.
Italy on Thursday said it would suspend use of an AstraZeneca batch different to the one used in Austria as a precaution in response to "some serious, adverse events".
A 43-year-old soldier died in Sicily after going into cardiac arrest, according to Italian reports.
Italian Medicines Agency (AIFA) said no causal link had been established with the vaccine at present.
So far, four other countries - Estonia, Latvia, Luxembourg and Lithuania - have stopped inoculations from the batch while investigations continue, the EMA said.
Spanish Health Minister Carolina Darias said Thursday that the country had not registered any cases of blood clots related to AstraZeneca's Covid-19 vaccine so far and will continue administering the shots.
Britain on Thursday urged that people "should still go and get their Covid-19 vaccine when asked to do so."
Kenya received the Covid-19 vaccines under COVAX - a global scheme to procure and distribute inoculations for free for poorer countries.
Outside the Covax initiative, African countries that have launched vaccination drives include Senegal, South Africa, Zimbabwe, Seychelles, Mauritius, Rwanda, Equatorial Guinea, Guinea, Algeria, Morocco and Egypt.
South Africa started the vaccination programme with Johnson & Johnson vaccine after the government put Oxford-AstraZeneca vaccines on hold.
Related Topics