Home
/
Health & Science
We are facing pandemic of greed and bureaucracy, says Kagwe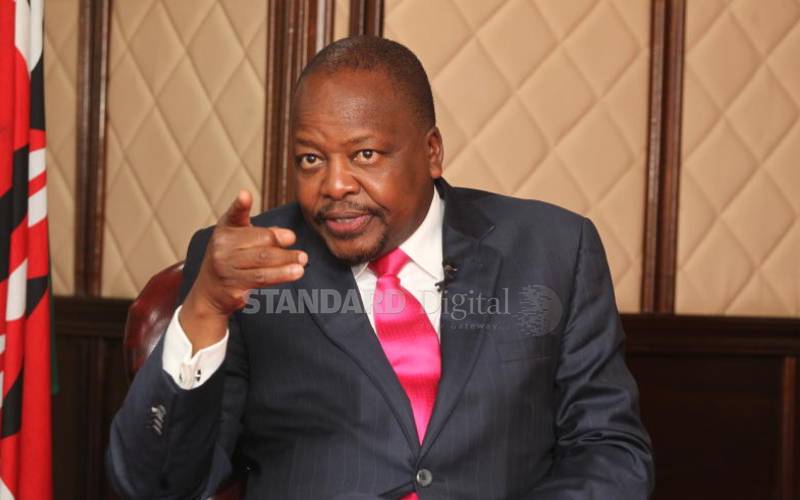 It is almost one year since the first case of Covid-19 was confirmed in Kenya.
Since then, close to 1,900 people have died from complications of the virus, and nearly 106,000 people have been infected.
As the Health Cabinet Secretary and the one leading the Government's response to the deadly respiratory virus, Mutahi Kagwe has been a key figure in the past year.
But according to the CS, the country is not just facing the coronavirus pandemic but a pandemic of greed, profiteering and bureaucracy.
This greed evident in the production of fake Covid-19 tests and now, as the country rolls out a vaccination programme with intent to involve the private sector, there are fears about integrity of the exercise.
In involving the private sector, Kagwe says the Government will be watching out for profiteers.
"We do not want funny business with the vaccine. You know people have been producing fake certificates, so it would not be completely out of our imagination to see somebody who can make some fake things (vaccines). So we need to make sure that by the time we are licensing private sector we know them," he said.
Bilateral agreement
The Government is receiving vaccines as part of the Covax programme that aims for equal access to Covid-19 vaccines to all countries. Other vaccines will be acquired from bilateral agreement from vaccine producer countries such as India and a third avenue will rope in the private sector.
The CS has had to fight to clean the image of his ministry and severe any links to the misappropriation of the donation of Covid-19 reagents and corruption in the procurement of supplies by Kenya Medical Supplies Authority (Kemsa).
Kagwe, who spoke to The Standard, said the pandemic period has been the most tumultuous and the "most challenging year in my adult life."
He says he has taken a step to dismantle the 'cartels' at Afya House by effecting mass transfers.
?"We have learnt from those so called scandals what Kenyans will say. We have also learnt that there are very many people waiting for something just to go wrong so that they can weaponise it for whatever reason. So we are not going to allow that to happen," said Kagwe
But in conceding that the Government has not been without its faults, Kagwe insists on fair assessment of his ministry.
For instance, he says, some of the criticisms that Covid-19 resources were misappropriated are unfounded.
"There were very few people who I would say were the bad apples and more who were very good people," he said.
"I personally called DCI to investigate because we gave nothing to hide. I want everything to come out because when it does it helps me with what I want to do like fast-tracking the changes and reforms."
He also says there was an exaggeration of the scale of the doctors' strike.
"The information presented by the unions did not align with what the government had found out from its independent assessment," he said.
The clock ticks to March 12 when the Government is expected to review a curfew announced in January aimed at curbing the spread of Covid-19.?
But amid the optimism, there is concern that a spike in the number of infections witnessed in the past few days could lead to a further extension of the measures.
Is Kenya in the midst of a resurgent virus? Kagwe thinks it is too early to call it.
"We do not have a trend yet because a few days don't mean it is a new trend. What we have seen is an increase in the positivity rate over the last two weeks. Sometimes it will go up and then it will go down," he said.
But Afya House says a new goal is to have a consistent testing schedule.
"One of the things that we are organising ourselves to do is to keep a constantly high number of tests so if you do 5,000 to 7,000 tests then you can tell the actual positivity rate
He said lifting the curfew will depend on the pattern that the Government sees between now and on March 12 when the current restrictions expires.
"If the figures jump up and we are attacked by another variant and we do not really know what is going on. It is irresponsible to tell people that they can hang out until whatever time it is that they feel," he said.
"If we are operating at below 5 per cent, obviously you don't want to keep a curfew, you want to free people to do business."
But while Covid-19 effect has been widely negative, it has presented a silver lining to the Government's Universal Health Care plan.
It has accelerated the development and equipping of hospitals, he said. Courtesy of Covid more hospitals have ICU beds and even oxygen.
But there are persistent questions over the NHIF insurance scheme.
"We are presenting a new NHIF bill to parliament that will change the way we do things at NHIF and ensure sustainability of healthcare. Health must be managed in a way that is sustainable and the way that is done is via an insurance such as NHIF," he said.?
Kagwe who was appointed to the Health Docket at the end of February 2020, a few days before the first case of coronavirus was reported in Kenya, can rightfully be called the coronavirus minister.
As he took office, it was clear that Kenya, like other countries in the world, would be affected by Covid-19, what was uncertain was the scale
But Kagwe, facing a jittery public, distinguished himself under the pressure of the coronavirus pandemic and for a period became an assuring presence.
Now a year on, the much-awaited shipment of Covid-19 vaccine has arrived in the country, and taking centre stage is Kenya's distribution programme.
Kagwe, who has been parodied and labelled an anti-vaccination advocate after a video was shared in November of him expressing doubt how the vaccine developed by Pfizer would combat the virus.
Quick response
"Yesterday Pfizer said there is a vaccine but personally, to tell you the truth, I got my many doubts about it. They were talking about a vaccine that stops people from getting the virus. I would like to know how they knew in the first place that I was going to get the virus," Kagwe said but later claimed that he was taken out of context, which drew ridicule.
Now, the CS says he has left the science of how vaccines work to the doctors.
"You and I cannot teach doctors about vaccines. They know about vaccines more than we do," he said.
At the outset, Kagwe won acclaim for the government's quick response – international media hailed him as a sober presence- but that acclaim quickly turned to criticism as the public demanded more.
Health workers protested over insufficient personal protective equipment as hospitals faced the pressure of swelling numbers of patients.
Resources that were meant to save lives were plundered, donations were misappropriated.
"There has never been a day that did not have its own event. It has been a challenging year and one that has taught me a lot on a personal level. There is a sense in which we have grown up as a ministry," Kagwe said yesterday.
"We have learned how to appreciate people in a way that we never have because the way that the health workers gave themselves to this cause was just something amazing to see," he said.
Related Topics