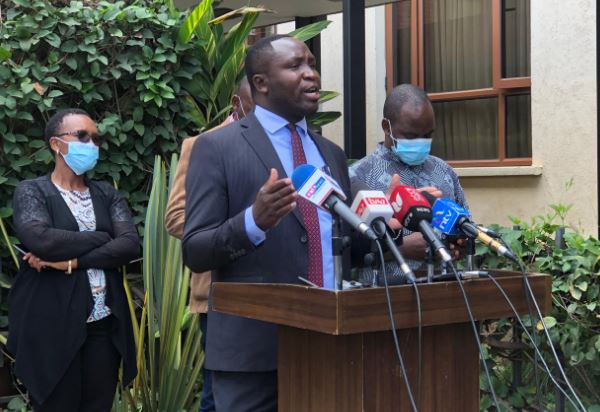 Clinical officers have maintained that their planned strike on Monday next week will not be halted.
This comes a day after the Government promised to address their issues. Speaking on Friday, Kenya Union of Clinical Officers (KUCO) Secretary-General, George Gibore said that the Government has no intention to resolve the looming health crisis with the urgency it deserves.
"We have so far lost 9 clinical officers the recent one being Mr. Victor Kipng'etich Tiony from Nandi County on December 2, 2020. In the same line, a total number of 763 Clinical Officers in public and private facilities have been infected by COVID-19, where 37 cases are still active." said Gibore.
Gibore claimed that the announcement made by Labour and Social Protection Cabinet Secretary Simon Chelugui yesterday was just one of the many empty promises they have been receiving from the government.
"This statement has been mentioned for the third time now with no action. This is the same language, the same song that we've been hearing, while health workers are suffering. When we strike they ask whether we are patriotic, while they are robbing our patriotism by pushing us to die, but before we die we must tell Kenyans that this nonsense must stop." he added.
Cs Chelugui on Thursday said that progress had been made to address the health workers' grievances.
"It has become clear that the Government requires adequate time and cooperation to deal with the more immediate demands, while others will be addressed in a phased manner. As CS of Labour, I have a duty of making sure that there is industrial harmony in our country in all sectors including health." the CS said.
After meeting with some of the Union leaders, Chelugui said that in response to some of the health workers demands and to ensure the safety of the workers- the government ordered Kenya Medical Supplies Agencies (KEMSA) to release all PPEs available at their stores, with priority being the utilization by health workers.
The CS also said that they have engaged the National Hospital Insurance Fund (NHIF) to offer a comprehensive medical scheme for all public servants including the health workers working in the National Government while urging County Governments to expedite the implementation of the comprehensive medical cover for health workers through the NHIF.
Chelugui also added that a technical team has been set up comprising of officials from the Ministry of Labour and representatives of the three trade unions to map out the issues raised in the strike notices and determine ways of addressing them conclusively.
On Wednesday, the Ministry of Labour and social protection had a meeting with three unions. The Kenya Medical Practitioners, Pharmacists and Dentists Union (KMPDU), Kenya National Union of Nurses (KNUN), and the Kenya Union of Clinical Officers (KUCO) to address the grievances.
"Some of the issues are being addressed by the two conciliation committees I appointed in the Ministry."
Chief Officer of Health AT The Nairobi Metropolitan Services NMS, Dr. Ouma Oluga urged healthcare workers to halt their strike saying the government has goodwill and all their grievances will be addressed, noting that so far NMS has spent over Sh2 billion recruiting health workers.
"During such a time we need to pull sources together because COVID-19 is not a government disease. It affects everyone."
However, clinical officers claim that they have been getting such promises since May this year and will not fall for that. "The strike as planned is on and shall only stop when all our demands are addressed comprehensively. We only respond to tangible things," said KUCO Chairman Peterson Wachira.
Related Topics