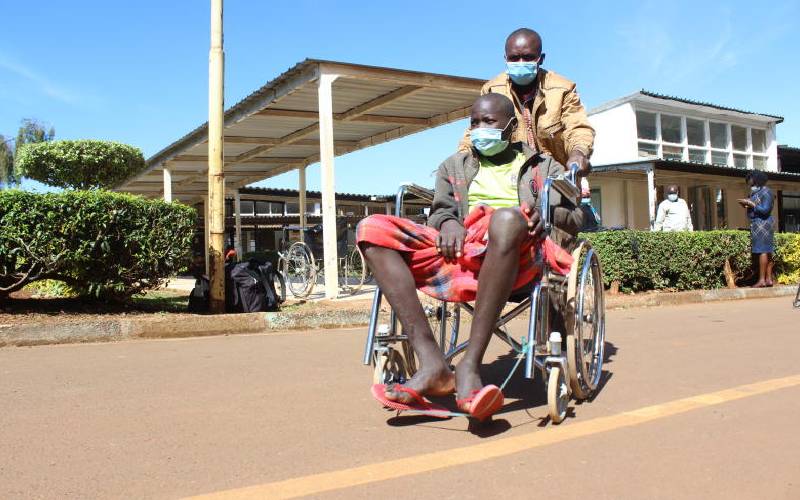 Health workers at Iten County Referral Hospital in Elgeyo Marakwet County have gone on strike.
Medical services were paralysed after doctors, pharmacists, nurses and clinical officers started their strike at midnight on Sunday.
The medics issued a strike notice on November 16, accusing the county government of failing to effect promotions.
Elgeyo Marakwet Kenya Medical Practitioners, Pharmacists and Dentists Union liaison officer Maurice Chebasa said some doctors had stagnated in one job group since 2013.
Read More
Chebasa said health workers across the county would not return to work until they receive their promotion letters.
He said the doctors were also protesting a decision by the county to deny health workers study leave.
Alex Koech, who had travelled 80 kilometres from Cheokorio in Keiyo South sub-county, said he lost a patient who needed emergency surgery.
Hilda Nangila from Kaplolo, Keiyo North sub-county, who had brought her ailing sister for a blood transfusion, was equally disappointed.
Demanded letters
Eric Kwambai, who had gone to check on his 27-year-old son and 19-year-old nephew who were electrocuted in Bugar, Keiyo North, on Friday, said he was asked to take the two back home.
As patients left the facility, the health workers were camping at the County Public Service Board (CPSB) offices demanding promotion letters.
"The county has been taking us for a ride since 2015. We have diagnosed the problem ailing Elgeyo Marakwet County and the cure is industrial action," Chebasa said.
Kenyan National Union of Nurses County Secretary Benson Biwott said the devolved unit had budgeted for promotions but the CPSB failed to affect them.
Mr Biwott said the county promised to promote health workers way back in July but was yet to do so or give reasons for the delay.
"We are tired of boardroom meetings," Biwott said.
Efforts by CPSB chairman Michael Lelit to persuade the health workers to return to work were fruitless.