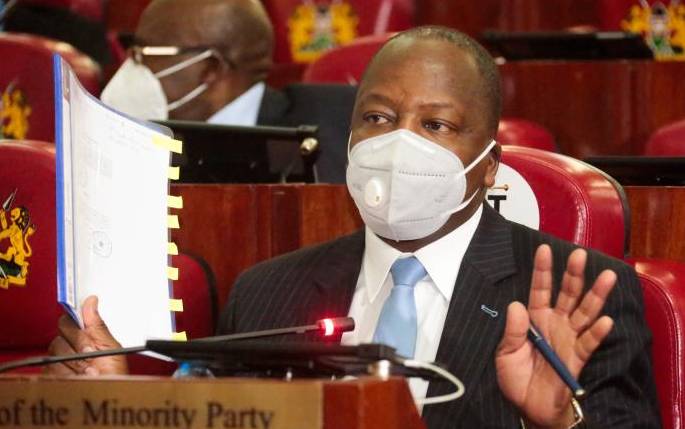 Could the government have responded any better to the Covid-19 pandemic? This is the question health experts sought to unpack at a symposium, amid rising cases in the country.
Pool testing and tracking of Covid-19 samples were mentioned as some of the missed opportunities that would have improved the outcome in the interventions implemented.
The decision to reopen schools was also questioned, even as experts ruled out closing the institutions again.
These views were aired by experts drawn from both government and private sectors in public health, economy, communication and the medical fields in a symposium organised by the Aga Khan University.
ICT Cabinet Secretary Joe Mucheru and Health Chief Administrative Secretary Mercy Mwangangi were the key government officials at the symposium.
Amref Health Africa Chief Executive Officer Githinji Gitahi said pool testing would have done well to show the prevalence of the disease in the country. Kenya used serological surveys – testing for antibodies – to determine prevalence.
For pool testing, a method that Ghana has used and has been lauded by the World Health Organisation, if a one in 10 samples tests positive, then it is assumed the rest in the cluster are positive and so interventions are applied to all of them. Kenya, however, is testing each and every sample.
To avoid people or healthcare workers following up on the results, Gitahi said placing bar codes on samples and tracking them online would make this easier.
"But we can still do this, the pandemic is not over," he said.
Gitahi said with cases already being reported in schools, it would be unwise to close the institutions again as this will be a "machine gun therapy".
"Closing a school means if someone coughs, you give everyone cough syrup or antibiotics. When an outbreak occurs, there should be proper data system so that we deal with the population as a cluster," he said.
The Dean, College of Nursing at the Aga Khan University, Eunice Ndirangu, said one of the mishaps when schools were closed in March was the failure to put interventions on teenagers' reproductive health to avert pregnancies.
"We should have sought to find out; how do we have nurses and midwives provide services to adolescents," said Ndirangu.
Mwangangi noted the challenges in accessing testing kits and reagents and the embargoes by the manufacturing countries, which she said would make it unattainable to randomly collect samples and test everyone.
The claim that Africa has been spared by the virus was dismissed at the symposium, with Gitahi saying the continent was prepared by the time the pandemic started.
Some of these preparations, said Mucheru, like the almost 400 intensive care units and over 7,000 additional beds for isolation, will be beneficial beyond the pandemic.