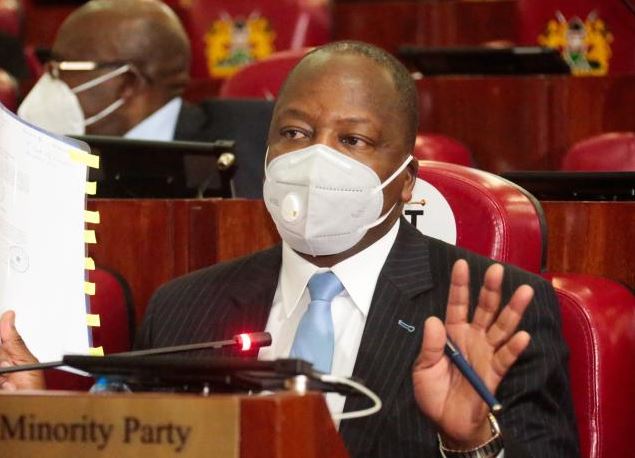 The country has been hit by a second wave of Covid-19 that has been blamed on the political leadership that has not adhered to guidelines meant to avert the virus' spread.
Heath Cabinet Secretary Mutahi Kagwe (pictured), speaking at a Covid-19 media briefing at Afya House, Nairobi yesterday, said politicians organised rallies without observing set precautionary measures, what Kenyans copied.
Mr Kagwe regretted that the positivity rate of the virus had been on the rise since President Uhuru Kenyatta eased restrictions that were meant to forestall spread of the virus.
"I appeal to political leaders to show leadership and help contain spread of this virus. Political leadership is leading by poor example. If leaders do not observe measures given, the signal they send to Kenyans is that all is well," said Kagwe.
According to documentation by the Health ministry, Covid-19 positivity rate has been on the rise from October 1.
On October 1, the positivity rate was 4 per cent, but it went up to 7 per cent on October 2 and 8 per cent on October 3. Today the positivity rate stands at 12 per cent.
Yesterday 685 people from a 4,912 sample size, tested positive for the virus. Confirmed positive cases are now 44,881, with a cumulative test of 621,976. Out of yesterday's positive cases, 635 were Kenyans and 50 foreigners, with the youngest being one-year-old and the oldest 99.
Nairobi was leading with 141 cases, followed by Nakuru with 127, Mombasa 73, Trans Nzoia with 61, Kisii's 37, Kiambu with 30 while Kakamega recorded 27.
The ministry also noted a high number of Covid-19 patients in need of critical care and admitted in Intensive Care Unit.
A total of 28 patients are in ICU, with about 1,000 admissions in various hospitals countrywide. At least 105 people were reported to have recovered from the disease yesterday, among them 73 that were managed under the home-based care programme, bringing total recoveries to 31,857.
Concerning safety of learners in schools, Kagwe said the Ministry of Education was working towards ensuring there was adequate supply of water for hand washing. "Safety of children depends on behaviour of their parents. Parents should play their God-given responsibility," he said.
Director-General of Health Patrick Amoth said the country was losing young people to the coronavirus disease. "What is unique in the second trend of infection is that we are losing younger people, even those without underlying conditions," he said.
Information and Communications Technology Joe Mucheru also pleaded with Kenyans to adhere to public health guidelines. "Please, take personal responsibility for yourself," he said.