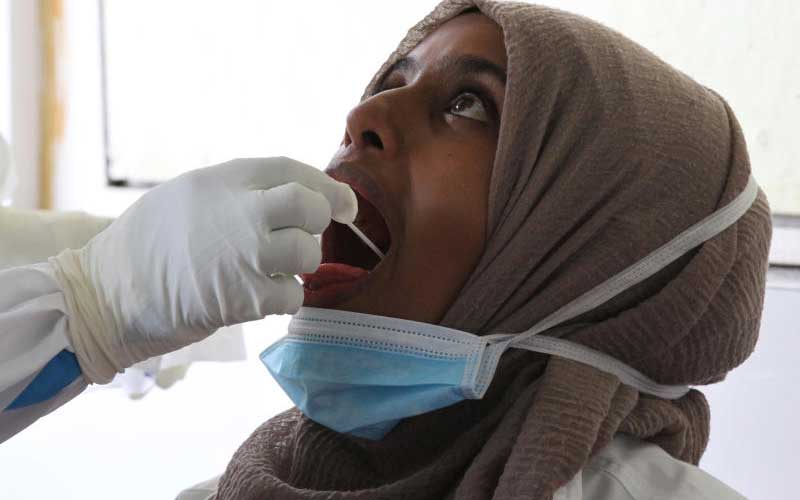 You will still have to part with Sh5,000 for a walk-in Covid-19 test at the Kenyatta National Hospital (KNH).
This is despite Health Cabinet Secretary Mutahi Kagwe clarifying during Monday's daily briefing that government facilities charge Sh1,000 for Covid-19.
In the same briefing, KNH Chief Executive Evans Kamuri did not confirm or deny that the facility charges Sh5,000; instead, he said the facility only tests those who show symptoms and those in the hospitality industry.
However, during a spot check at the facility, The Standard found that people are still paying Sh5,000 to get tested for the coronavirus disease.
At the Covid-19 designated testing area, there were hundreds of people, some waiting to be tested while others had come to pick their results.
Those in the hospitality and transport industry who have to get tested regularly had no choice but to pay the amount as the tests are mandatory for reporting to work.
"When I got here, I had to go through registration. You are given a number and then you wait for your name to be called," said Nancy Nduku, who is in the hospitality business.
She said she paid Sh5,000 before proceeding to the next tent where her details were taken and samples extracted.
It was the same story for Peter Nyingi, who also works in a restaurant.
"I do not know where one gets tested for less. I paid the amount and got tested," he said.
It was, however, not possible to establish how many people get tested at the facility in a day.
There are 28 testing centres across 12 counties in the country, which report daily to the Ministry of Health.
In a bid to stamp out corruption, the ministry changed its testing strategy as Covid-19 cases continue to surge.
KNH's Infectious Disease Unit at Mbagathi will no longer be handling Covid-19 suspected cases; only confirmed ones.
Further, Kenya Medical Research Institute last week clarified that it does not collect samples within its premises from walk-ins.
The Infectious Disease Unit stopped Covid-19 tests, with the service transferred to KNH after it was overwhelmed by the high number of people turning up for the exercise.
In an internal memo, the institution's directors and head of departments were also cautioned against receiving referrals from counties unless under special circumstances.
The memo dated July 9 was signed by the hospital's Senior Director of Clinical Services Irene Inwani.
"The Head of Unit Respiratory Infectious Diseases is directed to stop all the screening activities and public testing at the KNH Mbagathi IDU," she said.
The Ministry of Health is now relying on rapid response teams whose members collect samples from organisations and institutions that have requested testing, as well as from quarantine facilities.