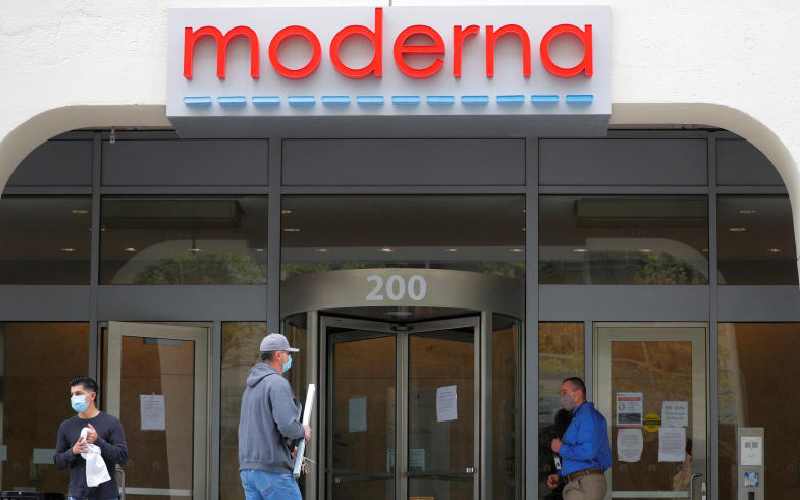 A vaccine manufacturer is reporting preliminary data suggesting its Covid-19 (mRNA-1273) vaccine is safe, and appears to be eliciting in test subjects an immune response capable of preventing disease.
Volunteers who received Moderna's Covid-19 vaccine had positive early results, according to the biotech company, which has partnered with the US government's National Institutes of Health to develop the vaccine.
On its website, Morderna, which is based in Cambridge, USA, said in a statement dated May 18 that the early data came from the phase I clinical trial, which typically studies a small number of people and focuses on whether a vaccine is safe and elicits an immune response.
"If future studies go well, the company's vaccine could be available to the public as early as January," said Tal Zaks, the chief medical officer at Morderna.
The Moderna vaccine is made using messenger RNA, or mRNA, a molecule containing the genetic instructions to make a protein on the coronavirus surface that is recognised by our immune systems.
"These interim Phase I data, while early, demonstrate that vaccination with mRNA-1273 elicits an immune response of the magnitude caused by natural infection, starting with a dose as low as 25 (microgram)," said Dr Zaks.
He added: "When combined with the success in preventing viral replication in the lungs of a pre-clinical challenge model at a dose that elicited similar levels of neutralizing antibodies, these data substantiate our belief that mRNA-1273 has the potential to prevent Covid-19 disease and advance our ability to select a dose for pivotal trials."
The company reports no serious side effects. However, modest side effects included redness at the injection site, headaches, fever and flu-like symptoms, although none of these lasted more than a day.
The first 45 volunteers for the vaccine trial were divided into three groups, with each group getting a different dose of the vaccine. All groups got an initial shot, followed by a booster shot a month later.
The US Food and Drug Administration (FDA) has given Moderna the green light to begin a phase II study expected to enrol an additional 600 volunteers – half older than 55 – to provide additional immunogenicity data.
The company hopes by July to begin a phase III study, aimed at showing that the vaccine can actually prevent disease.