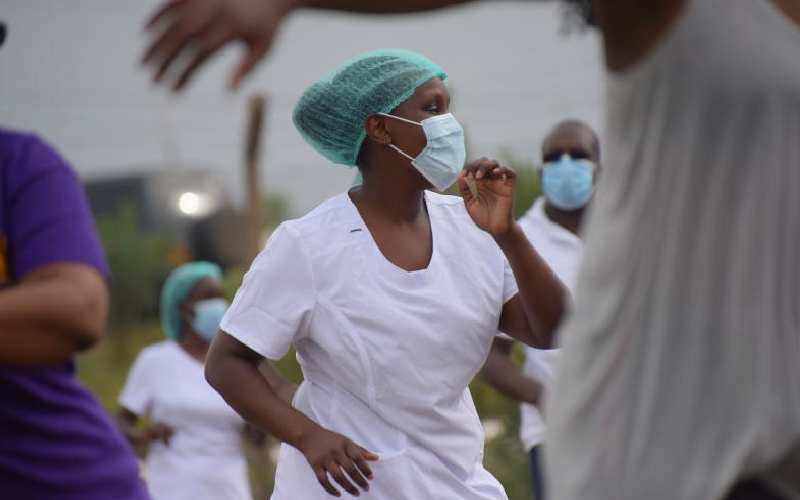 A health workers' strike that would have paralysed the country's response to Covid-19 has been suspended for 21 days.
The suspension comes as 57 more people tested positive for the virus, following a new record high for the number of samples tested in a day: 2,198.
So far 43,712 samples have been tested by the government.
Yesterday, Government spokesman Cyrus Oguna said an additional 12 patients had tested negative for the virus, raising the number of recoveries to 313.
This progress that has seen a recovery rate of 35 per cent had been threatened by a planned strike by 17 cadres of healthcare workers that was scheduled to start today.
The strike had been called by the workers' umbrella body, Kenya Health Professionals Society (KHPS), to agitate for risk allowances and promotions.
Kenya National Union of Nurses General Secretary Seth Panyako said an agreement to suspend the strike was arrived at after a meeting with Ministry of Health officials on Friday.
Representatives of the 17 cadres will today be meeting with the ministries of Public Service and Health, and the Council of Governors for further talks.
"We had lengthy discussions on Friday on allowances and all other issues that were not part of the strike notice. The Ministry of Health promised that by the end of next week, all staff working with the government will be promoted to a higher job group," said Mr Panyako.
Healthcare workers, in a letter dated May 4 and sent to the ministries of Health and Public Service, and the Council of Governors complained of discrimination when it comes to promotions and allowances that seemed to favour only doctors.
This is after a list on promotions that leaked contained only doctors' names, an issue the healthcare workers described as a historical injustice.
In President Uhuru Kenyatta's Sh3 billion welfare package for frontline healthcare professionals during the coronavirus pandemic, the workers also refused the breakdown given by the Salaries and Remuneration Commission.
They argued they are frontline health workers just like doctors, and deserved the Sh20,000 risk allowance per month for three months effective April 1, 2020.
"We know there are issues with the welfare package now that we are being told that counties are the ones to pay, yet that is not what the president said," Kenya Union of Clinical Officers General Secretary George Gibore said.
Apart from the risk allowance contained in the welfare package, the workers want harmonisation of all risk allowances for health workers so each one goes home with Sh30,000.