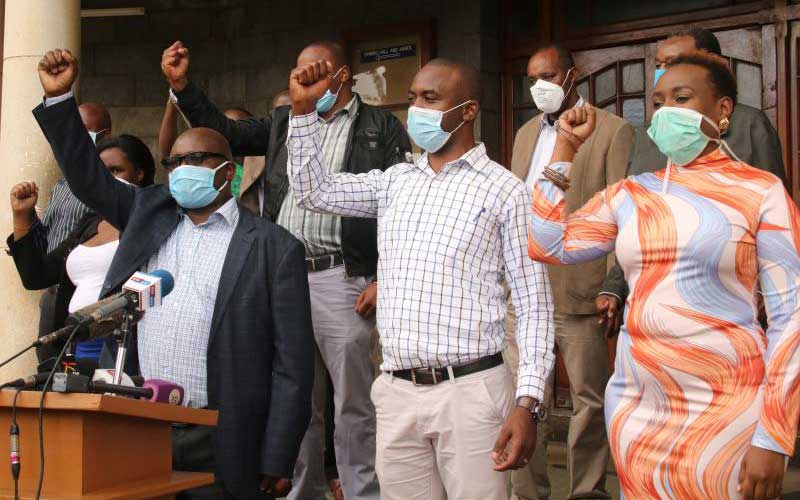 A section of health workers have rejected how Salaries and Remuneration Commission (SRC) plans to share the Sh3billion welfare package for medics.
The health workers say the criteria used to allocate the package was discriminatory towards those in the frontline fighting Covid-19. The breakdown, in a letter to the Treasury Cabinet Secretary, Ukur Yatani from SRC Chairperson, Lyn Mengich listed three categories of payments for three months effective April 1. The package ranges from Sh5,000 to Sh20,000.
The health workers represented by Kenya Union of Clinical Officers (KUCO), Kenya National Union of Nurses (KNUN), Kenya National Union of Laboratory Officers, Kenya National Union of Pharmaceutical Technologists, Kenya Union of Nutritionists and Kenya Health Professionals Society registered their displeasure over how the government is handling the issue.
KUCO General Secretary George Gibore said the strike notice issued still stands as their grievances have not been addressed.
"We rest on our strike notice that we must get the risk allowance harmonised and considered for people who are in the frontline to get Sh30,000. That has not changed," Gibore said, and added that other health workers like Health Administrators have not been included in the list.
Gibore pointed out that the whole rationale to award Covid-19 medical allowance was to cushion medical team at the very frontline of the fight who are at most risk.
Rationale questioned
"For example, where will our pharmacists and dentists see patients on the front line? Special clinics and consultation clinics have been closed down, when you front these people to be awarded the highest amounts, it does not make sense," he said.
He added that the union leaders were never consulted and the Ministry of Health only went with a small section of members to represent all cadres.
"We cannot take the deal as it will not address our grievances. It has even worsened the situation, increasing anxiety among our members. If this is not addressed, I confirm on May 18 the strike is on," Gibore added.
KNUN Secretary General Seth Panyako accused a section of the health workers of taking over the Health Ministry operations at Afya House.
"In fact, when this Covid-19 package was being worked on, the way President Kenyatta had directed, I was consulted by Acting General Secretary from KMPDU asking me to give him data on nurses and counties so that he can take them where decisions are being made," Panyako said.
He absolved SRC of blame because, according to him, it endorsed what had been fronted by Afya House.
KUCO National Chairman Peterson Wachira said appreciation of health workers must start with the provision of basic things like personal protective gear.