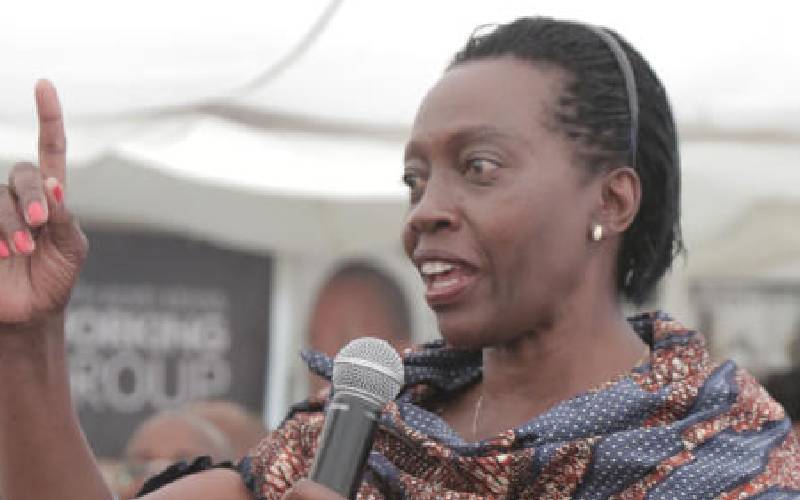 Narc leader Martha Karua has challenged President Uhuru Kenyatta to invest in the health care system.
In an open letter to the president, Ms Karua said the coronavirus pandemic has showed even the privileged cannot travel abroad for treatment.
Karua asked the president to issue a decree barring himself, members of his government and all high-ranking civil servants from seeking treatment abroad.
She argued that this would encourage investment in the local healthcare system.
Karua said the coronavirus pandemic has revealed that irrespective of one's social standing, there comes a time when it is impossible to travel abroad for treatment.
"We all must rely on our health system. Therefore, it makes sense for us to take the necessary steps to ensure that our public health service is capable of providing quality health services for all," said Karua.
She gave the example of British Prime Minister Boris Johnson who was treated for the virus in a hospital in his country.
Karua said that many Kenyans have been spending colossal sums of money on health-related issues which could bankrupt them.
"A majority of Kenyans languish in poverty without adequate access to health services which leads to unnecessary loss of life," said Karua.
She noted that many counties were ill-prepared to respond to the Covid-19 pandemic, or any other major outbreak.
Karua stressed that few counties have Intensive Care Units (ICU)s or the necessary diagnostic and treatment equipment for major ailments.
This, the Narc leader said, had translated to multiple referrals to the two national hospitals which overburden them.
"It is against this background that I urge you Mr president to take this opportunity to ensure that each of our 47 county hospitals are refurbished and equipped to diagnose and treat most, if not all, diseases," said Karua.
If need be, Karua said, some of the diagnostic and treatment equipment can be shared by a cluster of counties based on proximity.
"It is also an opportune moment to ensure that our county hospitals have the necessary human resources," she said.
"The counties that fired their health workers, are without a doubt now in need of medics."
Related Topics