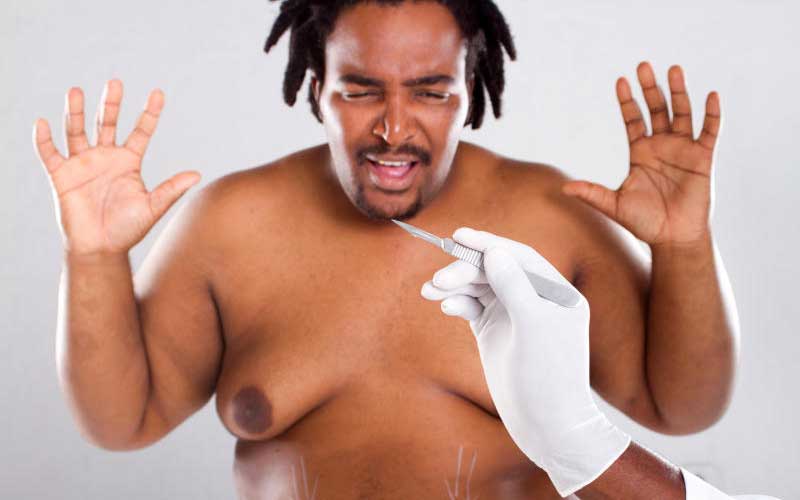 Gynaecomastia is a Greek word meaning "an increase in the amount of breast gland tissue in men and boys." Studies show that gynaecomastia is present in 30-50 per cent of healthy men. Its occurrence is associated with an imbalance of hormones estrogen and testosterone. The condition can affect one or both breasts or even manifest unevenly. False or pseudo-gynaecomastia can occur in boys and men as excess fat on their chests and make them appear to have breasts. Real gynaecomastia however has true and pronounced breast tissues which cannot be minimised by normal fat burning exercises.
How does it happen?
Both male and female babies are born with little breast buds which usually disappear after a few weeks or up to age of 2. This is due to the circulation of the mother's hormones in their blood after birth. According to research, true gynaecomastia starts manifesting at the age of 14. This is the age most boys start showing signs of puberty. Hormonal imbalances between the male hormone; testosterone and the female hormone; estrogen are normally the main cause. In some cases, the breast tissues that grow during puberty disappear on their own with time—from 6 months to 3 years. However, in other cases, prominent breast tissues persist or show up later in life and cause emotional turmoil in such on these men.
Other causes include:
· Obesity. Excess body fat leads to production of more estrogen in men.
· Testicular illness. This hinders the normal production of testosterone.
· Kidney failure. Gynaecomastia sets in once the kidneys become incapable of filtering blood.
· Thyroid problems. Sexual development hormones are produced in the thyroid gland, and when this is interrupted, hormonal balance occurs.
· Herbal skin care products which contain tea tree and lavender oil. They appear to be hormone disruptors.
· Abuse of drugs like heroin, marijuana and anabolic steroids.
· Some types of cancer such as cancer of the adrenal glands and lungs.
· Prolactinoma. This is a non-cancerous tumor in the pituitary gland in the brain that causes overproduction of the milk producing hormone; prolactin.
In a study conducted at Kenyatta National Hospital between 2010 and 2014, 82.5 per cent of the male sample population between the ages of 17 to 67 years presented with gynaecomastia. In this study, gynaecomastia was the most frequently diagnosed lesion in men; a notably consistent observation with both prospective and retrospective studies from Uganda, India and Pakistan. What this means is that gynaecomastia affects a substantial percentage of men with breast disease.
Stigma
Breasts are attractive only when they are on the female body. For men, they are not really a welcome endowment. Even though men usually have some levels of estrogen circulating in their bodies, it is usually insufficient to cause pronounced breast enlargement. Studies report that gynaecomastia can fuel depression, eating disorders and low self-esteem among men. It is basically a source of embarrassment. It especially is poignant to boys undergoing puberty. To add on that, teenagers can mercilessly taunt their peers for having the condition. The stigma associated with gynaecomastia makes most men self-conscious and choose to suffer in silence.
Treatment options
Before embarking on any course of treatment, your doctor must investigate the underlying cause. For most teenagers, it is paramount to reassure them that the condition will gradually disappear and everything will normalize within three years.
Pubertal gynaecomastia resolves on its own in almost 90 per cent of patients. There is usually no treatment needed. Boys manifesting gynaecomastia should be adequately counselled on how to cope with the condition. Depending on other underlying causes, treatment of the primary disorder will eventually minimise it. You may need to see an endocrinologist—a medic who specialises in treating hormone-related conditions. Surgery is normally the last option depending on the underlying problem and if the condition causes tenderness and severe pain.
Are gynecomastia and male breast cancer related?
The condition does not automatically lead to development of breast cancer in men. However, due to the increased levels of estrogen in men with true gynaecomastia, they possess a slight amplified risk for breast cancer. Any man with pronounced breast tissue should have their breast tissues examined. It may not directly translate to cancer, but your doctor may perform some tests to rule it out.
Other conditions that may seem similar to gynaecomastia
1. Pseudo-gynaecomastia: Fatty tissue that accumulates due to excess body fat.
2. Breast abscess: Inflammation of breast tissues.
3. Male breast cancer: Though it is uncommon, there is a possibility of occurrence. Only 1 in 1000 men has a probability of developing breast cancer.
Related Topics