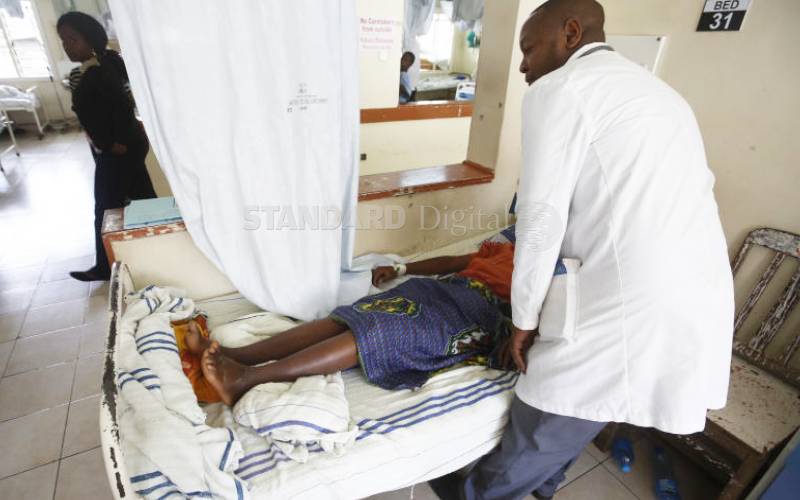 A 14-year-old boy is nursing severe injuries at Nakuru Provincial General Hospital after he was reportedly tortured by caregivers "as away of hardening him" after circumcision.
The boy (name withheld), has multiple cuts on both limbs, swollen body, fresh bruises on his knees and cannot walk and sit independently.
The perpetrators allegedly also attempted a penile amputation on the minor.
Speaking to The Standard from his hospital bed, the teenager who wrote his Kenya Certificate of Primary Education this year, said he underwent heinous acts in hands of the caregivers who claimed it was a form of discipline to usher him into adulthood.
All this was after the teenager was initiated by a medical officer at their home at Mzee Wanyama area, Nakuru Town East, on November 19.
"I am in deep pain. The caregivers used to beat me and make cuts on both my legs legs with kitchen knife and would poke me with broken bottles," said the teenager.
"There was nobody whom I could share my grievances with, they insulted me so much. I have a sad tale," said the boy, holding back tears.
Heinous act
The boy's father said he learnt about the heinous act on December 11, 2019, during a celebration to welcome the teenager back home after initiation.
"I was curious after I saw my son walking with difficulties, only to discover he had severe injuries all over his body and his private parts," said the father. The boy's uncle said they reported the matter to Mwariki Police Station for action.
"We hear cases of people being beaten after initiation to 'harden' them, but this is too much and action should be taken against perpetrators," said the uncle.
According to a medical officer, Dr George Ngare, those who tortured the boy also tagged his private part that was healing. Specialists took the boy for x-ray of the limbs and ankles and is currently being taken through physiotherapy.
"The patient is responding well to treatment and can sit, not so stable, but with time, he will be able to operate independently," he said.
Two arrested
County police commander, Stephen Matu said two suspects linked to the torture were arrested and action shall be taken against them.
"It is unfortunate that the teenager is undergoing treatment because of injuries he was subjected to in hands of caregivers. We shall not entertain anybody who harms minors as a way of instilling endurance in them," warned Matu.
Related Topics