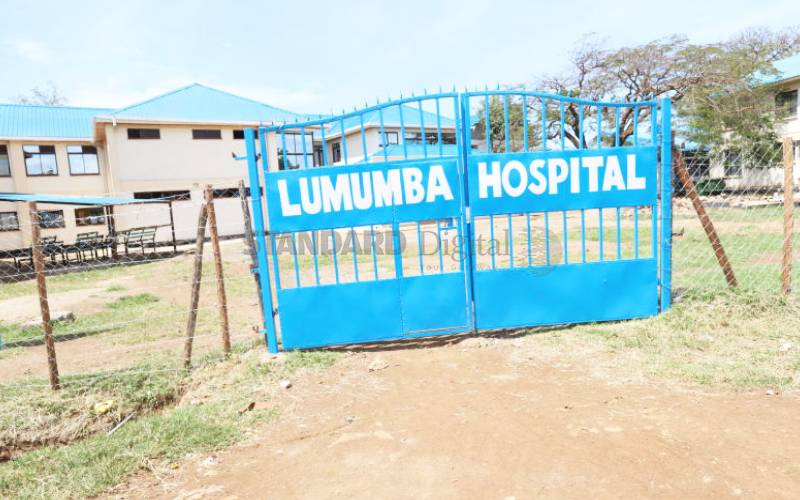 Inside Kisumu's public hospitals, benches in the out-patient and emergency sections silently gather dust as walkways to the wards are overrun with weeds.
Pharmacies and laboratories that have not received patients for weeks remain tightly shut after the county's public healthcare system ground to a halt.
Medics and support staff like cleaners and messengers withdrew their services one month ago and only the mortuary attendants work full time.
Workers yesterday accused Governor Anyang' Nyong'o's administration of failing to pay their salaries for the last three months and reneging on back-to-work agreements signed in the past.
They said the strike would continue until their demands are met.
But Health Executive Judith Atyang' disputed the claims and threatened to sack the workers.
Prof Atyang' claimed the workers were "disappointing" the medical profession, adding that the strike had severely hampered operations.
"On humanitarian grounds, what they are doing is unfair. They swore an oath," she said.
Kenya Medical Practitioners and Dentists Union Nyanza chairman Kevin Osuri and Kenya National Union of Nurses Kisumu branch secretary general Maurice Opetu have insisted that members will not resume duties until all salaries are paid and statutory deductions remitted.
Dr Osuri accused the county government of playing politics with the lives of residents.
In the meantime, the suffering continues for the majority of residents. Those with money or medical insurance, however, can seek treatment in the few private hospitals the county has.
Nobody appears to know the whereabouts of the poor patients who were hurriedly discharged from the public hospitals when the strike started.
The Standard could not directly link reports of several deaths reported in the county to lack of medical care.
At the Jaramogi Oginga Odinga Teaching and Referral Hospital, we found a desperate Norak Aketch with her two-year-old child who suffers from hydrocephalus, a condition that causes fluids build-up in the brain.
They were turned away by security guards and asked to seek treatment elsewhere.
Regular checkup
About a month ago, Cuban doctors stationed at the facility successfully operated on the child and directed Aketch to visit the facility for regular checkups.
"My child needs urgent care, but I do not know where to turn to. Every time I have visited this place, I have been turned away," she said.
Aketch said she had been unable to raise funds to take her child to a private hospital for treatment and could only hope that his condition would improve. And she was not alone in her misery.
The Standard was told that three women had also died at the hospital's gates after they were turned away.
A security guard who requested anonymity said the women's bodies were moved to the hospital's mortuary.
Rape victims have also been turned away from the facility, putting their pursuit of justice in jeopardy.
A 12-year-old girl who was defiled was turned away at the casualty department, whose doors have remained open but patients not allowed in.
The defilement victim's mother said she had no option but to drop her pursuit for justice, adding that she would only seek medication for the girl.
"I do not have money to take her for treatment to a private facility. I had been hoping that she would get treatment at a public facility," she said.
We also learnt that while the majority of the sick were told to seek treatment elsewhere, 12 desperate patients were placed in one ward. The rest of the wards remained closed.
It is the same scenario in other public hospitals across the county where security guards restrict access to the facilities and order patients to seek treatment elsewhere.
On any other day, the facilities would be buzzing with activity as hundreds of patients pass through their doors.
The problem has put pressure on private hospitals, which now grapple with an influx of patients.
A spot check at Nightingale, Aga Khan and Avenue hospitals showed long queues in the waiting areas.
Jane Awino, a mother of three, said she had been hoping the county government would pay the health workers and let them resume duty to end patients' misery.
"My child has a blood infection and I could not wait any longer to have him treated. I have been with him at home for a week," she said.
The Standard also established that the few available health workers had been forced to work longer hours, with many private facilities referring patients to Kakamega, Siaya and Vihiga county hospitals.
Related Topics