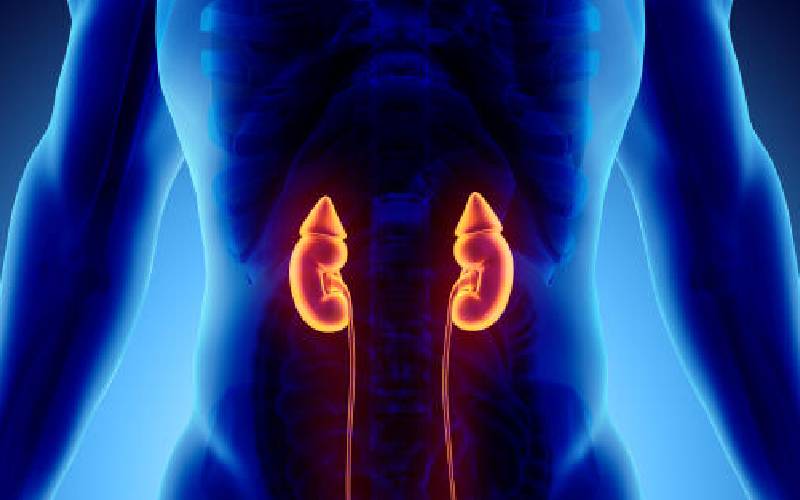 Use of herbal medicines has been linked to an increasing number of Kenyans suffering from chronic kidney disease (CKD).
Following this association, researchers at the Ministry of Health want the public educated on the dangers of using herbal medicines.
A study carried out among 306 patients admitted at Kenyatta National Hospital with various ailments suggests up to 39 per cent could unknowingly be suffering from kidney problems.
"This health facility-based study revealed a high burden of CKD in the inpatient population, with a prevalence of approximately 4 out of 10 inpatients," says the study published on August 23 in Pan African Medical Journal.
The study was carried out by a team from the Ministry of Health, Kenyatta National Hospital and Moi University in Eldoret.
Chronic kidney
The study patients originated from 33 of the 47 Kenyan counties with the 118 identified with chronic kidney disease coming from 27 counties.
Some of the predisposing factors include older age, males, anemia (deficiency in red blood cells), hypertension, bloody urine and use of alcohol or tobacco.
Possible mechanisms through which herbal medications lead to CKD, the study says, include direct poisoning of kidneys through toxic herbs and use of contaminated or adulterated remedies.
The authors say herbal remedies can also led to CKD due to inappropriate use or preparation or their interactions with other medications.
Last year, the Kenya Medical Research Institute (Kemri) reported that most herbal medicines sold in major towns in Kenya are highly contaminated and dangerous for human consumption.
The survey, covering Nairobi, Mombasa and Eldoret, indicated almost all the herbal powders, tablets, capsules, oils and liquids are contaminated, some with untreatable germs resistant to a number of antibiotics.
"Patients are literally being infected with more dangerous diseases than they had intended to treat," lead investigator Dr Lucia Keter of Kemri had told a science conference.
Test samples had been purchased from herbal clinics, nutrition stores, herbal product manufacturers, local retailers and from hawkers and street vendors in the three towns.
The study found 90 per cent of the total samples contaminated.
In October 2018, a team of conventional researchers reported significant use of complementary medicines among cancer patients attending Kenyatta National Hospital.
"Of those who used complimentary medicines, 64 per cent used herbals hoping for a cure while 36 per cent hoped to get some symptomatic relief," said the study led by Maryanne Ong'udi of the University of Nairobi
"Public education on dangers of herbal medications should be carried out at the national level, emphasising their association with CKD diagnosis," recommends the new study.
It is estimated more than two-thirds of Kenyans depend on herbal medicine for their primary health care needs.
Related Topics