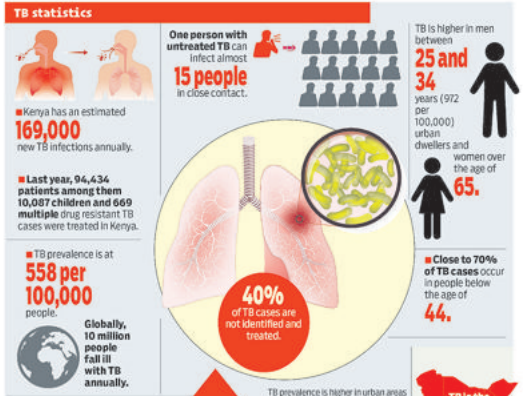 The World Health Organisation (WHO) this week released guidelines to improve the treatment of multi-drug resistant TB (MDR-TB) by recommending a shift to a fully oral regimen.
It will replace the six months daily injections that were previously used to treat the MDR-TB.
WHO recommends backing up oral treatment with active monitoring of drug safety and counselling patients to complete their course of treatment.
In Kenya, TB is ranked fifth as a top killer disease, with government struggling to contain MDR-TB and diagnosing more than 40 per cent patients who have been tested.
Ensure diagnosis
The World Tuberculosis (TB) Day is being marked today, under the theme: "It is time…"
Experts say the unfinished sentence is meant to remind the world of the commitments made and need for action to scale up research, funding, human rights and accountability in the fight against TB.
In Kenya, the adopted theme is: "It is time for a TB free Kenya."
Health Cabinet Secretary Sicily Kariuki on Friday launched a national strategic plan for tuberculosis, leprosy and lung diseases.
She said in the past one year, the country reported and treated 94,434 TB patients, among them 10,087 children and 669 suffering from MDR-TB.
The CS noted that though TB diagnosis and nutritional support are offered in all government and faith based facilities, 40 per cent of the TB cases are missed annually.
"We are reminded to double our efforts towards finding all the missed cases and put them on treatment as per our national call for Mulika TB,Maliza TB," said Kariuki.
She said the national strategic plan is in line with President Uhuru Kenyatta's commitment to ensuring diagnosis and cure of at least 597,000 people with TB by 2023.
The plan targets 55,000 children, 542,000 adults and 4,500 people resistant to TB. It will also provide TB preventive therapy to at least 90,000 Kenyans at risk.
Evaline Kibuchi, Chief National Coordinator of Stop TB Partnership Kenya, an organisation comprising of government officials, corporates, and community members welcomed the new treatment regimen saying some patients suffer devastating side effects from injectable combinations.
"The toxicity was too high. People would get adverse side effects, including deafness. The injections could get tedious. There are people who chose death over the injections," she said.
Alice Achieng', who was diagnosed with TB in 2011, says after one month she stopped going for injections.
"I could not sit because I had been injected all over. I would lie on my belly and pray for death," she says. She developed MDR-TB and is currently under treatment.
The initiative will be piloted in Kiambu County and is envisaged to cover all counties by 2025.
Ms Kibuchi feels teenagers and students are often left out in the fight against TB. She said she has handled cases of students who are expelled from school once they reveal they have TB.
CS Kariuki says their plans will cover schools.
"We have also partnered with the ministry of Education in conducting health programs focusing on TB prevention. I am urging other sectors including line ministries and corporates to identify and take up their crucial roles on TB response," she said.
Successfully been treated
WHO Country representative Rudolf Eggers said Kenya has made progress in the eradication of the disease and more than a million people have successfully been treated in the last 10 years.
Kiambu County Health Executive said the county reported and treated over 5,000 TB patients 40 of who were resistant to the disease.
Matungulu MP Stephen Mule who is the Chairman of Parliamentary TB caucus said the National Assembly will ensure the ministry is allocated more money to fight the diseases.
He called for reforms at National Health Insurance Fund to ensure TB patients are covered. He said their committee has increased the budget of TB diagnosis and treatment to Sh400 million.
Related Topics