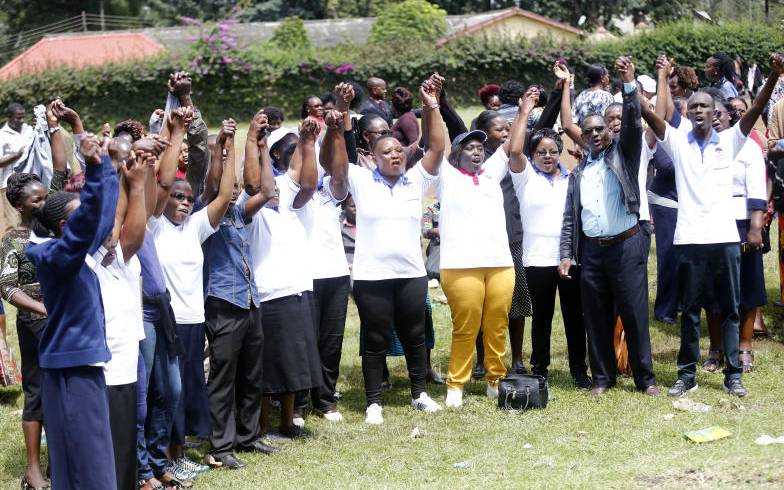 Nurses in at least 20 counties will likely miss their allowances next week after the counties insisted that they have no money to pay them.
It has emerged that while about 24 counties have committed budgetary allocations to pay their nurses the new pay, the rest insist they have not set aside funds for the allowances totaling Sh500 million.
National Treasury has said no additional money will be released to counties to pay nurses since health is a devolved function.
Treasury Principal Secretary Kamau Thugge said any financial implications arising from salary increments and Collective Bargaining Agreement (CBA) should be solely borne by the individual counties.
"We want to advice that county treasuries are the custodians of county budgets and therefore should be the ones to confirm budgetary allocations to the Salaries and Remuneration Commission (SRC) on the availability of resources to fund the payment of allowances for nurses," said Dr Thugge in a letter dated January 21, 2019.
He said the National Government does not have any additional resources to cater for the nurses' allowances. The nurses have made their intention to strike on February 4, 2019 known.
Financial burden
The letter from Treasury, directed to all the 47 county governments, was a response to another by the SRC dated December 7, 2018 which asked counties to confirm budgetary allocations for the allowances.
The Council of Governors (CoG), through a letter to SRC dated December 18, 2018 noted that the counties had no money to pay nurses.
CoG Chief Executive Officer Jacqueline Mogeni said when the deal on allowances was signed in 2017, it was on agreement that Treasury will release the money.
"Instead, the National Treasury did not factor the increment in the equitable share to counties. Because of this, the County Governments cannot afford to shoulder the financial burden of the agreement," said Ms Mogeni in the letter.
Kenya National Union of Nurses (Knun) Secretary General Seth Panyako described the fight to have government pay as per the signed deal as frustrating.
"According to us, money was factored. It is not the responsibility of Treasury to budget for the money but that of counties," said Mr Panyako.
Panyako questioned how CoG can claim counties have no money yet some counties have already agreed that the money is factored in their budgets.
Pay structure
Taita Taveta, with a workforce of 390 nurses, is one of the counties that agrees the money was factored in the budget.
"Budgetary records held in our office confirm that the enhanced nurses' allowances were factored in the budgetary items for 2018/19," reads a confirmation letter dated January 22, 2019 sent to SRC signed by Mghanga Mwanyasi, Interim County Secretary.
In 2017, nurses went on strike for five months demanding an upgrade of their nursing service allowance, uniform allowance and a Collective Bargaining Agreement (CBA).
The CBA is supposed to address the discrepancies in terms of pay structure which has some nurses in the same job group earning different salaries.
The increment in allowances will boost individual nurses' pay by Sh135,000 by 2021. According to the November 2, 2017 Return to Work Formula, uniform allowance will be increased by Sh5,000 every financial year from 2018/19 to 2020/21.
Nursing service allowance will be increased by Sh3,000 in 2018/19, Sh3,500 in 2019/20 and Sh3,500 in 2020/21.
Panyako said after the deal was signed, only three counties went ahead and complied: Machakos, Mombasa and Migori.
For the 24 counties which say they will pay, strike notices will be issued to individual counties that do not keep their promise.