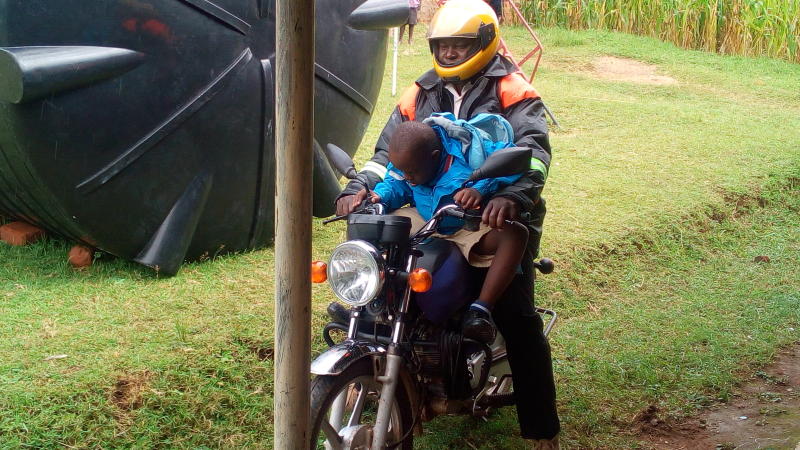 My name is Noordin Brighton, and I cannot wait for October 3 to celebrate my 10th birthday.
I know 10 years may not sound like an achievement considering I still cannot talk, read or write.
It is not something I am proud of, but trust me, I have a lot to celebrate. For example, I no longer wet my bed and I can eat by myself, though with my left hand, legs crossed from the floor. My mother, however, thinks eating with the left hand is not religiously acceptable, but she is glad I am learning.
I was born with Down syndrome, a condition that has incapacitated me mentally and physically.
It took me five years of painful and expensive physical therapy sessions to walk. Though I cannot talk, I make noises that sound like I am clearing my throat or getting choked with a fish bone, which makes people to always stare at me from the corner of their eyes.
I also laugh, hysterically. It is at times uncontrollable, which makes people judge me fast and harsh. It hurts. Some of them do not have the courage to look me in the eye, so they prefer throwing side glances.
Whenever our eyes meet, they look away and wear such grim looks on their faces you would think they have stepped on some faeces, or someone has passed gas. Everyone passes gas, and it is not like mine smells more terrible.
Speaking of terrible, you should ask my mother for my photos when I was young. I am not sure if she has them. Even my own aunts did not want me. I would not have wanted me either. I am told I was as tiny as a rat, barely 1.5kg and with the weirdest shaped head.
My mother gave birth to me at home one Friday afternoon after she had just taken a bath. She was prepared, armed with new gloves. The doctor had warned her that my survival chances were very low.
After giving birth, she wrapped me up and took me to hospital for some tests.
Formula milk
I was so tiny that I could not breastfeed. I was fed formula milk. Through all the ridicule and painful physical therapy sessions, I was able to walk and start school when I was five.
My mother stuck with me.
I know I am grown, but my mother is still so protective of me. She says that due to my too friendly nature, she is afraid someone will abduct me.
If it was not for Mr Nicholas Malongo, the deputy head teacher at Kaptisi Special School for the Intellectually Challenged, I would not be attending school.
Mr Malongo always passes by to pick me on his motorbike every morning and brings me back home every evening. He also carries Stephanie, who is also special like me.
To be sincere — and please do not tell my mother — the main reason I love school is because of the motorbike rides. It is fun. The bumps on the rough roads and the roaring of the engine is heavenly.
One day, after I finish school and get a good job, I will buy my own motorbike. No, I think I should buy a car.
That way I will be able to give Mr Malongo a ride as a way of saying thank you.
Related Topics