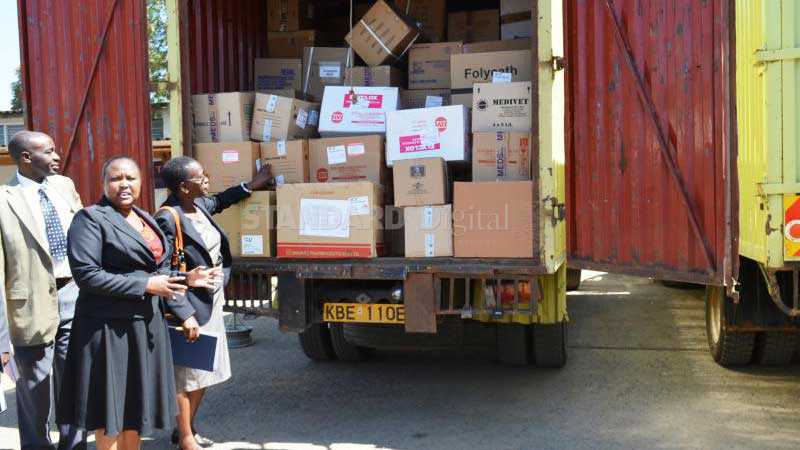 Failure by the National Treasury to remit Sh2.8 billion to counties is threatening the health sector.
This has forced the Kenya Medical Supplies Agency (Kemsa) to seek the Senate's intervention in a bid to recover money for medicines supplied to counties since 2015.
Kemsa is doing this even as some counties that owe it millions of shillings change tack by purchasing medicines from different entities.
Patients seeking treatment in some of the public health facilities are also forced to pay for drugs from their own pockets. This has subjected the poor to a lot pain and suffering.
The agency's acting chief executive Fred Wanyonyi said Nairobi County government has the highest debt of Sh285.6 million and that some governors have been clearing the debts slowly.
The debt is likely to paralyse the agency's revolving fund if suppliers are not paid before the next financial year.
"The money received from counties is used to procure medicines. We pay suppliers, they deliver medicine which we sell to counties. If counties they do pay, then it will affect our operations. This means we can't plan and we cannot pay," Wanyonyi told the Senate Health Committee.
Nairobi's health executive, Hitan Majevda, told Saturday Standard that the county will manage to pay Kemsa as soon as a financial audit on the Sh58 billion the county owes contractors is complete.
The audit is taking place even as public health facilities in the city are purchasing drugs in small quantities from the little money they receive from patients.
"We are in communication with Kemsa but they are not supplying medicines to the county at the moment. Facilities are forced to buy medicines in small quantities but the county is also purchasing drugs from distributors to fill the gap," Dr Majevda said.
Other counties that owe Kemsa over Sh100 million are Homabay (Sh146 million), Kilifi (Sh128 million), Kitui (Sh136 million), Nandi (Sh121 million), Wajir (Sh106 million), Nakuru (Sh101 million), Narok (Sh104 million) and Machakos (Sh103 million).
Others owe less than Sh20 million are Mombasa (Sh860,192), Samburu (Sh14 million), Lamu (Sh12 million) Laikipia (Sh1.6 million) and Busia (Sh14 million).
Quarterly basis
Council of Governors' health committee chairman, Dr Mohammed Kuti, said the Treasury is squarely to blame for the predicament the health sector is in at the moment.
"There is a delay in the disbursement of funds and counties are unable to meet their obligations. One has to prioritise what to pay for. The buck stops with the Treasury and if we get all the money, we will clear what is owed to Kemsa," the Isiolo governor said.
County governments have not received money for December, January, February and March. Kemsa has made arrangements with some of the governors on how to reduce the debts as they continue receiving supplies for their hospitals and clinics.
In Machakos County, governor Alfred Mutua made a deal with the agency that will see the county pay for supplies on a quarterly basis.
However, this arrangement has been affected by delay of funds.
"We have an arrangement with Kemsa where we get supplies and pay on a quarterly basis. This is working for us because our health facilities have never lacked medicine," Dr Mutua added.
The committee chaired by Trans Nzoia Senator Michael Mbito is now expecting the agency to file a formal complaint before action is taken.
"Why are counties not paying? This issue has just been brought to the committee's attention and we are surprised...counties are buying drugs elsewhere. Why are they not paying? We will come up with a way forward in the next two weeks," he said.
A report by Kemsa shows most counties tried to reduce their debt before the 2017-2018 financial year. However, the debt has since grown in the last 10 months.
Uasin Gishu County recently reduced its debt from Sh149,656,671 million to Sh75,097,316. Bungoma's debt has increased to Sh67,735,839 from Sh7,474,087 in 2015-2016.