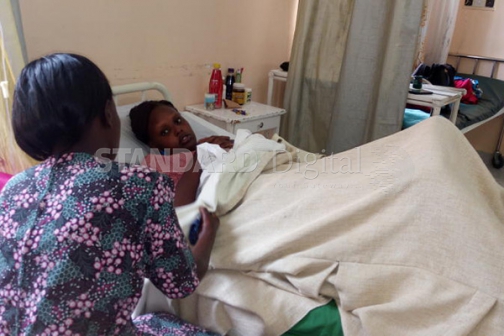 Patients in public hospitals in Nakuru have been abandoned to die after nurses went on strike over unfair promotions on Wednesday.
The worst affected are patients in wards depending on life support machines and have medical bills. Their relatives have been caught in between a rock and hard surface. They can neither transfer their loved ones to other facilities because hospital administrators have locked them up until they clear the bills yet there is no one to take care of them in the wards.
Frustrated relatives have been hanging around hospitals desperately trying to plead with administrators to allow them transfer their sick relatives detained for bills. The county government on the other hand has gone mute over the impasse.
When the Standard visited the Provincial General Hospital-Annex on Saturday, among patients they found in excruciating pain was Betty Chepchumba.
Ms Chepchumba, 31, from Eldama Ravine in Baringo County has an open wound after undergoing ovarian operation at the public private wing.
Speaking in the ward, the patient who was in deep pain said nurses have advised her to seek alternative medical assistance outside the facility.
However, the hospital management refused to discharge her because of accumulated bill of Sh220,350. The frustrated family despite calling for an ambulance to ferry her to Kenyatta National Hospital on Thursday continue negotiating with the hospital as Chepchumba's health deteriorate.
"Nurses have been very kind on me and could often dress my wound but now nobody is observing me, and I cannot leave the hospital because I have no money to clear the bill," said Chepchumba.
Following the operation, the patient cannot walk and has been depending on nurses who are now on strike and now has to depend on family members who take turns to watch over her.
She was admitted in the hospital on October 5, after developing ovarian problem, a complication that has also caused into fistula condition.
A spot check in other hospitals in the county showed that there no admission and patients were being discharged to enable them seek services in private hospitals or make alternative measures to seek medical services.
"There is no nurse at the hospital and patients in wards are not being assisted," said a nurse at Naivasha sub county hospital.
At Nakuru Level Five hospital, desperate patients who had travelled from far were told to return home or seek services in private facilities.
Whereas the hospital serves locals in Nakuru and neighbouring counties including Baringo, Samburu, Laikipia, Bomet, Kericho, Narok and Nyandarua, there were no services offered.
The casualty area was manned by a guard who directed patients to seek services in other hospitals with only gardeners spotted weeding pavements.
David Lumai, 55, from Churo in Tiaty, Baringo county left the facility helpless escorted by his son and a well-wisher who provided him with transport back home.
Mr Lumai was admitted at Ward 10 at the hospital on Monday prior to hip-bone operation on Tuesday.
The father of five could not walk, he was in deep pain forcing his son Pulongor Ng'etich to carry him.
"I leave my life unto God because I have just undergone an operation, the pain is so deep," said Lumai who could not hold back his tears.
Anne Wambui another patient who was suffering from respiratory problem complained about deep chest pain.
Wambui from Nayndarua County as driven out of the hospital on a wheelchair but she was confused about where to seek services.
"Nobody is at Ward 5, patients have been told to leave the hospital with some being taken to Ward 10 though no services are being offered," she said.
Gladys Wanjiku who had fracture on her both limps after being involved in a tragic road accident said she could not seek services in another hospital because of financial constraints.
Wanjiku said she paid Sh36,400 operation fee but prior to the procedure, nurses downed their tools making it a challenge.
"My operation had been scheduled on Wednesday but nurses went on strike. I do not have hope of getting better soon because I have no extra money to seek for services in private hospital," said the mother.
Despite suffering of patients, the Kenya National Nurses Union (KNNU) has vowed to continue with the strike till county meets their demands of promoting 774 healthcare employees.
KNNU Nakuru branch charlady Cyprian Odera said the county health officials are not willing to address the issue.
"Nurses are demanding only promotions as agreed with health officials," she said.
Related Topics