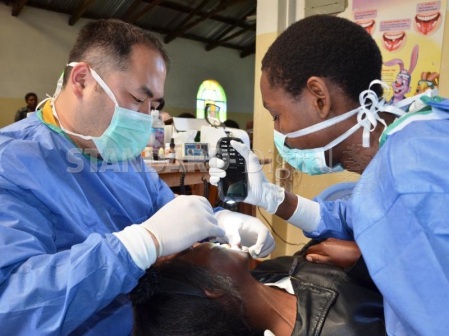 NAIROBI: A ban slapped on medical camps conducted by foreign doctors has been lifted and new rules put in place to protect patients.
The foreign doctors will be required to apply for a license from the Kenya Medical Practitioners and Dentists Board, an application in which they will be required to disclose a list of medical professionals to attend to patients at the camps.
For those who have been allegedly colluding with local doctors to refer patients to foreign countries for treatment at a fee, the new rules are set to ensure that the foreign doctors stick to the local referral policy and produce an indemnity cover from a recognized organization.
The board banned the camps on June 16 after it emerged that some of those conducting the exercises had no licenses and the number of patients being referred for treatment abroad had increased.
It is also mandatory that they disclose a list of medical equipment and supplies to be used at the medical camp and indicate how they will dispose waste collected.
County Governments will also have a hand in the approval of the medical camps in their areas by ensuring that those conducting the exercise are not after making benefits such as financial.
Thursday, the board's chair, Prof George Magoha said all future camps shall be regulated by the rules that were gazetted by the Health Cabinet Secretary, Dr Cleopha Mailu.
Magoha said the rules were prepared by the Ministry of Health in consultation with the board.
In the gazette notice, the application for a license should be made not less than a month to the medical camp date and the board has a right to reject it if the conditions set are not met.
One will be required to pay to the board Sh5,000 for the application and between Sh10,000 to Sh100,000 for credentialing. However, those eyeing category E will not pay any fee for credentialing.
If allowed to conduct the camp, the license shall be issued in respect of the site and duration as per the application and can be revoked if the camp is conducted in a manner contrary to the rules including public interest.
The new rules also require the camp director to notify the area County Government in writing of the intention to hold the medical exercise.