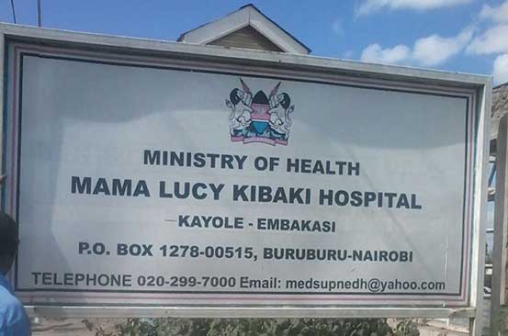 Nurses have asked Nairobi County Governor Evans Kidero to fire three senior health officials following the deaths of three babies at Mama Lucy Kibaki Hospital which is under the county's control.
The health workers attributed the recent deaths of the babies to incompetence.
"The deaths in Mama Lucy Kibaki Hospital were largely attributed to failed leadership, which has led to lack of essential equipment," said Kenya National Union of Nurses Secretary General Seth Panyako.
Addressing a press conference yesterday in Nairobi, Panyako also dismissed the task force formed by Dr Kidero to investigate the death of an infant at the facility and described it as a waste of public resources.
Instead, he said, the governor should address the shortage of ambulances at referral facilities. Nairobi has four ambulances, out of which three are grounded.
Three month-old Dominic Otieno died at the facility while waiting to be transferred to Kenyatta National Hospital for further treatment. The baby died because there was no ambulance to transfer him to the referral hospital for more appropriate medical attention.
The nurses accused the three officials of allegedly denying them their salaries, and of wrongful dismissals.
"Some of the officials have arrogated themselves non-existing powers like arbitrarily stopping salaries, suspending and ultimately dismissing employees who had asked that their rights be respected," said the secretary general.
He said some health workers had not received their salaries since October last year due to mismanagement of the hospital.
Consequently, they restated their demands for the formation of a Health Service Commission to deal with health workers emoluments and other related services.
The union criticised Kidero and claimed he was unwilling "to sort out the mess" in the hospital which was grinding to a halt because of poor leadership.
The nurses threatened to mobilise other workers in the city to vote out Governor Kidero should he fail to address some of the issues affecting the health sector in the county.
"We warn the government of Nairobi that the cries of the nurses and other health workers suffering under his watch will not go unanswered. We promise him that in 2017 our families, friends and relatives will mobilise Nairobians in ensuring that Kidero goes home," added Panyako.
The union also accused the Bomet County Government of irregularly deploying several health workers to the national government.
It asked those who had been redeployed to ignore the transfer orders until a court case challenging their deployment is determined. The union said that court had temporarily stopped the redeployments.
"The union also condemns the recent irregular redeployment of over 30 public servants, some of them health workers to the national government," said Panyako.
The union said county governments mismanaged hospitals under its control to the extent that deaths in hospitals had become a normal occurrence.
Related Topics