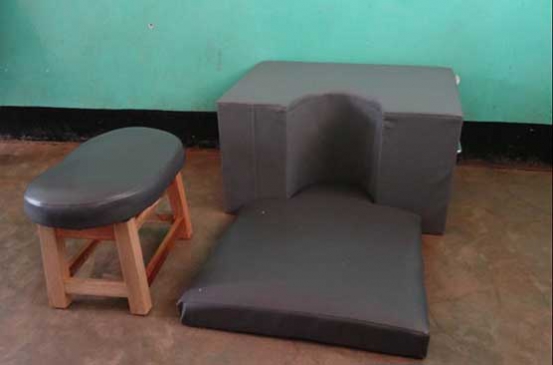 NAIROBI: One of the sure ways of curbing maternal deaths is to ensure safe delivery. And efforts to encourage women, especially those living in rural areas where facilities are scarce, to access trained maternal health caregivers have born fruit. Even enlisting of skilled traditional mid-wives has no doubt come to save more lives.
But there are culturally entrenched behaviours that have not been exploited, like birth positions. On matters reproductive health, many women, even among the educated, remain conservative.
The World Health Organisation cites the lack of respect for women's birth positions as one of the reasons they opted to deliver at home with health experts corroborating that forcing women to give birth in positions that they find uncomfortable, makes them passive participants in delivery and complicates acceptance of hospital deliveries.
"Some women preferred squatting or kneeling and resented being made to give birth in undesirable or humiliating positions," Sheena Currie, a senior maternal health advisor at JHPIEGO, a global health conference in Mexico City, Mexico, said this week.
In a presentation titled, 'Supporting birth positions in alternative positions,' Ms Currie argued the choice of labour and birth positions encourages a woman's sense of control and reduces the need for pain relievers.
"Listen to the women and your community. We want them to come to the health facility," she said, calling the involvement of skilled traditional birth attendants by respecting and supporting safe practices and birthing positions.
And while innovations to improve delivery outcomes were showcased, a paper on the experiences expectant women underwent at health facilities in Kenya was presented at the meeting with at least one out of every five women citing humiliation from health workers during labour and delivery as reasons they opted for home deliveries.
Dr Timothy Abuya, Charlotte Warren and others identified six categories of disrespect and abuse during childbirth in Kenya and further noted that women fail to deliver at health facilities due to disrespectful and abusive care during childbirth like performing medical procedures without a woman's consent, discrimination, non-confidential care, abandonment or denial of care, detention, and physical and verbal abuse.
Titled 'Exploring the Prevalence of Disrespect and Abuse during Childbirth in Kenya,' the researchers collected data through an exit survey of 641 women discharged from postnatal wards in 13 Kenyan health facilities to measure their experiences.
On the lack of proper lighting for labour and delivery, the United Nations Children's Fund (Unicef)noted that the solar cushion suitcases that comprise a headlamp and two bulbs made visibility better.
"Midwives had adapted to using a torch but the introduction of solar lights increased the number of women who delivered in the health facilities at night," said Neelam Bhardwa, health and nutrition specialist at Unicef.
One of the cited success stories on culturally-sensitive practices is from Karamoja in Uganda. A birth cushion is gaining popularity for its comfort over other birthing positions.
The United Nations Children's Fund in collaboration with the Karamoja government developed socially appropriate hands-on cushions and solar suitcases to increase utilisation of health facilities thus enhance safer deliveries.
The global health body noted that the main reasons for poor maternal health were strong cultural traditions where majority of the pregnant women preferred to deliver at home in kneeling or squatting position triggering the designing of the birth cushion to offer a modified squatting position while ensuring the mother was comfortable.
"This position was preferred by the women in Karamoja because the pressure exerted by the knees and hands that hold the ground, makes it easy for them to push and give birth in a very short period of time," Bhardwaj told the conference.
In a paper titled, 'Birth Cushions and Solar Suitcases: Culturally Acceptable and Practical Innovations to Improve Maternal and Newborn Health in Hard-to-Reach Areas of the Karamoja Region, Uganda,' Unicef noted that the birth cushion provided a soft spot on the ground to receive the baby when being born and another wider cushion added to receive the baby thereby providing enough space to tie the cord.
The study was driven by the high maternal deaths in Karamoja area in Uganda and emphasis on the preference for giving birth through a traditional birth attendant was considered and they were integrated to help the women identify their preferred position.
In the joint study by the Karamoja government and Unicef, solar suitcases were also provided to 54 facilities to enable lighting and 100 birth cushions were provided to accommodate women's preference for delivery in a modified squatting position.
"Between 2013 and 2014, skilled birth attendance in the region increased from 21 to 31 per cent. By March 2015, over 10 per cent of women in the 54 facilities delivered on the Birth Cushions by choice, and in thee facilities where 149 deliveries took place, all women chose to use them," Bhardwaj told The Standard on Saturday.
Bhardwaj is optimistic that the increased use of this cushion may also help cut down the vertical transmission of mother to child transmission of HIV & AIDS.
And whereas the fifth Millennium Development Goal to improve maternal health helped to stimulate attention to and action for improving maternal care and survival for all women especially during childbirth, the researchers noted that the skills of health workers strongly influenced decisions on the preferred location of delivery.
The researchers recommended that health providers at the national and community levels urgently address factors and drivers that influence disrespect and abuse in health in facilities to encourage clients get qualified delivery in a facility.
"We need to promote dignified and respectable care during childbirth," the researchers concluded.