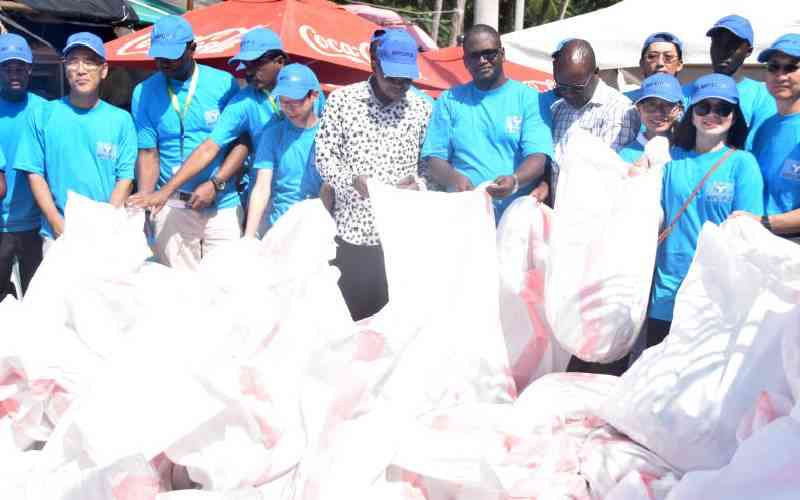 Plastic waste is slowly overwhelming our waters and land and soon it will invade our food cycle.
Nature and wildlife conservation in Kenya has taken extreme measures to ensure safety, survival and protection of the natural habitat of its flora and fauna.
An area of concern is the plastic waste surrounding game reserves that spread in the neighboring villages and towns.
Business owners and people using plastic waste around these areas usually fail to use proper means of disposal.
Failure by communities to dispose waste properly would result into land water and airborne pollution
The animals grazing along these parks do consume the plastic waste as well.
The plastic waste can potentially be harmful to infants and children playing with them in the villages surrounding these areas.
Most of the time, it is unclear on the sort of liquids or solid waste inside the thrown materials like plastic wrapping materials, soda bottles, nets, solid waste in the form of disposable diapers, rubber, car parts, glass, well as rusty metallic containers too that are entering the water bodies and land.
Massive plastic littering and poor waste disposal also harms the soil and productivity of the land. This might be one of the causes of land degradation.
How should we go about working on this issue so that we protect the wildlife and natural habitats but more importantly value the lives of people who depend on these ecosystem services?
We need action locally even as Kenya has banned single use plastic - this proactive policy action won't mean a lot if plastic waste disposal and management cannot be properly planned.
This is even more important when Kenyans spectacular nature reserves and its people suffer exposure to toxic and harmful waste.
Can these plastic materials be recycled to create school buildings, toilets and safe spaces with the help of development organizations?
We need Kenya Wildlife Service and park recreation and hotel industry to invest in creating awareness, sifting the waste and protecting the communities.
Communities too should take charge of their lives and surroundings as its conversation is critical to their survival.
Additionally, schools, colleges from cities and local areas can help in awareness building and create cleaning initiatives.
Dr Kumar is a mental health researcher at the Department of Psychiatry, University of Nairobi
Related Topics