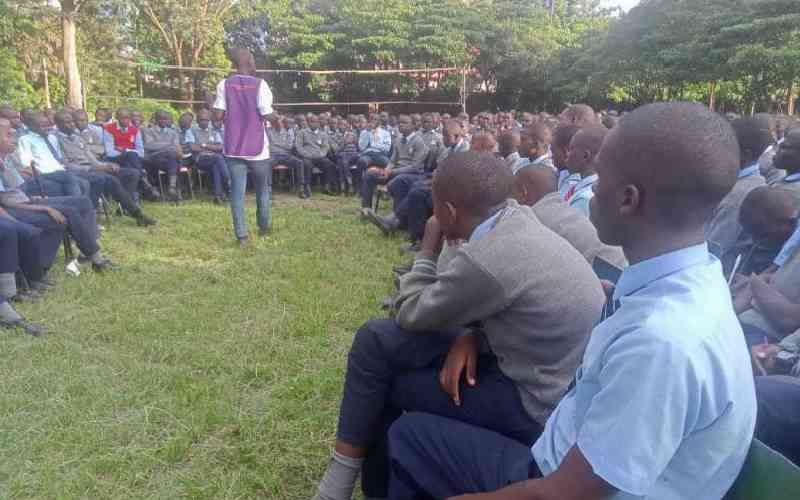 Picture this. In his quiet living room on a lazy Saturday, Peter is engrossed in a live football match on his big screen, a newspaper in hand. Suddenly, his 12-year-old daughter comes running, shock written all over her face. She has been hurt and is bleeding 'down there', she shouts. She is about to lift her dress to show her injury, but he quickly stops her. Peter is at a loss. His wife went to the market and is not reachable on the phone.
Alarmed, he slips on his shoes to take his daughter to hospital. Just then, the family pastor, John, enters. Peter quickly recounts the emergency. As he is wont to, the pastor asks the young girl to knew and offers loud prayers, something close to exorcism.
At the medical facility, the attending gynaecologist emerges from the examination room smiling, informing Peter that all is well. The daughter is perfect. She simply experienced her first menstruation. "How is that possible? She is still too young!" Peter exclaims. And to calm his fears, the doctor demonstrates how sanitary pads are used. Just then, Peter's wife arrives. Relieved, Peter walks out, leaving the matter to her. And that is the end of that topic, never to be discussed again.
Peter is just an example of the many men who have never interacted with menstruators or have no information on why and how menstruation happens. Yet, these are the people who are expected to support girls and women, not laugh at them when they stain their clothes. They are expected to provide information and purchase menstrual management materials, among other responsibilities.
Menstruation is a natural, biological process that indicates health and vitality. It signifies a woman's ability to bring forth life. However, menstruation is often met with disdain and treated as taboo in Kenya and beyond. This culture of silence severely impedes women and adolescent girls from accessing vital information about their bodies. Ignorance and unpreparedness on puberty perpetuate myths, leaving girls vulnerable to shame, low self-esteem, and confusion when they first experience menstruation.
Every day, about 300 million girls and women globally undergo menstruation, each facing unique challenges. These include inadequate access to menstrual products, insufficient information about menstruation and the menstrual cycle, and a lack of period-friendly facilities and proper waste disposal options. Furthermore, social restrictions, cultural beliefs and myths hinder effective menstrual management, consequently affecting the daily lives of women and girls.
Menstruating individuals often face religious, dietary, domestic or sexual prohibitions, leading to further isolation and stigmatisation. In many communities, menarche, the onset of the first period, is viewed as a sign of maturity, implying that girls are ripe for marriage. Unfortunately, early marriage significantly increases the risks of child pregnancy, inadequate birth spacing and complications such as obstetric fistula.
A 2016 study by the Ministry of Health revealed that 46 per cent of respondents used disposable pads, while only 6 per cent used reusable pads. Worryingly, 7 per cent resorted to unhygienic alternatives such as old clothes, blankets, chicken feathers, mud or even newspapers.
Additionally, 54 per cent of Kenyan girls reported challenges accessing menstrual health and hygiene (MHM)products, with 22 per cent of schoolgirls purchasing sanitary items. The lack of access to menstrual products has been associated with risky sexual behaviour. A 2015 study in rural Western Kenya found that two-thirds of females aged 13 to 29 who used menstrual pads received them from their sexual partners.
Shockingly, 10 per cent of 15-year-olds admitted to engaging in sex for financial gain to afford sanitary pads.
The lack of accessible and accurate information during early adolescence has left many girls bewildered, leading to shock, confusion, shame, and fear upon experiencing menarche. Moreover, religious and cultural leaders have been reported to hold negative views about menstruation, and boys and men, in general, often lack knowledge about menstruation, resulting in the teasing and bullying of girls.
Despite their exclusion from discussions on MHH, boys and men play a crucial role in providing psychosocial support to girls and women. They can also contribute to providing menstrual materials and creating menstruation-friendly sanitation facilities, enabling menstruators to undergo the process with privacy, dignity and confidence. The involvement of boys and men leads to significant changes in perceptions, attitudes and support for girls and women. Men often perpetuate cultural beliefs and myths and hold influential positions in politics, workplaces and households, influencing decisions and resource allocation. Paradoxically, men have reported that their wives exclude them from menstrual discourse.
During the course of MHH initiatives, valuable lessons have been learned regarding the involvement of men:
Increased awareness: Providing education helps transform men's attitudes towards women, fostering greater support. By increasing understanding of the significance of MHH, men recognise its positive impact on themselves, women and the community. Deliberate engagement: Programmes and interventions must intentionally engage boys and men to address their specific needs, challenge unequal power dynamics and debunk myths and taboos surrounding menstruation. Participation in studies: Involving boys and men in research enhances the evidence base and deepens understanding of how best to engage them effectively. Collaborative partnerships: Promoting improved MHH by engaging the male gender necessitates partnerships among various stakeholders, including implementers, researchers, governments and grassroots organisations.
There is an urgent need to involve boys and men in discussions about menstruation actively. Such engagement will enhance their knowledge and understanding, reduce stigma, demystify myths and taboos, and trigger a ripple effect that promotes gender equality, challenges negative social norms, and addresses broader sexual and reproductive health issues.
This way, we will strive towards a more inclusive and supportive society for all menstruators.
Muchangi is Director, Population Health and Environment at Amref Health Africa, while Masika is Menstrual Hygiene Management Officer, Amref Health Africa (USAID-Western Kenya Sanitation Project), and Nyajowi a Project Officer at Amref Health Africa
Related Topics