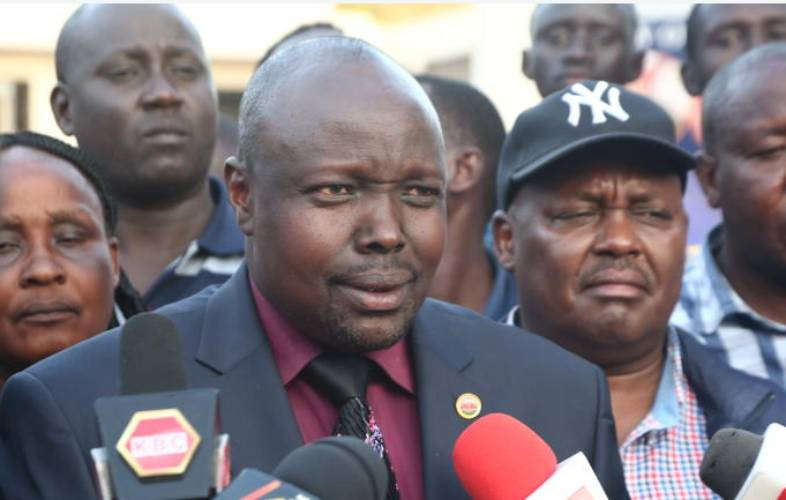 Pokot South MP David Pkosing has claimed the government is sidelining him and community in its security operation to flush out bandits in North Rift region.
Pkosing statement comes barely two weeks after he was arrested by Directorate of Criminal Investigations (DCI) for questioning over his alleged involvement in banditry and money laundering.
Speaking during an interview on Spice FM on Monday, March 6, 2023, Pkosing accused Interior Cabinet Secretary Kithure Kindiki of discriminating against the Pokot community by providing security to neighboring warring communities while leaving the Pokot community vulnerable to attacks
"The government has provided security to all other communities surrounding the Pokot region, leaving the Pokot to fend for themselves," said Pkosing.
"Interior CS Kindiki should respond to the allegations because, in my opinion, the government dislikes the Pokot and has concluded that the community is worse criminals and should not be assisted, and I say this without fear of contradiction."
Pkosing claimed that since the security operation to flush out bandits in the region began, Kindiki and his security team have never set foot in the region, nor have they met with Pokot leaders or the community to discuss security situation and how to manage it.
"The government has never stepped foot in West Pokot to come and talk to us. Kindiki has been visiting other communities holding meeting except with the Pokot, all we here is that they have met communities in Baringo, Elgeyo Marakwet, Samburu and Turkana but we remain secluded in the process," he claims.
"We believe negative propaganda against our community has entered government offices and is now informing decision-making," he added.
Speaking on Wednesday, March 1, when he appeared before the Senate Committee on National Cohesion, Kindiki likened bandits in Kenya to terrorist groups Al-Shabaab and ISIS.
The bandit prone counties are Elgeyo Marakwet, West Pokot, Baringo, Laikipia, Turkana and Samburu.
"What we are seeing in those areas is not banditry, but terrorism. The government will treat them as terrorist groups such as Al-Shabaab and ISIS," said Kindiki.
The minister stated that the onslaught on bandits won't spare politicians who aid the crime, saying he has the "blessings of my commander-in-chief [William Ruto]".
On Saturday, March 4, four people were killed at Lolmolog village in Samburu West in a fresh banditry attack despite an ongoing security operation in the area.
The attacks occurred as local leaders, national government administration officers and police gathered about 10 kilometres away at Marti village to bury principal chief Stephen Letolua.
Related Topics